The official start of the summer solstice in the northern hemisphere is 11:54 a.m. on June 21. If you are looking forward to enjoying the extra long days outside, now is the time to get your home's exterior ready. From cleaning to adding brand new outdoor furniture, there is an almost endless list of ways to prepare your exterior living space. For those who want to spend as much time relaxing on their patio as possible, consider turning it into your primary living room for the summer. The following recommendations are an excellent way to begin your patio transformation.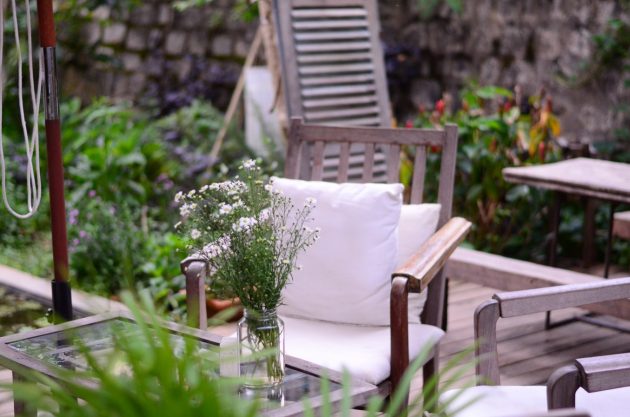 Starting with a deep clean
Even though you may want to skip ahead to the fun of adding patio furniture and accessories, there are some crucial first steps to take. Spend one weekend completing a deep clean of your siding, patio, and all surrounding areas. You can either buy your own power washer to clean the deck, concrete, and home siding yourself. Alternatively, you can hire a local pressure washing company to do this work for you. If you do not remove all of the dirt and mold that has developed over the winter and early spring, your new patio furniture could be damaged. Dirty siding and floor surfaces also look uninviting, making it less likely that you'll use the patio as your living space. Also, don't forget to clean out your home's gutters as part of your deep cleaning. Improperly cleaned gutters can cause exterior or interior water damage, and may ruin your patio furniture. In addition to these tasks, wipe down all furniture and accessories that you plan to use.
Create an enclosed feeling with a gazebo or a pergola
To make your patio space feel like it is an extension of your home, select an option for partially enclosing the area. This way, if your neighborhood experiences rain or excessive sun and heat, you will still be able to use your outdoor living space. Two of the best choices for partially enclosing your patio area are gazebos and pergolas. While there are certainly expensive gazebo options, most home improvement stores now carry affordable gazebos made from tent-like material. These structures are usually a few hundred dollars, and have multiple ways to seclude your space.
In addition to having a fully covered roof, you can choose to have no walls, sheer bug protection walls, or totally opaque walls. Pergolas, on the other hand, are a more permanent structure. Although they do not have walls (and sometimes limited overhead coverage), they provide a more enclosed and home-like feeling for your patio.
Add cozy chairs, tables, and accessories
Once you've cleaned your patio and added the structure of your choice, you can begin adding the furniture. Select chairs with cushions, interior-like tables, and decorative accessories to make your outdoor space feel like an extension of your inside living area. Before making any purchases, explore your options. If you piece together random furniture odds and ends, the space will feel less cohesive. Just as you would with the inside of your home, create a decorating plan so that everything will coordinate.
To make your summer evenings even more enjoyable, turn your outdoor patio space into your living room this year. Take advantage of the fresh air, sunshine, and warm temperatures that are just around the corner.