With so many design options and materials available, starting a patio design can be overwhelming. However, a well-designed patio can turn your outdoor space into a personal oasis with a stylish and comfortable area for relaxation, entertainment, and quality family time.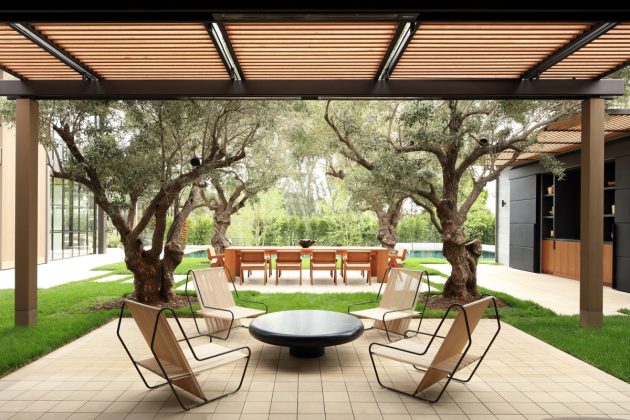 This guide will provide you with all the necessary information to design the perfect patio for your home. We'll cover important aspects such as finding the best location and size, as well as selecting the appropriate materials, furniture, and accessories.
Make Sure to Choose the Right Location
To make sure your patio is functional, comfortable, and visually pleasing, it is important to carefully consider its location. Here are some factors to consider when choosing the ideal spot:
Sun and shade: Think about how the position of the sun changes on your property during the day. If you prefer a patio that gets a lot of sun in the morning, make sure it is exposed to the east. On the other hand, if you want your patio to be shaded during the hottest part of the afternoon, choose a spot that faces west. Also, keep in mind that a south-facing patio will receive sunlight for most of the day, while a north-facing patio will be shadier.
Privacy: To ensure privacy, position your patio away from the street or use natural barriers like fences, walls, or tall plants to block neighbours and passersby.
Wind: Make sure you are aware of the direction of the wind in your region. It's not ideal to have your patio located in an area where it is frequently hit by strong winds. However, you can use landscape planning or erect structures like walls and pergolas to shield your patio and make it more comfortable.
View: Select a place with an enjoyable sight, such as your backyard, a body of water, or the nearby scenery.
Size Matters
When considering stylish room additions by CPP, think about your regular usage and the number of people you expect to accommodate.
When planning a small patio for relaxation and conversation, ensure that there is sufficient space for comfortable seating, such as lounge chairs or a small sofa.
Additionally, include a side table to hold drinks and snacks. For a larger patio designed for entertaining, make sure to consider additional space requirements for a dining table, chairs, and possibly an outdoor kitchen or bar area.
For a comfortable and spacious patio, it's recommended to allow a minimum of 25 square feet per person. However, it's advisable to have a patio that's slightly bigger than one that feels congested.
Choosing the Right Materials
When selecting materials for your patio, it's important to keep in mind that they will affect how the patio looks and how much maintenance it will require. Here are a few commonly used materials to think about:
Concrete: Concrete is a popular choice for patios because it is affordable, versatile, and low maintenance. It can be stamped, stained, or dyed to resemble the look of expensive materials such as natural stone or brick.
Pavers: Pavers are a great choice for patio surfaces as they are available in a variety of materials, including concrete, brick, and natural stone. They also come in different shapes and colours. By arranging them in unique patterns, you can achieve a customized look that is both durable and visually appealing.
Natural stone: If you desire a classy and enduring appearance, you might want to contemplate using natural stones such as flagstone, bluestone, or limestone for your patio. Despite being costlier than other options, natural stone has great durability and needs very little upkeep.
Wood or composite decking: To achieve a wooden appearance for your patio, you can utilize pressure-treated lumber, cedar, redwood, or composite decking materials. However, wooden decks demand frequent upkeep, such as staining or sealing, to safeguard them against weathering.
Selecting Patio Furniture
The right furniture can make or break the comfort and functionality of your patio. Consider the following when shopping for patio furniture:
Material: Opt for weather-resistant materials like aluminum, teak, or all-weather wicker that can withstand the elements and require minimal maintenance.
Functionality: Choose furniture that suits your needs, whether it's a dining set for outdoor meals, lounge chairs for relaxation, or a full patio set with seating for large gatherings.
Style: Select furniture that complements the overall look and feel of your patio while staying true to your personal style. Look for pieces that feature modern and timeless designs as well as practical features like adjustable backrests or foldable chairs.
Accessorizing Your Patio
Don't forget to accessorize your patio! Think about what features you'd like to include, such as a fire pit, outdoor lighting, plants and planters, rugs and cushions, or an outdoor sound system. These items will help enhance the comfort and ambience of your space while adding personality and functionality.
For example, if you choose gable patio designs, you may want to invest in an outdoor dining set with a matching umbrella or a bar station surrounded by bar stools. Or add pops of colour and texture with patterned throw pillows and cozy rugs.
Conclusion
Now that you know what to consider when designing the perfect patio for your home, it's time to get started! With a little planning and vision, you'll be able to create a beautiful outdoor living area that you can enjoy for a long time!