Frequently seen in movies or decorating hotels and high-powered business offices, the iconic Barcelona Chair has been a part of the household space for a long time. Gracefully complementing modern dream homes, the stainless steel frame welded into a single piece for ultimate durability and its leather cushions creates a striking texture palette in your home.
The internationally acclaimed furniture icon started its journey in 1929 when architect Ludwig Mies van der Rohe was appointed to design the German Pavilion for the World Arts Fair in Barcelona. His work resulted in the creation of an astounding piece of furniture known worldwide to this day.
Extravagance was not only a feature of the building materials used in creating the Pavilion but also one of the furniture components that became the iconic chair.
Modern building materials alongside the iconic chair
An example of mid-century modern furniture style, the iconic chair is not only a crucial element of design history but also a sculptural furniture item, ideal for any comfort-provoking space.
The graceful shape accommodates elegant and eclectic spaces, as well as modern penthouses, or refined urban homes.
Below, you'll see a couple of van der Rohe's chairs paired with modern building materials like glass, wood, and stone. Adapting its elegance to satisfy the modern minimalist design trends while maintaining a meaningful atmosphere, this empowering design would look majestic in many contemporary residences.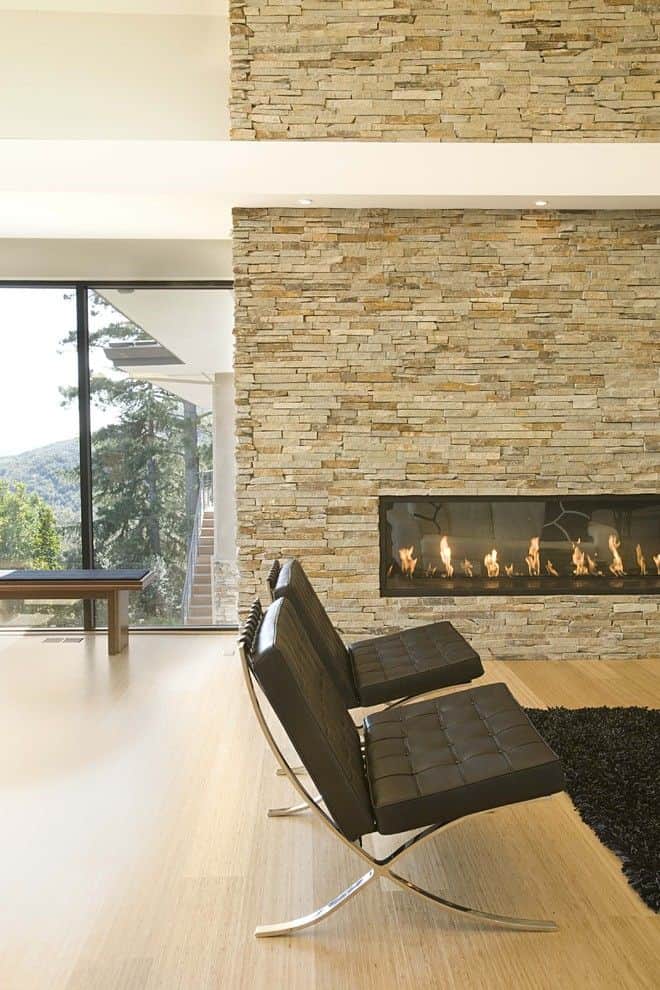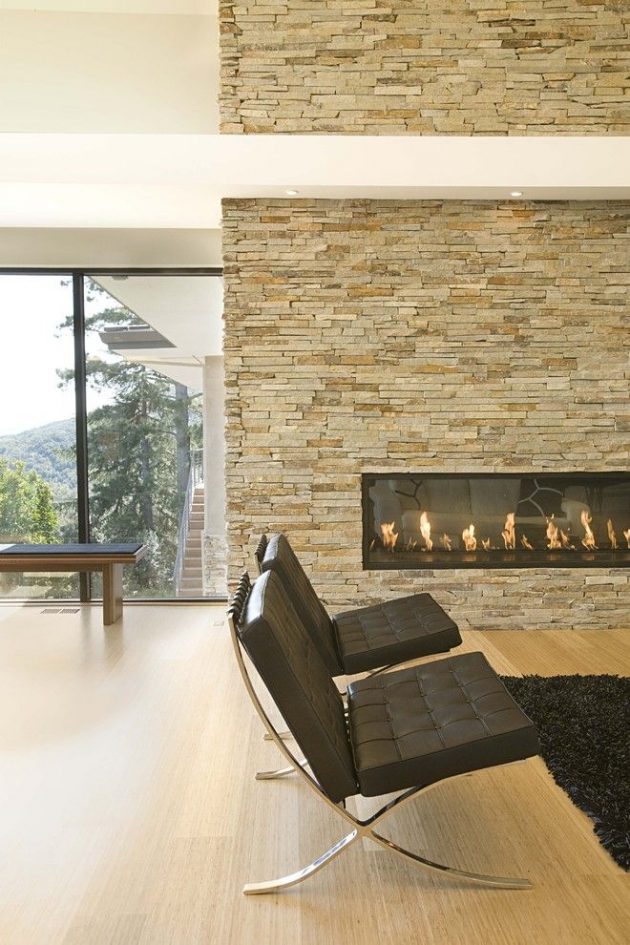 Royalty designs in modern homes
Intended to be divans for the visiting King and Queen of Spain, the chairs' form is worthy of royalty. The beauty of the contemporary world reveals how the chair can enhance a broad collection of interior styles.
An accent in any room, the recognizable chairs create a welcoming ambiance. Accent cushions in your preferred color paired with an attractive rug will increase the chair's visual appeal.
A Barcelona Chair and a photo wall
If it goes with your style, having a wall of framed art goes beautifully in most homes, especially when complemented by this iconic chair.
What's better than an inviting living space for your guests? Space where your family's personal favorites are proudly presented, space where an iconic chair allows its antiquity to blend with your wall – what would this kind of space look like for you?
Family photos and creative illustrations beside a leather design icon are sure to spark up joining conversations, turning this room into a socially interactive zone.

Monochromatic backgrounds
Monochromatic interiors in white with black accents appear to be made for this chair. Modern architecture must be equaled with a worthy example of design.
Imagine a soft blanket thrown on the chair, awaiting your arrival. Add an ottoman in the mix and you have a cozy relaxation zone or the perfect reading nook. It would be like slipping into a world of artistic expression.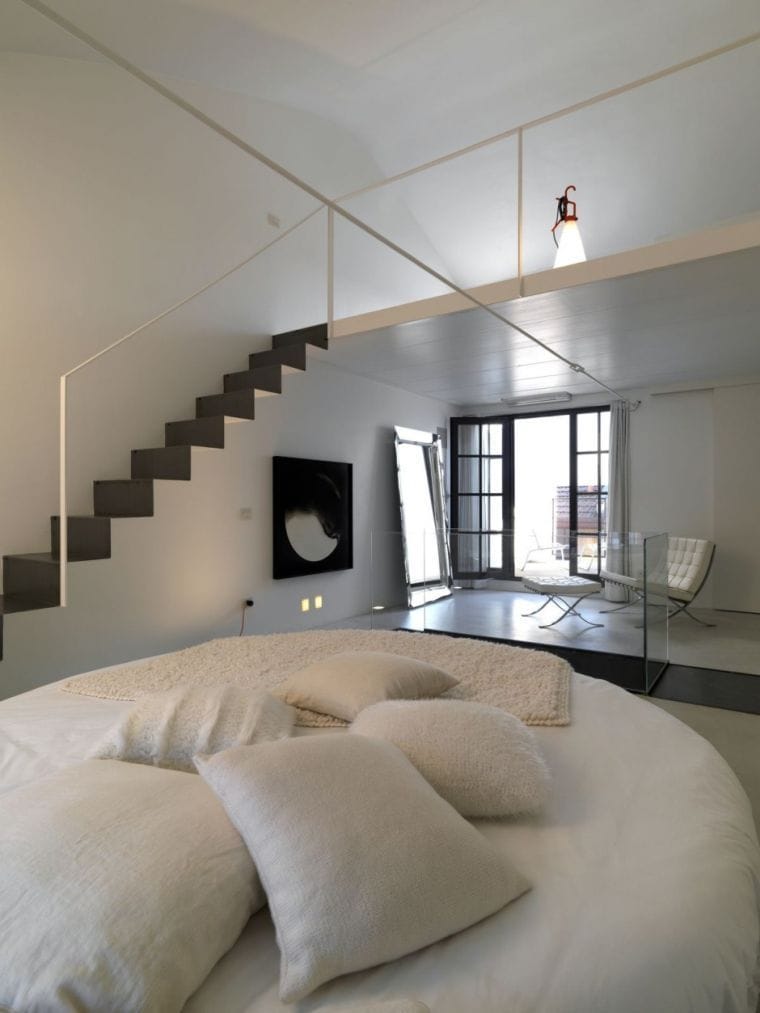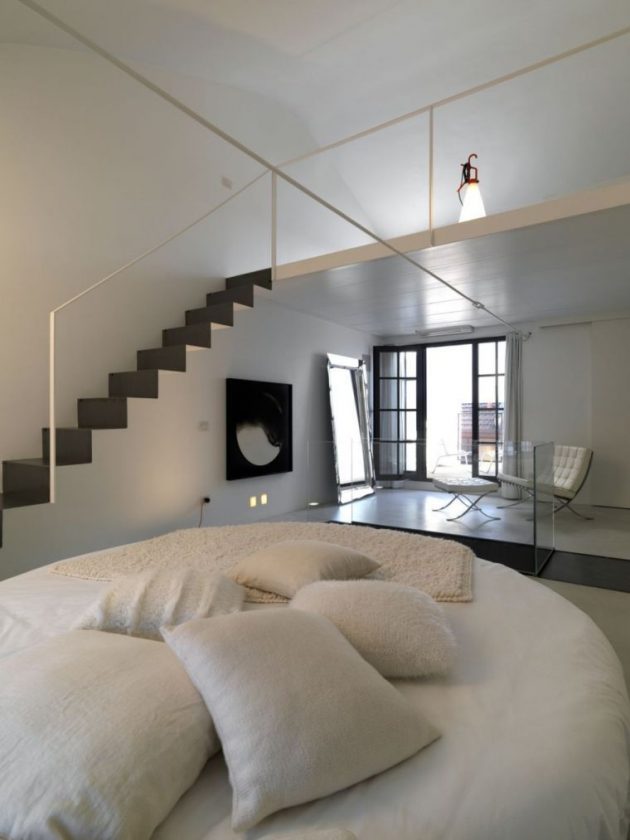 The ideal furniture for classy spaces
The right furniture pieces perfectly accentuate luxurious spaces. Elegant interiors with decorations and quality details create a high-end competition between other iconic chairs – this competition can easily be won by a Barcelona Chair.
You can find it in a variety of colors to perfectly match your interiors as you proudly display this beautiful chair.
Workspaces with mid-century modern charm
"Less is more" this is how Mies van der Rohe used to describe his minimalist style. This famous phrase guided this refreshing seating design, revealing the foretelling powers of his brilliant architectural mind.
Seen in the elegance behind his chrome and leather chair, the architect's aesthetic deserves to be attentively paired with the right environment.
Its mid-century modern appeal goes perfectly with wood, especially if you choose an upholstery to match the wooden walls.
Panoramic experience
In 1950 Mies van der Rohe was brought face to face with the newly-available stainless steel, allowing him to create a better version of his chair, with a fluid stainless steel frame supporting the luxuriously padded cushions.
With a touch of sunlight creating a place of contemplation, this chair can easily become a place to retreat from the real world and daydream. Setting the chair to face the view from your window will build a deep connection with your home's surroundings.
Luxurious set up for stunning visual impact
For a luxury set-up, use captivating materials and textures you don't even have to think about. If your interior design is high-quality and respects some boundaries, then don't hesitate when it comes to creating a modern feeling of luxury. Wood, chrome, and straight design lines can be successfully adjoined to shape an elegant expression of your lifestyle.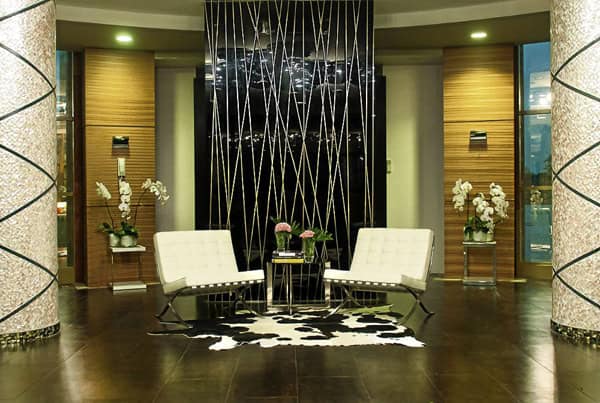 Pop-up color in a plain room
Imagine a red Barcelona Chair in the center of your living room. Its shape, color, and upholstery help it pop out, demanding the attention of everyone in the room.
This way, your entertainment space at home will become an expression of your love for good design. This chair is a statement piece that people will react to everywhere it is placed – wonder and interest will be their main reactions.
Fusing vintage and modern
Antique furniture is especially beautiful when paired with Mies van der Rohe's chair and its stainless steel and chrome frames. Reading corners and leisure areas adorned with an elegant and comfortable chair like this challenge you to appreciate the soothing effects of the seat and back cushions.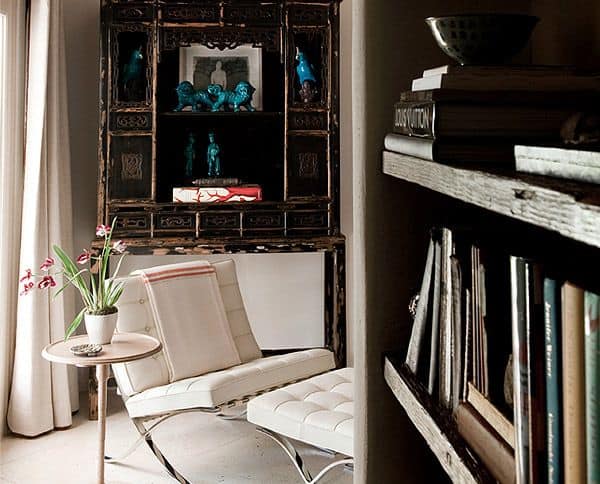 No wonder this chair design has been around for 83 years and been replicated endlessly – its captivating shape is here to stay. Where do you see yourself relaxing on one of these beauties?