Probably, the following situation happens to every project designer. You and your colleagues spent many hours of work creating the result of the project, put your heart and soul into it, and the client rejected your design option. The reason is that your picture does not correspond to the client's ideas.
Maybe your version is fine, but if the customer imagines the result differently, then all that is left is to put up with it and redo everything. The surest way to protect yourself from actions is to agree on a mood board in advance. If the customer is not happy with the result and wants to redo everything, you can always show the agreed mood board and remind you of the original idea. Of course, if the customer insists on one more option, you will have to work further. But already for extra money.
Mood boards make it possible to easily and concisely show the customer what impression your design will make. And if this is what your client imagined, then you will be ready to quickly get down to further work, having a clear plan in front of your eyes.
Services for creating virtual mood boards
Since mood boards are quite popular lately, many services have appeared for their creation. They save time and guarantee excellent results. Many have galleries of other users' work that can inspire you.
VistaCreate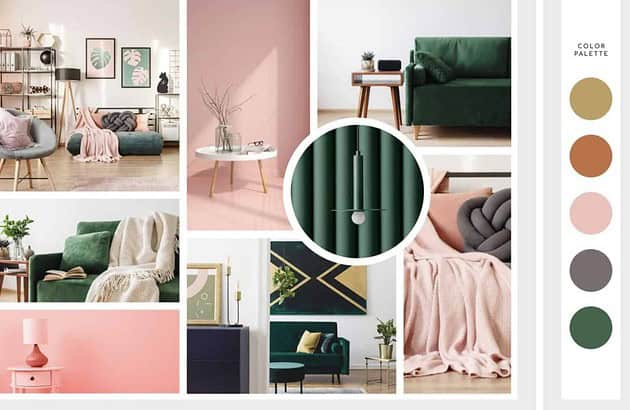 Professionally-designed templates to demonstrate your ideas and show all the extent of your creativity. The app is convenient to use from any device, so it is a great mood board creator on the go, from any portable device of yours. Fully explain your valuable ideas, highlight your concept and transfer your message, you will find everything here to create a mesmerising mood board.
Niice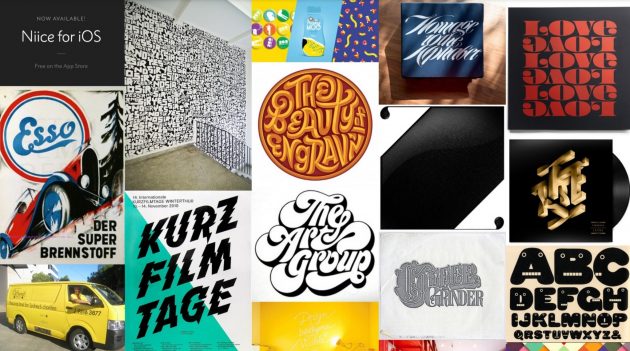 Another simple and handy tool for creating your visualisations. It is possible to create a free or professional account. Niice has its own gallery of images that you can use. If you have enough of them, then you can get by with a free account. However, if you are willing to use your own illustrations or save the finished project in .jpg, you will need to subscribe. Another disadvantage of a free account is that all your collages will be public (if this, of course, confuses you).
Miro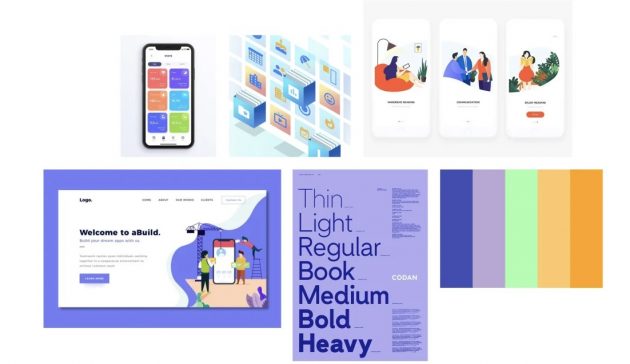 Endless virtual whiteboard for sharing. The service has a friendly interface, and the free version allows you to edit up to 3 boards at the same time. High-resolution file downloads are prohibited, but you can invite 3 registered users to work together on a project. There are no restrictions for paid accounts, and video calls and remote demonstrations are also possible (other users will be able to see the picture from your screen).
Where to find inspiration?
For mood boards, you will need a lot of good images and images. Where can I get them?
Search photo stocks
This is the best option. After all, here you can search for the desired photos by category. And then use the same images in the final design. To do this, you will need to coordinate the photo with the client, help them create an account on the photo stock and purchase a license.
Subscribe to some good social media communities for designers
Social media are convenient translators of visual creativity when users and brands share their experiences and interesting cases.
Bookmark multiple sites for designers, photographers and artists in your browser
Also, a good way to find new ideas. They might have some interesting fonts or interesting techniques, colours and palettes.
Step away from your computer and search offline for ideas
You don't have to look for inspiration only in the virtual environment. Get distracted. Go for a walk with your camera. Or flip through an old magazine. In general, interesting visuals are everywhere. You just need to make out them.
What should not be on the mood board?
1. Long phrases
Remember that a mood board is more of a visual format. Do not confuse clients and colleagues with unreadable texts and unnecessary details.
2. Incompatible elements
Your task is to show a complete harmonious picture, not chaos. Therefore, choose the style and colours of all elements carefully.
3. Complex and unobvious associations
Remember that you are choosing images for the client and his specific project. Try to take what is 100% relevant to the topic and will be understandable to both the client and most people in general.
4. Frequently used images
The fact that images should be understandable, however, does not mean that you need to select the most obvious and stereotypical photos. Be creative when searching.
Mood boards are a handy tool. It will not only allow the designer to reveal all his creative possibilities, but also help to accurately convey ideas to the client. Mutual understanding makes it very easy to work on projects.