From a decorated athlete to getting a pilot's license, David Molnar's story to photography is unique. His original plan was to fly the world after becoming a collegiate wrestler. With many offers on the table for athletic scholarships, Molnar had plans to attend college for free. Then a tragic accident led him to pursuing other options. He was in a head on collision halfway through his wrestling season senior year of high school. The wreck left him with two nee operations and no more scholarships. Coming from a small island off the coast of California, he had dreams of moving away and making a name for himself. Although at the time he was losing hope, he was still determined to do something worthwhile. He landed an internship at a nonprofit organization Texas in their creative department.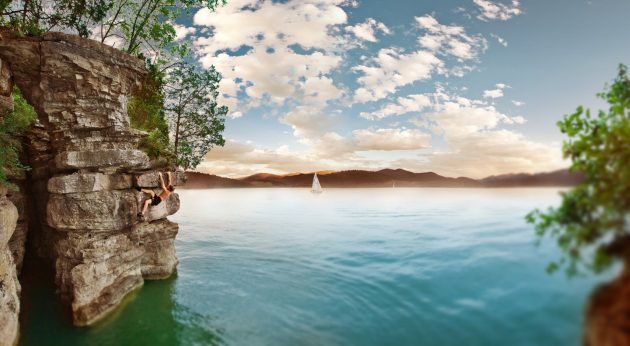 When arriving to the internship he stumbled into a photography position. Camera in hand, he began teaching himself the ways of expert photography. Aside from a few photography classes in high school, Molnar didn't have much professional training or education up to that point. He was a true innovator in his field. One thing lead to another and he ended up photographing his favorite band. Because of his natural abilities, the photographs were purchased by the band to use on their tour shirt. From then on, Molnar would go on to be the amazing photographer he is today.
Self-taught and well-known, he certainly knows his way around a camera. Molnar describes himself now as a photography mentor. After years of experience, he has crafted classes and even authored a book about iPhone photography to educate other photographers. iPhone photography was one of the first things that helped him get coverage and people started to notice him. He realized early on that iPhone's had excellent cameras, and when properly manipulated, they were able to take professional grade photographs. It is a creative challenge to take a device meant for communicating and take photographs that look like they were done with an expensive camera.
After publishing his book, Molnar started his business online. He now has over 80,000 students that he and his team help mentor. With a variety of classes, he has something for every level of student. With clients like Pepsi, the New York Times, and People magazine, he has made large name for himself. He traveled the world doing celebrity weddings and many other advertisement campaign photoshoots. He decided to take his expertise and turn it into a learning tool for others.
One of the main things that helped Molnar build rapport with his audience and clients is that he offered information for free. By making a lot of his content free and available to the public, they build trust in his genuine nature and ability to relate to them one on one while providing them with an effective education in their craft. All artists, experts, and professionals must build trust and credibility with their audience.
Molnar was able to create such a lasting impact on his clients and students that he mentored because he never gave up. In starting your own online business or while becoming the expert, there will always be positives and negatives. It can truly be like roller coaster with some great moves forward but also sometimes a few steps back. For him, being able to continually persevere and reach his goals is what allowed his future to be something that would inspire other photographers and people in his field to follow in his footsteps and always follow their passions.
Whether it's learning what exactly to do with a camera or the simple tricks of the trade, Molnar can do that. He currently has a video series on aperture, which teaches photographers how to manipulate that little hole within the lens. Molnar's site also showcases a blog that explains certain details about different parts of photography. Photos are a way to immortalize time. Taking the most beautiful photograph possible is something that many people aspire to do and by using his educational resources, any one at any photography level can do that.
No matter the field, every person who is new to the field needs a mentor. It is frequently noted that no one achieves anything alone, and that is too often true. Although many decisions are up to the individual, seizing opportunities with people who can help is truly someone who understands how to better themselves. Molnar has not only created a space to become a mentor for a mass audience of students, he also demonstrates what it takes to reach those huge goals with ultra determination. By giving people those mentoring opportunities with someone as experienced as Molnar, he is creating a community of people who can come together to discuss similar experiences, goals, and future projects.