Every homeowner runs out of storage space sooner or later. And the most common solution is to build a shed in your backyard. You can use some gable shed plans to build your own storage space the DIY way.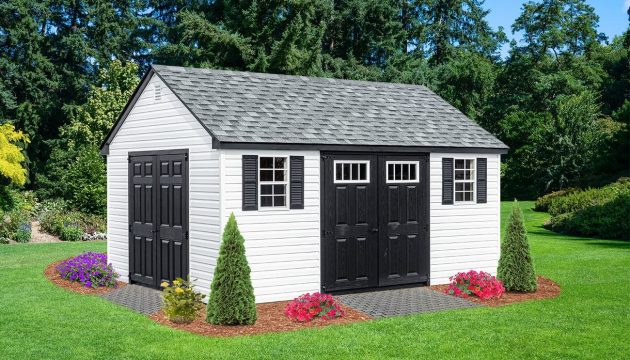 However, your shed doesn't need to be a boring, dark place to dump all your gear. With a few simple modifications, you can turn your wooden shed into a personal retreat.
Add A Skylight In Your Shed's Roof
Let natural light illuminate your shed by installing a skylight window. This will allow you to see better inside your shed and also prevent the contents of your shed from becoming damp and moldy when you leave the shed locked up for long periods of time.
Add Shelving Units And Hooks
You can save a lot of floor space and still store your gear safely by installing shelves and hooks on the walls of your gable shed. Use the limited floor space of your shed wisely by adding furniture like chairs and stools. This will add a touch of comfort when you wish to spend some alone time in your shed. You can also add a lamp, a table, or even a couch if space permits.
Install Plants Inside and Outside
Plants and vines will add the aesthetic touch of nature to your shed and make it more appealing. Build flower beds near the outer perimeter of the shed. Plant flowering vines near the shed so that they can climb up the walls and give a garden-like appearance. Indoor plants will help keep the inside of your shed oxygenated. Make sure to water the plants at least once every three days to keep them healthy.
Modify The Shed Flooring
Setup your shed's floor to be more comfortable on the feet, you installing tiles, carpets, or rugs. This will allow you to take off your shoes, walk barefoot and let your feet relax on your shed's floor similar to how you do at home.
Setup Electric Lighting
It is essential to add ample lights to your shed. Usually, storage sheds have a single light source inside them, but as you will be spending long periods indoors, you will need to install more light sources. Add multiple light bulbs overhead that illuminate the room from all directions. You can also install a dimmer switch to control the intensity. Make sure to put up a few lamps that will help you read or conduct your hobbies.
Add Ventilation
Your shed must have a constant flow of fresh air coming in and stale air going out. Usually, ridge vents or gable vents are installed in sheds to achieve this. But since you may be spending long periods with the door closed, this will not be enough. It is recommended to install an exhaust fan to keep the air inside your shed constantly circulating.
Install A Porch and A Retractable Awning
Add a porch or patio at the front of your shed to make it look more inviting. This will also serve as an outdoor space where you can just hang out and enjoy nature from time to time. Install a retractable awning so you can be in a shaded area outdoors and just relax with a drink or work on a project.
Making these simple changes will help turn your shed from a basic storage place into an exciting outdoor hangout.