Hygge is cozy, warm, and intimate – reminiscent of Christmas brunches and of nights under the stars, when we are snuggled up in textured blankets and heavy quilts, wearing woollen socks and soft beanie hats. A cup of warm tea in hands and a stack of books by the side completes the picture as one marinates in the quietude and is at last in communion with nature.
But can this sense of warmth and that which is inarguably personal be applied to an outdoor setting?
Can what the Danish call hygge (hue-gah, not hoo-ga) be taken from our homes and brought into open spaces?
We happen to believe so, yes.
Hygge, after all, is a content state of mind (and not so much about plush blankets and warmers, though they help, too). And being in harmony with nature is a crucial aspect of well-being.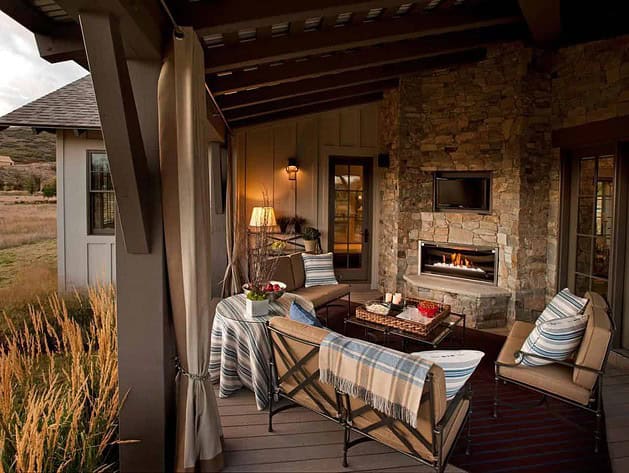 Make a cozy garden for all seasons
Hygge calls to mind the cold weather. The place of origin of this concept is Scandinavia, where winters are long and freezing. But hygge need not be confined to any particular time of the year.
In order to make the most of them, adapt your outdoor spaces to the season. You'd need the right kind of garden furniture for this.
In winters we do not want to leave the comfort of our heated rooms. With a fireplace in the open, however, you might be tempted to step out of the house. After all, who doesn't love a star-lit sky, or a mist rolling up in the distance?
Bring out a leather (or leatherette) sofa, soft enough for you to sink in with the special one, or for the kids to huddle under a blanket as you read to them. Any kind of sofa will do as long as it brings comfort to you. An eclectic mix of cushions and throws will make the area lounge worthy.
Get a wooden table for candles and books to stand, and you can immerse yourself in hygge as you enjoy the weather.
Fire up a barbecue to feast on burgers with friends when the weather is playing nice.
Bring out the glassware (and the lounging chairs and the hammocks!) to host a party in the open. Wine and tea, it's all hygge. Winter or summer, it's all hygge.
Accent the place to give it a warm personality
Our homes have strong characters. We decorate them thoughtfully and laboriously. But the outdoors? Not so much. We often neglect our porches, decks, backyards, front gardens, and terraces.
To bring a sense of hygge or wellbeing to the outer areas, we need to simply take what's inside and adapt it to what's on the outside. Hygge in the outdoors then should be an extension of how it manifests indoors.
Introduce a mix of colorful plants into the garden, preferably potted so that you can move them around as per the seating arrangement.
Have vases made of porcelain or glass lying around unused? Your backyard might be a good place for them.
Think of what evokes a wonderful sense of warmth in you. Hygge is highly personal. So bring out the things that make you all warm and fuzzy inside and find a way to use them outdoors. For example, to a bohemian spirit hygge could mean intricate pottery, mosaic tiles, hanging dreamcatchers, and exotic rugs. What would it be for you?
Give the outside architecture a facelift
Sometimes, merely moving around a few pieces of home décor may not suffice. If renovation is on the cards, think of doing away with the typically drab doors and windows that lead to the outdoors.
Instead, consider installing doors made of textured or decorative glass. These can instantly brighten up the outdoor space and impart a strong sense of style to the landscape season after season. There is something poetic about them as well, which ties in wonderfully with the spirit of hygge. The sunrays bounce off the decorative glass beautifully in summers, whereas the snow settles on it nice and snug in frosty months.
Conclusion
Hygge is many things, but primarily it's what brings a sense of well-being to you. It's where you go to relax and be one with yourself. It's not about the things per se, but what they mean to you. Find your style and let your imagination run with it. Whether indoors or outdoors, hygge can be incorporated into all aspects of your life.