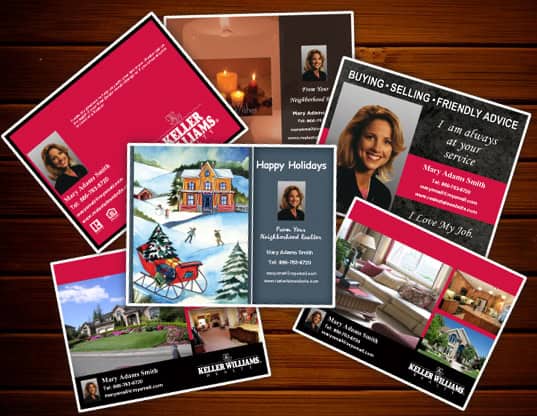 Study 100 high-performing real estate agents and 95 of them will be using postcards as part of their marketing and promotional strategy. Let that be a sign. If you've yet to get on board, now is the time.
4 Tips for Effective Real Estate Postcards
Every real estate postcard has two specific objectives. The first objective is always to get the recipient to read the card. In other words, you have to make sure your postcard stands out amidst the rest of the mail.
The late direct mail legend Gary Halbert always used the illustration of the trash can when explaining this objective to marketers. In his research, he found that most people sort their mail above the trash can. As they flip through each piece of mail, they either put it in a "read" stack or toss it in the trash. Your first objective is to ensure your postcard goes in the "read" stack.
The second objective is to move the recipient to action. You always want to get them to take a specific action. It could be to visit your website, give you a call, sign up for an email newsletter, visit an open house, send a referral, etc. Every postcard will be different, but there should always be a specific call to action.
Keeping these two objectives in mind, here are some simple techniques you can use to generate a better return on investment (ROI) with your real estate postcards:
1.Use Contrasting Colors
High-converting postcards are visually stimulating. They command attention and engagement. One of the ways they accomplish this feat is by using contrasting colors.
Complementary colors tend to feature high-contrast. If you look at the color wheel, these are colors that are directly opposite one another. Examples include red and green, purple and yellow, or blue and orange. Black produces high contrast when used alongside any color.
While complementary colors are bad for text (difficult to read), they're very effective when used as part of a larger design. In other words, you have to make sure you know the essentials of mailing a postcard so that it stands out amidst the rest of the mail.
2.Zero in on the Right Target
You can have a gorgeous postcard that stands out, but it won't generate any results unless it's being sent to the right individuals. This is where postcard targeting comes into play
There are multiple ways to create a segmented mailing list for realtor postcards. One option is to mail to an entire area. You can select neighborhoods based on factors like household income, age, type of home, and/or zip code and then send strategic campaigns to these addresses. Another option is to use a targeted direct mail software that allows you to go after very specific profiles. This lets you target, say, everyone in your city who has lived in their home for more than ten years.
A third option is to build a database of past clients and slowly drip postcards on them every month. You might not see immediate results, but this long-term strategy allows you to stay top of mind with people you already have a relationship with. And when it comes time to buy or sell, they're more likely to remember you.
3.Personalize
Research shows that marketing campaigns generate 30 percent better response rates when postcards are personalized. If you want to give your postcards a little extra boost, try adding details like recent sales, neighborhood name, street name, and/or recipient name. You can even include details about the local area to show people that you're a local agent with roots in the community. These personal details go a long way.
4.Keep it Simple
When sending a postcard, there's a temptation to include as much information as possible. However, information overload will actually have an inverse effect on your ROI. The goal should always be to keep things as simple as possible. This includes minimal copy, minimal graphics, and simple color schemes. You can always include a simple URL where people can go to learn more. But as for the postcard itself, let it breathe!
Generate More Leads With Postcards
When integrated alongside other promotional methods, postcards have the ability to transform your marketing efforts. And if you keep the aforementioned suggestions in mind, you'll generate a healthy ROI that more than justifies the upfront investment. Good luck!