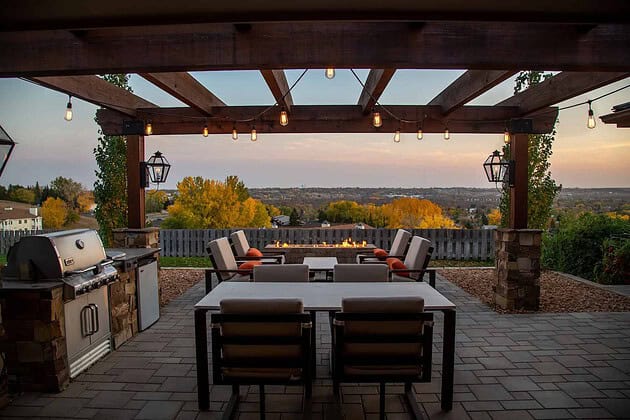 Cooking outdoors has become increasingly popular over the last few years, with many people now opting for modern outdoor kitchens instead of traditional grills and barbecues. An outdoor kitchen is an ideal way to entertain family and friends in your garden or patio area, as well as providing a fun way to cook delicious meals without having to go indoors. With some careful planning and design, you can create the perfect modern outdoor kitchen that will be both stylish and practical.
In this blog post, we'll provide tips on how to build a modern outdoor kitchen that not only looks great but also functions efficiently. We'll cover everything from choosing materials and appliances right through to making sure your new space is safe and secure. So if you're looking for ideas on how to transform your backyard into the ultimate cooking haven – read on!
Decide On The Layout of Your Outdoor Kitchen
When you plan your outdoor kitchen, one of the most important decisions you will make is the layout. The layout you choose should be tailored to fit your space, maximize convenience and usability and ensure that all elements of your kitchen will work together harmoniously. Carefully consider how much space you have available and where each element should be placed for optimal functionality. When making this decision, it's also important to take into account what other property features are nearby (such as a pool or play area) that could impact your design and access to the kitchen. You may consult with a professional landscape designer to ensure you get the most out of your space. With thoughtful consideration and proper planning, you can create the perfect modern outdoor kitchen to suit your lifestyle.
Choose The Right Materials
Since one of the most important things to consider when building an outdoor kitchen is choosing materials that will withstand the elements, stainless steel is an excellent choice. Not only does it look great with a variety of different home styles, but its resistance to weather damage makes it strong and durable enough to last for years. From Blaze grills made from premium-quality 304 stainless steel to stainless steel cabinetry, you can create a modern outdoor kitchen that is low-maintenance and looks fantastic. Whatever materials you decide on, be sure to select ones that are designed to resist heat, moisture, and other outdoor conditions. Furthermore, many suppliers offer a lifetime warranty on stainless steel products; so if your outdoor kitchen ever develops any problems over the years you can always get them replaced.
Install a Countertop Made of Stone or Concrete
If you are looking for something even more unique, consider using concrete or outdoor-specific stones such as granite and quartzite for your countertop. These materials are incredibly hard-wearing, non-porous, and can handle high temperatures – perfect for outdoor cooking. They are also beautiful and will last for many years to come if properly sealed and maintained. Like any other surface, thanks to their non-porous nature, all you need is to give them a simple clean using mild dish soap and warm water for a sparkling finish. Plus, as a bonus, both concrete and stones create unique characteristics that can add something extra special to this space! Just remember to use a sealer regularly to protect the surface from moisture and staining. It is best to consult with a professional to ensure the countertop is installed correctly and will last for years to come.
Add a Built-in Grill or Stove
The main way to bring your outdoor kitchen from a dull gathering area to a modern dream cooking space is to add a built-in grill or stove. Many grills with fancier features come with side burners for heating sauces or boiling water and shelves for having prep ingredients right on hand. The larger ones also feature interior lights, so you can keep the party going past dark! And if you're looking for something more than a basic model, there are plenty of unique designs and styles out there – feel free to think outside the grilling box. Investing in a modern kamado-style grill with a ceramic dome, for example, can take your cooking to the next level while also adding some extra flair to your outdoor kitchen. Also, as mentioned before, be sure to select one that is made from stainless steel or other materials designed to resist heat, moisture, and the elements. This is especially important if you will be using natural gas, where a small mistake or leak could have serious consequences.
Include Enough Storage Space
Most people overlook the importance of dedicated storage space when they are building their outdoor kitchen. Of course, cookware such as pots and pans are needed, but also includes enough room for dishes and utensils, especially if you're entertaining guests, as well as items for food storage. Think beyond traditional cabinetry to other options like a shallow shelf or even a built-in pig roaster! You may even want to consider a refrigerator or wine cooler if you are truly going all out. And do extra details – adding hooks for kitchen towels and utensils is an easy yet effective way to optimize your space. Be sure that whatever you choose is sturdy and weatherproof for those long summer days spent cooking up your favorite meal outdoors.
Add Comfortable Seating and Decor
With your outdoor kitchen looking complete, all you need to do now is find the perfect seating and decor to tie it all together! Whether you opt for some classic Adirondack chairs and a patio umbrella or get creative with some modern bean bag chairs and colorful cushions, your seating choice will create the atmosphere for your outdoor space. Lastly, choose decorations that reflect your unique personal style; from hand-carved ornaments to paintings of local landscapes. Creating a special decor theme also helps set the mood for fun nights spent outdoors with friends and family!
Secure Your Outdoor Kitchen with Safety Measures
To ensure that your family can enjoy outdoor living without any worries it is crucial to implement safety measures. Fire prevention and burn protection should top the list. Building codes and local regulations should always be researched, respected, and followed carefully. Evaluate the design of your kitchen layout to protect water sources from fire, maintain adequate ventilation for smoke displacement, and implement non-combustible materials for cooking surfaces and countertops when possible.
Investing in a high-quality stainless steel lockable cabinet is essential for stowing away sharp and heavy kitchenware. A heavy-duty cover that can be secured when not in use will keep the space tidier and more secure from critters and potential theft. Anchor any grills or prep tables to the ground for added stability during strong winds or storms—this will also prevent any equipment from falling over if someone were to bump into it. Finally, invest in safety lighting with sensors for easy nighttime use, because having enough light will make your outdoor kitchen a safer place for you and your guests to enjoy special memories together.
By taking these few simple precautions during the construction of your modern backyard kitchen, you'll ultimately secure a safe setting for entertaining friends and family!
Your outdoor kitchen is a place to bring your friends and family together, creating memories that last a lifetime. By investing in quality construction materials, adding enough storage space for cookware and utensils, choosing comfortable seating and decor, and implementing safety measures, you can ensure that your backyard kitchen will be the highlight of your home for years to come! So get cooking today — with a little effort up front, you can create the perfect outdoor kitchen to enjoy summer nights in style!