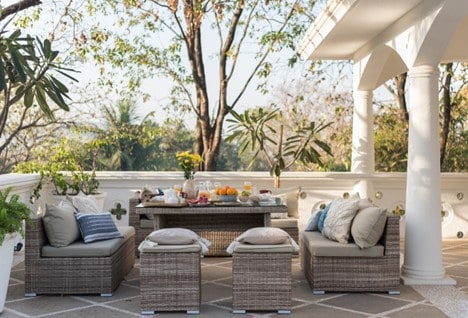 Have you ever wanted to open your front door and feel as if you've stepped into a whole new world? Well, you can make it happen – all it takes is finding the right furniture pieces to bring your bohemian home dreams to life.
The right furniture pieces can totally transform the look and feel of your interior, creating an atmosphere that is all your own. And when it comes to bohemian-inspired decor, there's no shortage of beautiful, comfortable, and unique furniture pieces available.
From cozy seating options to statement-making accent pieces, let's explore some of the best furniture pieces for a bohemian-inspired home. Get ready for an incredible transformation!
Creating the Ideal Bohemian Look With Seating Pieces
When it comes to creating a boho-style home, seating pieces are essential. Consider investing in a comfortable, cozy sofa or loveseat that adds texture and color to your space. Look for something with tufting or tassels or pick out an upholstered chair with embroidered details.
To complete the overall look, opt for end tables and coffee tables in unique shapes and sizes. Wicker baskets, roll carts, and console tables can add modern touches that still keep in the boho vibe. Finally, if you want to go for a classic bohemian look, try adding floor pillows and cushions in bright colors and patterns like florals or stripes for an inviting atmosphere.
Unique Accent Pieces to Complement Your Bohemian Design
Choosing accent pieces to bring your bohemian look together can be the most fun part of creating a boho-chic home. Fortunately, there's no shortage of options—from mirrors and rugs to sculptures and wall hangings.
When shopping for accent pieces, it's important to consider the color palette you're working with, as well as the existing furniture in the room. Be sure to select items that will complement both the existing furniture and your chosen design style.
Accents like interesting rugs and wall hangings can add a unique touch of boho charm to any room, while sculptures and mirrors can also make excellent statement pieces. Finally, candles and lamps can create a warm and cozy atmosphere—especially when paired with comfy seating options!
Surface-Top Solutions for a Bohemian Space
The perfect bohemian space is full of textures, colors, and layers. To achieve this look, you need to think outside the box and experiment with unique surface-top solutions. Here are some of the best pieces of furniture to give your bohemian home an incredible look:
Coffee Table
Your coffee table serves as a centerpiece for your living space so it's important that it conveys a sense of comfort and style. A bohemian-inspired coffee table can range from a modernized piece with an intricate design detail to vintage-style pieces with colorful surfaces. Look for something that has multiple drawers or shelves for additional storage space.
Side Tables
Side tables are great for adding extra storage to the room when you don't have enough space for a large coffee table. You can use them as accent pieces or choose something that has a more traditional look with intricate details to finish off the room. For example, an intricately carved side table with a marble top would make a great addition to your bohemian room.
Console Tables
Console tables are great because they come in all shapes, sizes, and colors and can be used as additional storage or just simply as decoration pieces. Look for one that has a rustic style frame with distressed wood detailing or one made from reclaimed wood or metal for an original boho touch.
Versatile Solutions for Bohemian Storage
Storage solutions are essential for any home, and luckily, bohemian designs include both practical and trendy pieces. Consider adding a wicker trunk or a large chest of drawers to house books, photo albums, clothing, or even blankets. Or opt for a woven basket hung from the ceiling to hold extra towels in the bathroom.
For more traditional storage solutions, choose bookcases with an open back design to fit right in with your bohemian atmosphere. Providing both functional storage and an esthetic boost, shelving units with bright colors, unique materials, and intricate patterns are popular choices. Or keep it minimalistic with an industrial pipe shelf accented with rustic planks of wood; this cool combo can be installed literally anywhere.
1StopBedrooms offers a wide range of furniture pieces that are perfect for creating a bohemian-inspired home. From colorful and unique seating options to versatile storage solutions, they have everything you need to bring your bohemian vision to life. When you buy from 1StopBedrooms, you can trust that you're getting furniture that's not only stylish and functional but also fits perfectly with the bohemian aesthetic. So if you're looking to create a cozy and eclectic bohemian-inspired home, be sure to read more about 1StopBedrooms for all your furniture needs.
Conclusion
Bringing the bohemian look home is all about expressing your authentic self through your decor, so let your creativity and imagination be your guide. When it comes to furniture, choose pieces that are a reflection of you and that you'll love for years to come – pieces that are comfortable and durable, with a little bit of that signature bohemian flair. With the right furniture pieces, you can transform any space into a boho paradise and make your space a place you'll always feel happy to come home to.