For many, making the decision to purchase a pool is an exciting time and with so many styles of pools on offer, it may be hard to know which one is going to be the best fit for you. The most popular types of pools in Australia are Plunge Pools, Family Pools and Lap Pools. This article discusses the benefits of each style to help you decide which one is best for you and your home.
Plunge pools
With Aussie backyards getting increasingly smaller over the years, plunge pools have become extremely popular. Here's everything you need to know about plunge pools: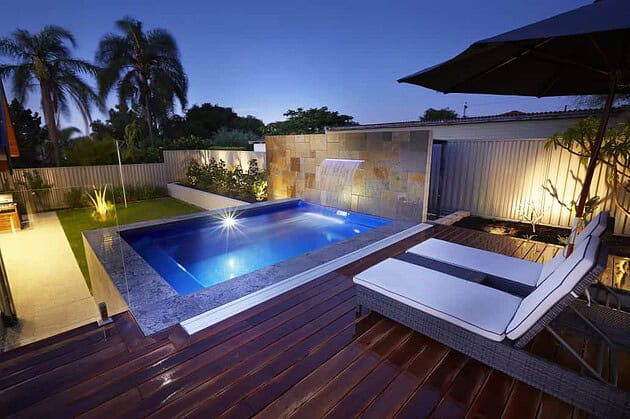 Features of a plunge pool
Plunge pools are smaller than family pools and they are best suited to people who want to use their pool for relaxation rather than serious swimming. The average size of a plunge pool is anywhere from 2 metres and 7 metres long and around 2 to 3 metres wide. Most fibreglass plunge pools have a wide ledge around the inside of the pool. They are intentionally designed this way to be used as seating, it is comfortable and enhances the relaxation experience.
What are the benefits of plunge pools?
Regardless of the size of your backyard, you still want it to look good. A well-designed plunge pool can be a beautiful statement piece at your home. It can be designed to tie in with the exterior of your home which can enhance the overall look of your home. Plunge pools come in a variety of shapes and sizes making it easy to find one that suits your backyard and lifestyle perfectly.
Whilst plunge pools may not be big enough for the entire family and guests to play around, families can definitely benefit from having a place to cool down. They are especially great for families who have children as it is far easier to supervise them in a smaller pool than a big one. A smaller sized pool is a good choice for young children who are getting used to water and learning to swim.
The main benefit and the intended purpose of a plunge pool is relaxation. Having a place to de-stress after a hard day's work is great for both our mental and physical health. It doesn't get much better than having a place to unwind in the comfort of your own home. The demand for plunge fibreglass pools have increased drastically over the years and we believe they will continue to a popular choice for many years to come.
How much do plunge pools cost?
The cost of plunge pool can vary significantly depending on the site you are installing it in and whether you have good access or not. A lot of people assume that because a plunge pool is smaller it will be cheaper, however this is not always the case. The amount of work involved to install large pool and a plunge pool is very similar. On average a plunge pool costs around $20,000 to install. It may seem expensive for a small plunge pool, but you are getting the exact same quality and superior workmanship as a large pool. To save money, you could always get your plunge pool installed above ground.
Why should I choose a plunge pool?
Plunge pools are a great choice for people who have smaller backyards and are limited on space. New homes built in suburban areas tend to be built on small blocks. A plunge pool is a great option for people that don't have the room for a family sized pool but still want a luxury pool for their backyard. Plunge pools make a great feature and appeal to prospective buyers.
Family Pools
Family pools are the most common pools found in Australian backyards. They are popular because their uses are endless. Here's everything you need to know about Family Pools: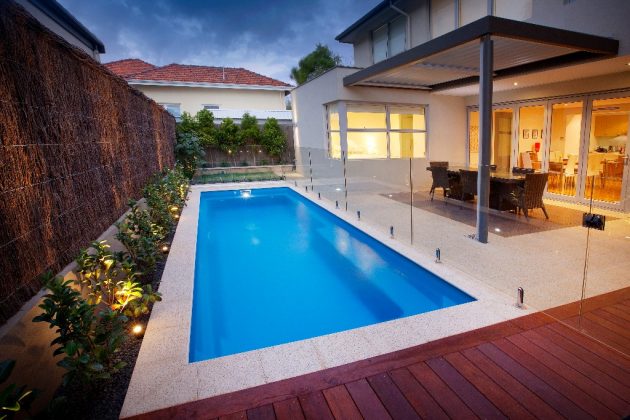 Features of a family pool
A family pool is the largest type of fibreglass pool. They are designed to cater to the whole family and guests. The average size of a family pool is anywhere from 8.5 metres and 12.2 metres long and around 3.5 metres to 4.4 metres wide. A good quality family pool will have safety ledges and non-slip steps which are essential if you are going to have children using your pool. Family pools not only come in a variety of shapes and designs, they also come in variety of depths which is perfect for children to gain confidence in the water. The most common shape is rectangular which is timeless and will still look fantastic in years to come.
What are the benefits of family pools?
Probably the most obvious one- their size. Family pools have plenty of space so everyone in the family can enjoy the pool at the same time, you don't have to worry about swimming on top each other, there is enough room to swim around and play freely. Many families say that having a pool at home keeps their kids active and off devices and they spend more quality time together as a family. Family pools are also fantastic for entertaining, keeping fit and relaxing.
A family pool will be too big for some backyards, however, if space allows, they are a great choice. Pools that are designed for families offer a complete lifestyle overhaul for some. You have the opportunity to improve your health, wellbeing, and family life all from the convenience of your backyard. Having a pool at your home is a great reason to get outdoors in the fresh air and enjoy some time keeping active, together.
Reputable pool companies offer numerous safety features with their family pools such as its non-slip surfaces, safety steps, and a seating area for kids to sit and have a rest if they need to. A swimming pool can be a real talking point at your home. They are aesthetically appealing and if done right, can add significant value to your home.
How much does a family pool cost?
Again, the cost of a family pool can vary significantly depending on the site you are installing it in and whether you have good access or not. On average a fibreglass family pool costs around $25,000 to $35,000 install. Family sized fibreglass pools can also be installed above ground to save costs. However, most people prefer the look of them inground.
Why should I choose a family pool?
If you have a family or if you like to entertain often family pools are great choice. They offer plenty of space which is unmatched by plunge and lap pools. Having a family swimming pool at your place is a great experience for everyone, from little toddlers right up to grandparents. A swimming pool provides families with the opportunity to spend quality time together and well as keeping active in the water as a family. A swimming pool is a valuable asset that can be enjoyed for many years.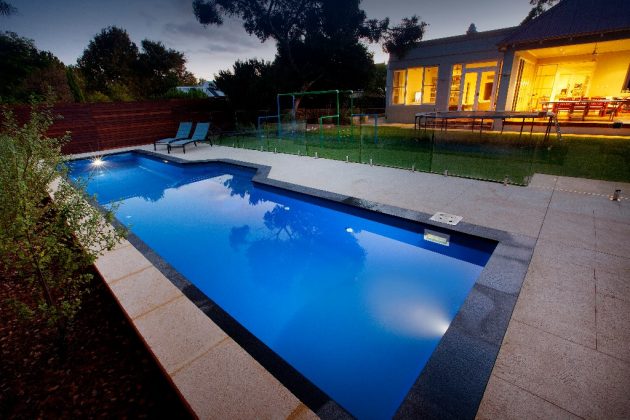 Lap Pools
People are more active today than they have ever been. Lap pools are a great choice for people who like to keep fit and those who take swimming seriously. Here's everything you need to know about lap pools:
Features of a lap pool
Lap pools are long and narrow in shape and designed for serious swimmers that need an unrestricted length of water to do laps in. The average size of a lap pool is anywhere from 8 metres and 12 metres long and around 2 to 3 metres wide. Typically, they are fitted with jets that propel water towards to you to create resistance, giving you a killer workout. The lap stretch is straight and free of obstacles such as ladders and steps to ensure the swimmer can move freely. Lap pools look stylish and modern and can be a stunning design feature in a backyard. Lap pools also come in a variety of depths so it can be used for other recreational activities too. The shape is ideal for an infinity pool design, this can bring harmony to the overall space in your backyard by bringing the landscape and pool together.
What are the benefits of lap pools?
A lap pool is a great way to keep fit. Swimming is one of the best cardiovascular workouts you can do with minimal impact on your joints and bones. Swimming laps is great form of exercise for those recovering from an injury or people who cannot bear weight. This strengthens muscles whilst improving overall health. It is a highly effective way to destress and improve your mental wellbeing, leaving you feeling relaxed and rejuvenated.
Lap pools are great for little ones who are learning to swim. They are narrow making it easy for kids to get from one side to another without having to swim a distance. They are great for backyards with limited space who still want the benefit of having a swimming pool in their backyard. They come in a variety of shapes, colours, and designs so you are sure to find one that tie in seamlessly with your backyard.
Lap pools haven't been around as long as family pools, however, in the time they have been on the market, they have proved to be extremely popular. For a lot of people, health and fitness is extremely important to them and apart of their everyday lives. A lap pool can be a great selling point and add valuable dollars to your home.
How much does a lap pool cost?
On average a plunge pool costs around $20,000 to install. Of course, this can vary significantly depending on the condition and access of your site. Our lap pools are the exact same quality as our large pools, and you are getting the same superior workmanship to install it. Our lap pools can also be installed above ground.
Why should I choose a lap pool?
If fitness is your focus when purchasing a pool, a lap pool may be a good choice for you. Lap pools don't take up much space, yet look stylish and ultra-modern. They are suitable for most backyards and when used for fitness, they are a great way to improve mental and physical wellbeing. They are ideal for relaxation and cooling off on a hot summer's day.
Deciding which style of pool is for you
When you are choosing a pool for your home, it's a good idea to establish what your pool will be used for the most. Once you have done that, it will help you decide which type of pool is right for you. If you are still having trouble deciding which pool style is best suited to your lifestyle, give our highly skilled team at Barrier Reef Pools a call today. We are more than happy to help and answer any questions you may have.