Who doesn't love pool parties? After all, they are one of our favorite summer activities.
A pool party gets much better with food that's served straight from the kitchen. But the guests might hesitate to go in and out of the house every time they need a drink or a quick bite.
So, why not set up an outdoor kitchen alongside your pool? Apart from the parties, it will also be a valuable addition to your house.
Here are 7 tips to help you with the design.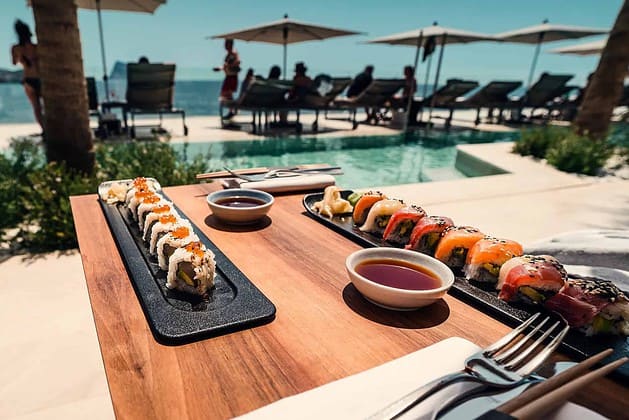 1.Location
If your backyard doesn't have much space, you are better off with a large pool and a compact outdoor kitchen close to your indoor kitchen.
If there is ample space, you can go for a fully functional kitchen that lets you store all utilities. Therefore, this kitchen doesn't need to be in a close proximity to the indoor kitchen.
Irrespective of the kitchen type, decide the location of your grill and smoker based on wind direction.
2.Level Up
Your outdoor kitchen should be a level above the pool to avoid any drainage issues in the future.
It's a basic tip, but you should never let it slip your mind.
If you insist on having the kitchen on the pool level, talk to your designer, and work on drainage issues before starting the kitchen's construction.
3.Zones and Ratio
Outdoor kitchens are generally spacious. But if you make the mistake of not dividing it into zones, it can end up being cramped.
You will need separate zones for cleaning, cooking, serving, grilling, and the bar.
A large grill without any space left around it is as good as having no grill in the kitchen. If you think the place can't accommodate a huge grill, go for the medium one. You won't regret it.
Give equal importance to workspace and service space. Divide each zone in a practical ratio.
4.Equipment
Make a list of equipment you would want to have in your poolside kitchen.
You can add an outdoor grill, electric (or charcoal) smoker, oven, wine cooler, refrigerator and any other appliances, according to the available space.
5.Storage Space
Your grilling equipment should be stored in a dry place to prevent the chances of rusting (which also means this area should be a little far away from the pool). On the other hand, regular cookware should be kept handy. Keep these in mind when designing your kitchen racks and cabinets.
Consider installing a tiny refrigerator and a wine cooler if the budget is not limited.
6.Lighting
Install LED lights around the pool. You can try moonlighting as well.
In the kitchen, make sure the areas under the countertops have enough lighting. You should be able to find anything in the built-in cabinets without any hassle. Plus, the lighting is aesthetic. So is the case with placing a light over the grill.
Decide the areas to highlight in the kitchen and the areas where you need light to work.
7.Flooring
As your kitchen is alongside the pool, you shouldn't use tile or marble. Walking with wet feet on such floors can cause accidents. Safety should be your utmost priority.
Concrete (though less slick than marble) is the ideal choice for your outdoor kitchen. You can have the concrete floor designed in rock salt finish and then get it colored in a shade that compliments the other areas of the kitchen.
We hope these tips will help you to design your outdoor kitchen. However, it is always better to contact a professional to avoid mistakes.