Although home enhancement projects are designed to enhance the interior and/or exterior of a house, as a homeowner, you should focus on renovations that make the most financial sense to you. Why? Well, it will benefit you in the long run.
Note that improving your home's outdoor space not only allows you to fully enjoy your property, but the right renovations can also be assets when it comes to selling your house.
Creating or enhancing your outdoor entertaining areas could be as simple as refreshing the patio furniture with throw pillows or new fabric, or it could be a more involved project, like planting greenery or installing a built-in BBQ.
The most essential thing to note is that your outdoor space should work for you. Any improvements you make must be designed with your needs and goals in mind.
That said, the following outdoor projects are some renovations that will not only make your home's exterior look great but also add value to your house.
#1. Create Your Own Path
Have visitors walk through your flower beds and gardens by creating a winding path that lets everyone appreciate the planning and hard work you've put into making your property look beautiful. Choose pavers in varying shapes and gradient shades to make a path that looks interesting and is easy to maintain. Just take a look at the image below for inspiration.
#2. Set Up a Carport
Although it may sound like a fancy British way to say "garage," a carport is actually much more, or should we say "much less?"
Carports are now commonly used in single-family homes. For starters, they're inexpensive to set up compared to a garage. Also, a garage is often stuffed with everything but the car itself—an extra fridge, sporting equipment, boxes of memorabilia, and so on. All this leaves your car outside, victim to the searing sun or pounding rain and snow. That's where carports come into play.
A carport will not only help keep your vehicle in mint condition, but it will also keep you comfortable. Building a carport is easy, but if you don't want the hassle, hiring a company like Carports and More offers its customers professional carport installation support, no matter the location. So, whether you're in New York or California, your carport will be professionally installed.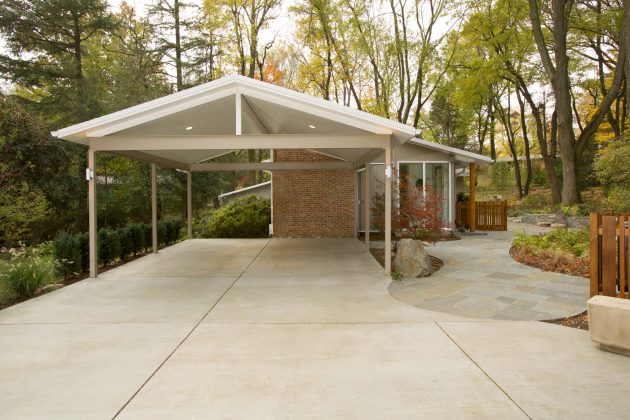 To soften the look of your carport, you can always plant flowers and shrubs around it.
#3. The Cozier the Better
Durability does not necessarily have to be utilitarian. In fact, patio furniture is now more comfortable than ever, thanks to weather-resistant cushions, pillows, and shades in different patterns and colors. Make each seating area more exciting by investing in furniture that looks amazing.
Creating a mood does not end here. You can also add umbrellas and planters, and go for nooks and close-set seating areas instead of wide-open plans, to provide a better sense of privacy.
#4. Build a Nice Roofed Patio
Gone are the days of pouring slabs of concrete that heat up quickly and crack. You can now go for tile, brick, or pavers, depending on your budget, to create a surface that inspires a solid foundation for an inviting outdoor scene.
Also, don't forget about patio lighting; that single porch light won't likely cut it. Incorporate ground-level lighting. You can also add string lights, solar lights, or lanterns. This way, the party won't stop as the sun goes down.
And lastly, the roof that you select for your patio should function as it is intended to. For example, if you live in a hot area with a low precipitation level, you probably don't need a roof covering the entire patio area from rain and snow.
If you're uncertain about your roof's functionality, don't worry. Consult a roofing company that provides timely and professional residential roofing services. They can help tackle your roofing problems quickly and efficiently.
#5. Bring Your Kitchen Outside
Do you love grilling or entertaining outdoors? If so, it is time for you to consider expanding on the matter. Stop running back-and-forth to your kitchen by implementing some exterior kitchen upgrades.
Adding burners and additional counter space would be two of the most crucial elements for outdoor cooks. An outdoor kitchen gives you the option to make side salad while keeping the focus on the main course. It is easier when you design an island out of bricks and natural stones.
#6. Play With Fire and Water
Since you already have earth and air, round it out with fire and water. Now, water could be as cost-efficient as a birdbath that draws songbirds into your home, or you could simply opt for a custom stone fountain, one that mimics the sound of a babbling brook.
Exterior fireplaces can be designed and built into the side of your home. You can alternatively go portable with a cast iron chiminea or create a fire pit in your patio. Imagine enjoying a fire-lit conversation and making s'mores every night without having to go on any camping trip.
#7. Update Your Fence
Not only will an updated fence frame your exterior, but it will also provide added security and privacy. A few coats of paint will improve your fence without spending a fortune. For a full transformation, opt for an attractive brush fence or Colorbond panels in a color that complements your home for a striking look. To avoid hurdles, consider hiring a professional fence builder to help you choose the right fencing that suits your home's overall appearance.
Wrapping Up
As you upgrade your home's outdoor space, you will never feel like wanting to leave the house anymore. In fact, you'll find that you're inviting your friends and family over more often. There's nothing more satisfying than being able to spend the warmest time of the year in your own home, with the loved ones.