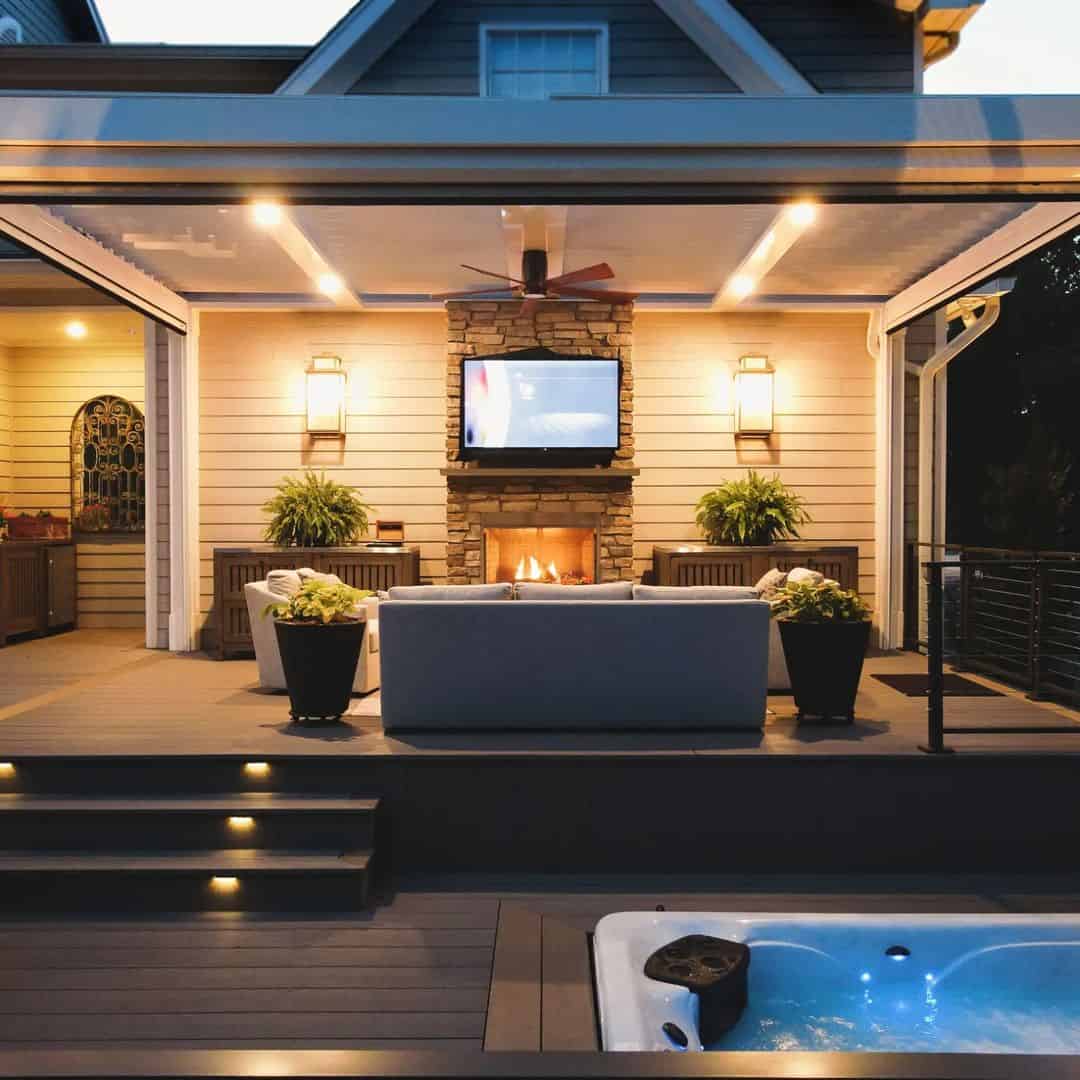 (photo source: @deckremodelers via Instagram)
If you're looking to take your outdoor living space to the next level, we've got some fantastic ideas for you. Whether you want to make a subtle change or go all out with a complete upgrade, there's something here for every budget. One simple and effective way to enhance your deck or patio is through lighting.
Adding lights strategically in certain areas can create an inviting and charming atmosphere, encouraging people to spend time outdoors even after dusk.
There are various options available, from soft string lights draped across pergolas and railings to sophisticated spotlights that highlight specific features like potted plants or architectural details. Not only does outdoor lighting improve the aesthetic appeal of your space, but it also makes it more functional and enjoyable at nighttime gatherings.
These must-have lighting fixtures have the power to transform your outdoor living space into a haven where you can relax and enjoy time with friends and family.
Deck Step Lighting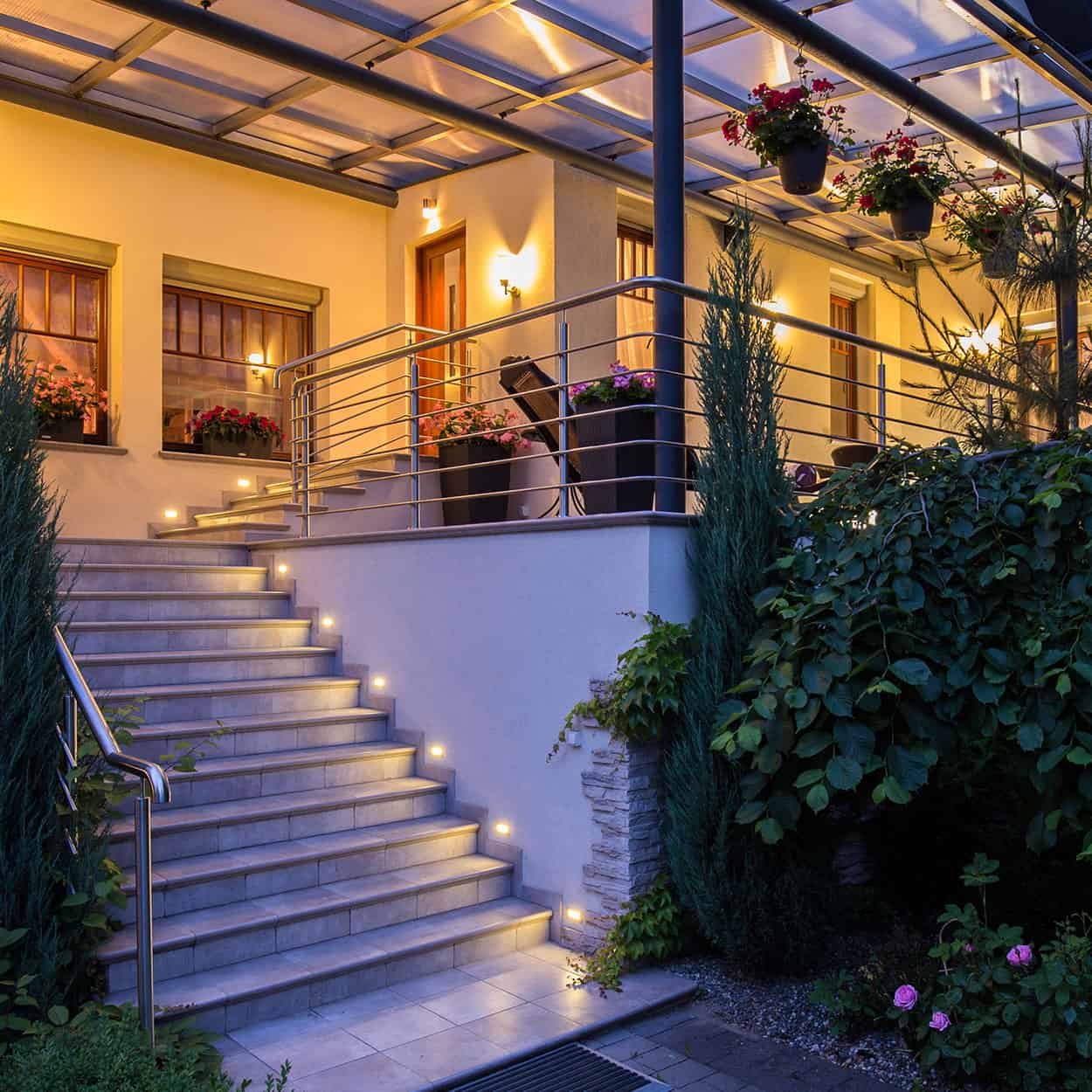 (photo credits: yesss.co.uk)
Deck and patio lighting trends include step lighting. These sleek rectangular lights are designed to provide brightness exactly where it's needed for safe navigation, while also adding style to your outdoor staircase. You can easily attach deck step lights onto different exterior surfaces such as wooden or stucco, blending seamlessly with the overall aesthetic of your outdoor space.
No need to fret about electricity consumption when it comes to deck step lights. These lighting fixtures typically utilize energy-saving LEDs, which consume a minimal amount of power ranging from 3 Watts at most. This means you can relish in the elegant and captivating illumination without worrying about skyrocketing your electricity usage.
Patio string lights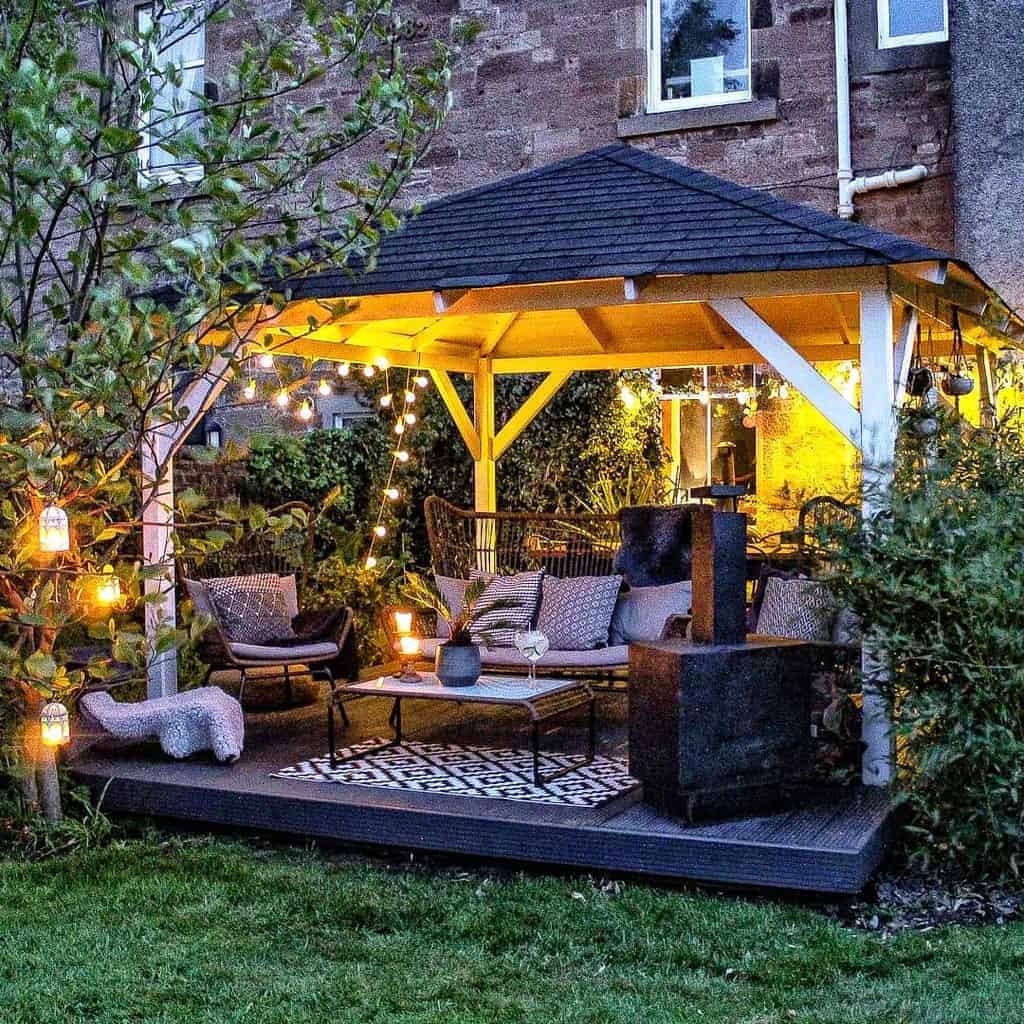 (photo credits: @the_1882_house via Instagram)
String lights are the top patio lighting option. And it's easy to see why as they bring an atmosphere of joy and excitement, casting a warm glow that adds just the right amount of light without being overpowering. If you're looking for a creative outdoor lighting idea to enhance your patio ambience using string lights, consider wrapping them around a tree trunk or hanging them above a table as an enchanting centerpiece providing a gentle glow.
Pendant Lights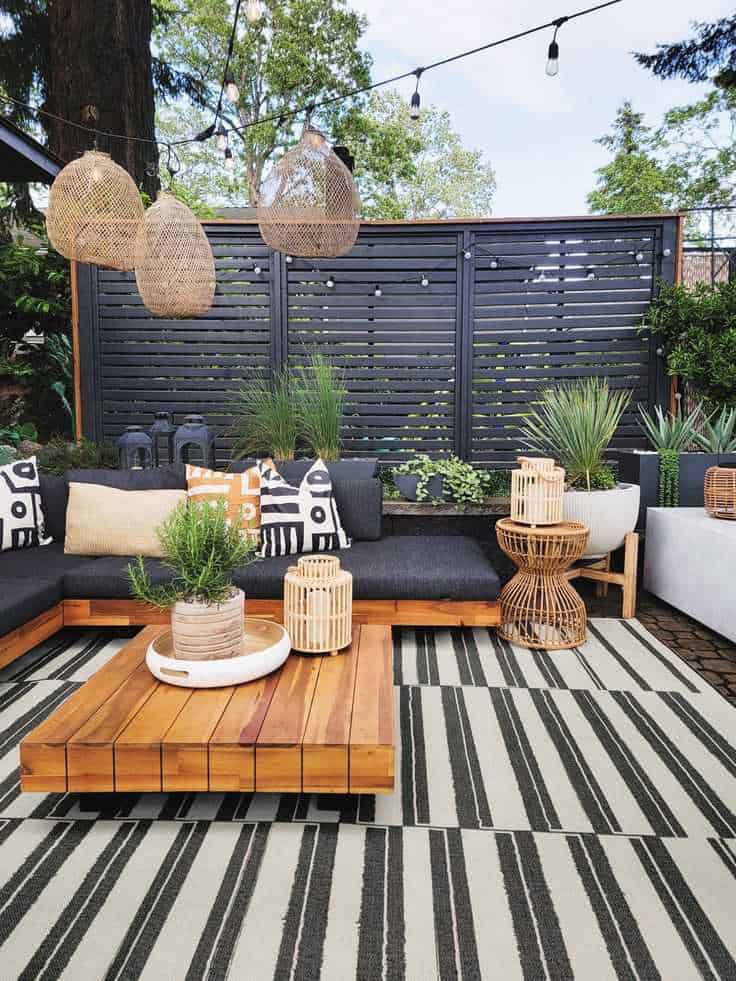 (photo source: via Pinterest)
If you have a covered patio or roofed deck where you enjoy outdoor dining and leisure time, an easy suggestion for lighting would be to hang a kitchen pendant light. Similar to how it's done in your kitchen or living room, having a good quality pendant light above the table will provide ample illumination for the area.
These days, it's quite common to see modern pendant lights being used as the center focus in most outdoor entertainment areas. You can make it even more convenient by connecting smart bulbs or switches that allow for hands-free control.
Ceiling Fan with Lights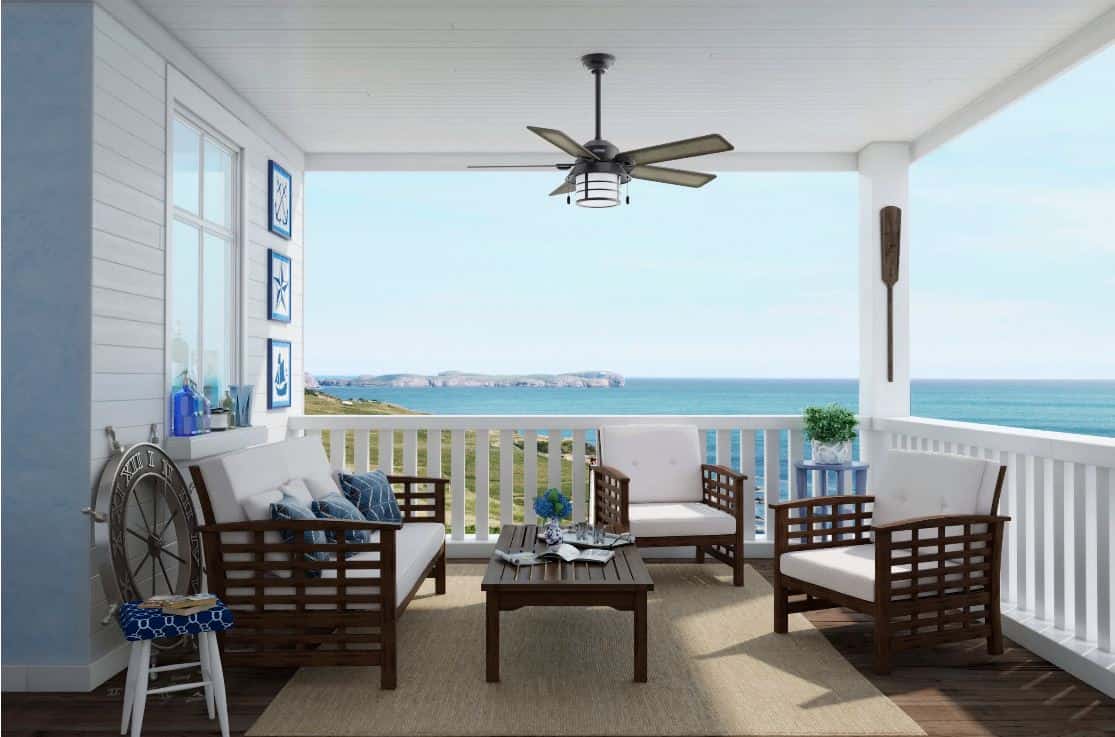 (photo credits: thisoldhouse.com)
During the hot summer months, it can be quite challenging to keep your backyard cool. And adding an outdoor ceiling fan with built-in lights to a covered area of your backyard can be a wonderful solution. These ceiling fans with lights provide functional illumination as well as a refreshing breeze, making your patio or deck even more enjoyable and comfortable.
Wall Sconces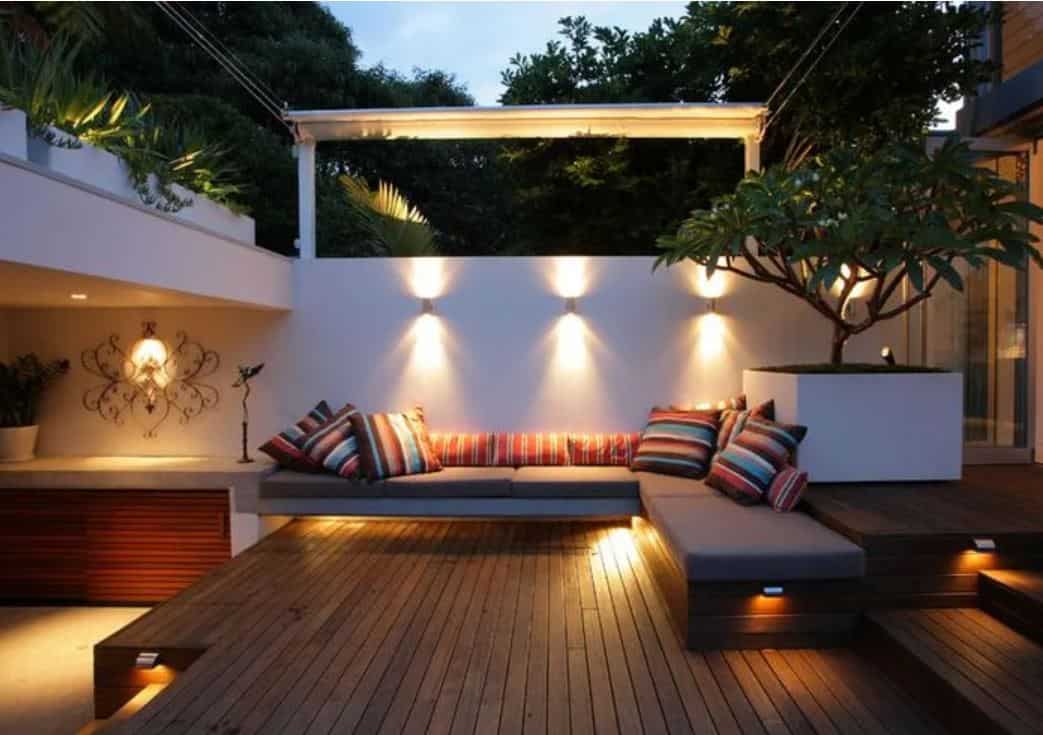 (photo credits: renovatorstore.com.au)
When it comes to deck and patio lighting fixtures, both traditional and modern styles are popular. One type of light that is always a good choice is wall sconces. Lights like these are suitable for outdoor use that can be attached to the walls surrounding your outdoor space, providing direct illumination when seated.
The best part is that these wall sconces have a simple yet functional design that won't interfere with the overall aesthetic of your home's exterior. So whether you prefer a more classic or contemporary look, incorporating wall sconces into your outdoor lighting scheme will not only enhance visibility but also complement your design.
Landscape Spotlights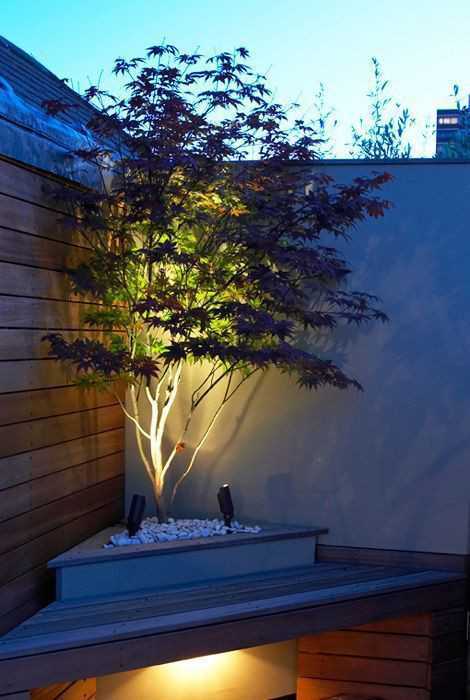 (photo credits: mylandscapes.co.uk)
When you're lounging on the deck, it's important to have landscape lighting for a more visually appealing experience.
Don't let your yard fade into darkness and enhance its beauty by spotlighting the area around the base of your deck, along walkways, gardens, or other areas throughout your yard. This is an excellent way to showcase and highlight the stunning features of your outdoor space to impress any guests that visit. By adding these extra lighting touches, you'll create a warm and inviting atmosphere while also ensuring that every corner of your yard receives well-deserved attention.
Important Areas That Should Be Illuminated
(photo credits: TESSA NEUSTADT)
To enhance your deck or patio experience, it's important to illuminate specific areas. Proper lighting not only adds a touch of elegance to your outdoor space but also creates an inviting atmosphere for dining and entertaining.
Dining Area
A deck or patio is an outdoor living space, which is often found in the middle of a home. It is a great place to enjoy a night's dinner, enjoy a romantic date, or just relax and unwind. You'll find a lot of patio design for al fresco dining as most home these days have made this space an extension of their indoor dining area. This is why lighting up the dining area itself is essential for both functionality and ambiance.
Did you know that linear bar pendant lights are becoming more and more popular for providing task lighting in dining areas? With their custom lengths available, you'll find a stylish one perfectly fit for your space.
Seating Area
Another essential spot that deserves attention is any seating area you have on your deck or patio. Adding lights with a soft glow from wall sconces or barn lights near couches or chairs will make these spaces cozy and perfect for relaxation during the evening hours.
Fire Pit
Fire pits It's one of the most versatile pieces of outdoor furniture in existence. The possibilities are endless — you can roast hot dogs over it on cold winter nights or serve up s'mores around its flames when summer rolls around again (and again). And it's are a great way to relax but they can also be used as an ambiance piece. When you add some fire pit lights, your patio or deck will instantly become more inviting
Barbecue Area
If you are a grill master, your barbecue lighting is important. You want to make sure that you can see what you are doing and that the food tastes good. A bright enough light is an excellent way of ensuring this happens without blinding yourself or burning the meat (or worse, eating it raw).
Under Table
The focal point of your deck is most likely your table. It serves as a gathering spot for you and your loved ones to come together, enjoy meals, drinks, games, and more. To fully maximize your outdoor area's potential, it's a wise idea to use lighting that highlights this central feature.
By integrating these lighting fixtures and illuminating particular sections of your deck or patio, you can not only enhance the visual allure of your outdoor area but also establish a warm and welcoming atmosphere for dining, entertaining, and unwinding. Don't hesitate to uplift your experience of living outdoors with the right lighting choices that will truly transform your space.