The driveway in your home is much more than a functional construction; it's also an important element in the design of your home and landscape. A well-designed driveway can make for a very eye-catching addition to your home, and driveways can be built in an incredibly wide range of styles. For your inspiration, here are five elegant and awe-inspiring driveway paving ideas.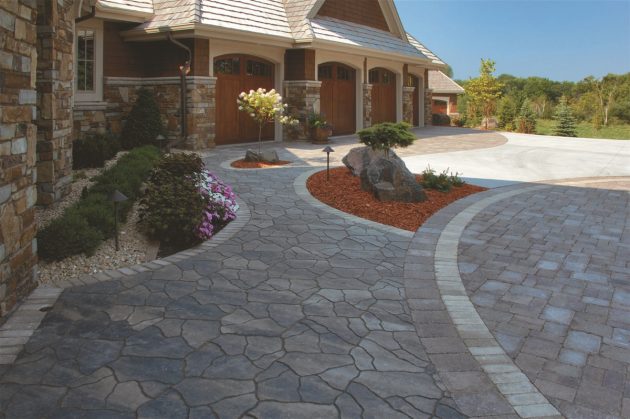 Multicolored Driveways
Most driveways are constructed using pavers that are the same color. However, pavers come in a wide range of colors, and building a paver driveway using multiple colors is a great way to make your driveway unique and eye-catching. Using pavers that are two or more different colors enables you to really get creative with your driveway's design and select whatever color pattern that you like.
Circular Brick Driveways
Circular driveways are one of the top trends of 2019 and certainly one of the most elegant driveway designs. Brick driveways, meanwhile, are trending as well and also make for a very elegant and eye-catching design. Combining these two designs to create a circular brick driveway, therefore, is one of the best ways to give your home a luxurious and upscale look.
Turf and Paver Driveways
Installing small areas of natural or artificial turf in-between the pavers in your driveway can make for a very unique and aesthetically pleasing driveway design. When designing a driveway that features both turf and pavers, it's important to keep the turf sections small enough that they are easy to manage and easy to avoid damaging. If you are able to strike the right balance, though, the end result can be very rewarding.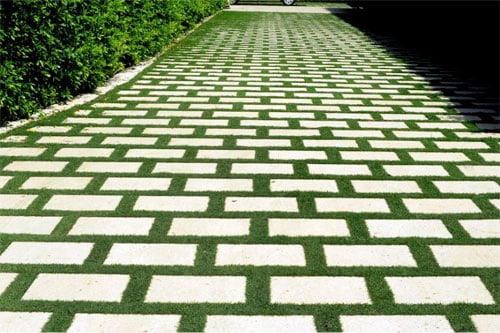 Natural Stone Driveways
Few materials are more attractive in a landscape than natural stone. Even without complex patterns or bright colors, natural stone driveways are still incredibly unique and aesthetically pleasing. The timeless, rustic look of natural stone makes it easy to build a natural stone driveway that looks better than any other driveway on the block. Best of all, natural stone is also quite durable, meaning that your driveway will be less likely to crack or break over time.
Stamped Concrete Driveways
Concrete pavers can be stamped with just about any image or pattern, enabling you to construct driveway borders or even an entire driveway that is wonderfully artistic and entirely your own. Thanks to the incredibly wide range of things that can be stamped onto a concrete paver, the possibilities are only limited by your own imagination. It's worth noting, though, that stamped concrete pavers are understandably more expensive than standard concrete pavers. On average, expect to pay up to $12 per square foot to purchase basic stamped concrete in a single pattern and upwards of $12 per square foot for multicolored stamped concrete pavers or stamped concrete pavers with more elaborate patterns.
Get Started Designing Your Dream Driveway Today
Your driveway doesn't have to look like every other drive on the block. If you live in the Los Angeles area and would like to finally build the driveway of your dreams, contact a paving contractor in Ventura County, Los Angeles, and San Fernando Valley today to get started!