Whether you have a studio apartment or a sizable mansion, having a stylish, entertaining, comfy, and modern terrace design is trending nowadays. Individuals living in suburban areas have the opportunity to live close to nature and experience its beauty. However, people living in metropolitan areas are unable to interact with nature that much. If you have a terrace in the city, then you are in luck as there are a lot of terrace decorating ideas you can try out and give the environment a theme of your liking. Here are some top decorating tips you can use to liven up your terrace space and make the most out of your spent time.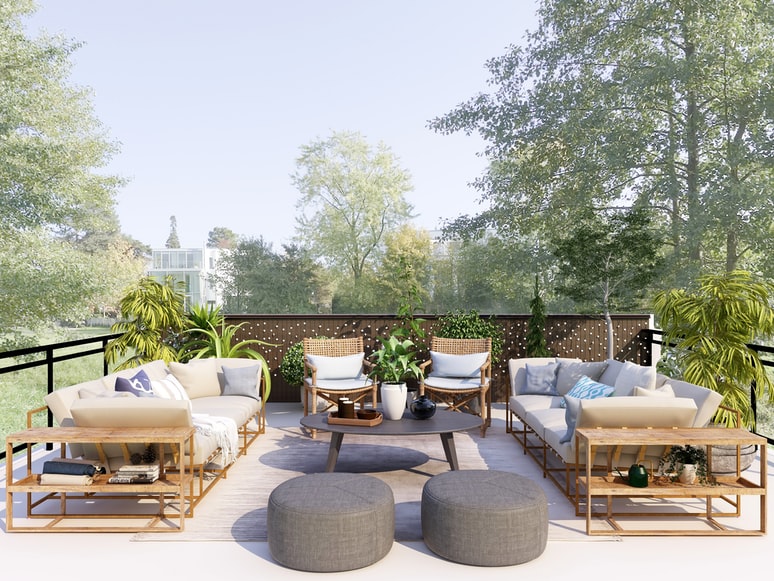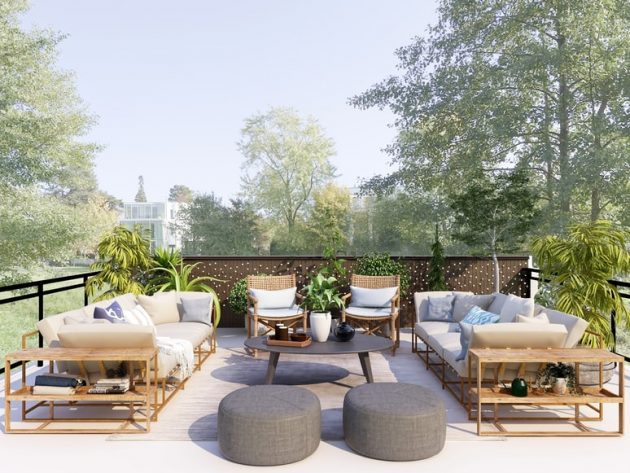 1. Maintain Continuity
If you are looking to open up a terrace space from the indoors, it's important to maintain aesthetic continuity between the terrace space and the indoors. You can use the same colored tiles, similar paint colors, and use the same material so the terrace space compliments the indoors. There are no restrictions on trying out different terrace designs and decorating ideas, but most interior designers emphasize having a theme that can be seen indoors and on your stylish terrace. By following a theme, anything you add to the mix will improve the aesthetics of your home.
2. Using Wall Space
When decorating your terrace, you have the option of leveraging the vertical space on terrace walls and dividers. There are tons of plant decorating ideas you can try out to bring your terrace close to nature. People who don't have any experience growing plants can hire architects to provide a complete setup of a living wall. There are even options to choose the type of bamboo plants you want alongside your wall.
Searching forums and reading blogs related to planting vines can assist in preparing a wall that meets the eye. As you prepare your live wall, don't forget to throw in a bit of lighting. Installing lights will improve the ambiance and make for a more enjoyable time for everyone present. You can add small containers or pots to the wall and use them to plant herbs. A vertical flower garden can also be planted on the walls to make the environment colorful and vibrant.
3. Installing a Jacuzzi
This might be quite an expensive decoration idea for your terrace but it's worth it, especially during the summer months. There are several options when it comes to choosing a hot bath or a jacuzzi. With every added feature, the price of the jacuzzi increases. One thing to remember is to never choose in a hurry. Instead, take your time and consider your requirements to get the best results. Most of the time, a deck is built around the jacuzzi which can be used to relax with family and friends. If the deck is wide enough, consider adding a few chairs or rugs when you just want to enjoy time with your loved ones. Most decks are made out of wood that can deteriorate over time and especially in areas of high humidity and rainfall. Contactors will often give you the option of replacing your wooden flooring with ceramic tiles or stonework.
4. Adding Furniture
Depending on your liking, you can choose from foldable plastic chairs to wicker furniture. for your outdoor space. You can throw in a few chairs, a coffee table, and cushions to ensure comfort. Almost every interior designer prefers to follow a theme for the furniture and to use colors that complement each other. For example, people living in tropical regions can choose black furniture with silver or beige cushions.
If you have ample space on your terrace, also consider installing a hammock or a swing. Placing a coffee table nearby will let you relax in the hammock and enjoy your favorite drinks. A pergola can also be erected to serve as a platform that not only provides shelter but can also be used as a barbeque space. A wood and glass ceiling can also be installed on top of the pergola to provide shelter and protect the furniture during rainy days.
5. Create a Garden Space
Having a blooming garden on your terrace is a great consideration for plant-loving people. You should first decide if you want to add plants on your own. Start with measuring the dimensions, make a rough layout on paper and decide the places you might want to add plants. Topiary is another option that will surely improve the aesthetic of the space.
Setting up a garden might not be easy after all. Therefore, hiring a professional gardening service provider would be the best option. These gardening experts can also revamp your space into a zen garden using a mix of sand, gravel, boulders, plants, and grass. These gardens look amazing and give a relaxing aura to the place.
Dedicating time to research is crucial to understanding the type of house plants that are fit for your terrace and weather conditions. A lot of reviews attest to the fact that ready-to-plant aluminum plants are a gorgeous addition to any terrace as they drastically improve and uplift the aesthetics of whichever environment they're placed in. You can plant them directly into big pots and place them on the corners of your terrace or the entrance for an uplifting outlook. The perfect mix of teal, green, off-white, and silver on the leaves of the aluminum plant makes them a great pick.
6. Maintain Privacy
The purpose of a terrace is to chill out, have fun, and relax with loved ones while feeling at home. If you have a busy neighborhood or have a front-facing terrace, an easy approach to maintaining privacy is to use bamboo stick walls or wooden frame structures so you can utilize your outdoor space without worries. The wall-like structure can also be decorated with wall-hanging plants and adequate lighting so the structure doesn't feel awkward. Building walls like these requires adequate training and professionalism so avoid building a wall on your own. You can contact your contractor or hire other service providers to get satisfying results.
7. Keeping it Simple
Cluttering your terrace with everything in mind leaves the place looking messy and unappealing. Whatever decorations you pick, remember to keep them simple, and make sure the renovations you do align with each other. Experts suggest buying lightweight and foldable furniture for your terrace. Homes with a spacious terrace can add a few furnishings from the indoors that align with your home's interior design. Furthermore, symmetry is essential when you layout the furnishings as it can give your terrace a modern and minimalistic outlook.
You can hire an interior designer to do the work. However, if you want to set up on your own, start with the flooring and make sure the wood panels are not uneven. Furthermore, check for signs of wear and replace those areas to give your flooring a fresh look. Now, record the measurements of your terrace and symmetrically place your furniture. You should try out a few settings to place your furniture or rearrange them each month for a fresh appearance.
8. Outdoor Lounges
Homes with a spacious terrace can add symmetrical outdoor lounges and chairs to give their outdoor space some personality. These extra chairs, beach beds, and lounges should be similar and in contrast with the indoor theme so nothing feels visually awkward.
9. Using Colors
Architects and designers providing their services in metropolitan areas emphasize the use of no more than 3 hues. Using minimal colors maintains a pleasant vibe and can easily complement any type of furnishings or decorations.
10. Add Shade
If you live in a tropical area where rainfall is the norm, add a retractable awning so you and your loved ones can get the most of their spent time without worrying about the weather. This shade can also protect you from the scorching sun and make the terrace livable anytime you want to relax. As you decide on the shade, don't forget to buy a recliner or a relaxing lounge and put it under the shade. You can throw in a few cushions or pillows to give you the ultimate relaxing experience.
11. Add Natural Colors
No matter the size of the terrace, there is always room to add flowering plants. As mentioned earlier, you can install wall-hanging pots and use the wall's vertical space to plant flowers. Pots of varying sizes and shapes can also be placed in different areas, giving the space a colorful vibe and a natural look.
12. Adequate Lighting
Installing adequate lighting is crucial if you want to use the terrace space during the night. There are a lot of lighting variations you can try out to keep your terrace blooming. Wall-mounted lights, smart LED lights, LED strips, lanterns, and pendant lights are some options you can consider when changing your lighting. If you already have a ceiling on your terrace, a modern chandelier is a great pick.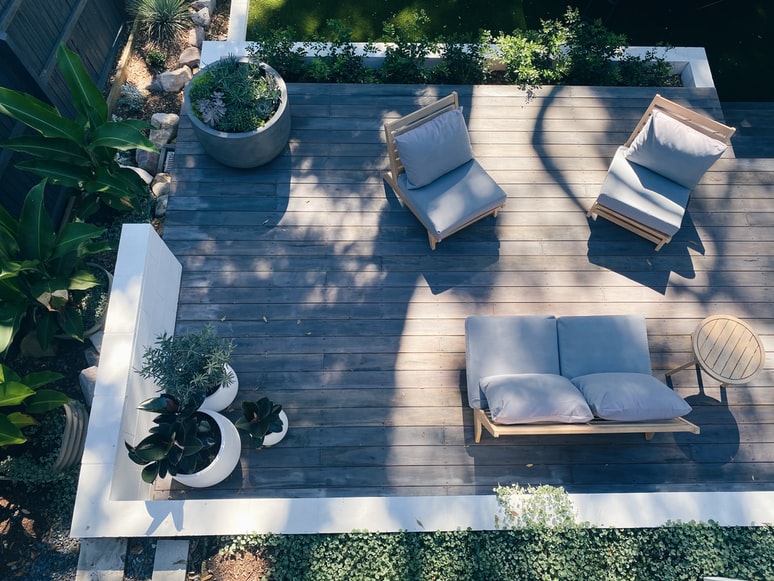 These were our tips on decorating the terrace space for you to try out. As you decorate the terrace, remember to start with one thing at a time. Never rush on to reworking your terrace on different levels. We hope you find the provided information useful in giving your terrace a fresh and appealing outlook.