Gone are the days when people think that they can enjoy parties and get-togethers at their outdoor spaces at some particular time of the year. Adding some design elements to outdoor spaces allows enjoying precious time with friends and family even in winter and the fall months.
Here we will discuss some simple ways that make it possible to enjoy the yard all over the year. Designing a landscape is a simple process, but the only difficulty is from where to begin this process. The tips can also serve as an effective camping guide if you wish to spend time outside your house amidst nature.
Gardening
Garden gives good vibes, and we can spend our lives living close to nature. Moreover, the inviting sun and shade, improved air quality, and visually relaxing greenery are added benefits.
You can make use of small containers to growing herbs, seasonal flowers, and vegetables on patio or porch. In this way, you can spend time with these little plants and can experience mental peace. Once you are done with the daily chores, head towards your garden to enjoy nature's beauty.
While designing the garden, most people go to the gardening supply shop straight away without having any plan. They even don't know what they need and what are the best plants that will thrive in their landscape? You should avoid doing this and make a plan beforehand to create a cohesive, beautiful, and flourishing landscape.
More Illumination
Summers are brighter, but what about fall and winters? If you want to enjoy outdoor spaces throughout the year, then ensure to add more lighting. The right light can make the simple outdoor space look attractive at night. For subtle illumination, you can place lights under a bench seat. The ring of lanterns around the table or hanging lights is a good option. The lighting put farther makes space look bigger. These lighting fixtures can be LED, solar-powered, or low-voltage lights. Use them to make your outdoor spaces a magical party venue after dark.
Add shade
Many factors need to be considered when you plan for upgrading the outdoor space, and the most important is the sun. If there is no natural shade, then use a table umbrella, which is available in different shapes and sizes.
Durable and multipurpose furniture
Durable garden furniture allows you to enjoy outdoor spaces throughout the year. The weather-resistant furniture can withstand extreme temperatures. You can consider buying the furniture made of teak, powder-coated steel, and polyresin wicker as they are long-lasting. Multipurpose Furniture is good to choose as they provide additional seats. For instance: ottomans can be used as a coffee table.
Buy a Truck Topper
For people having their own trucks, investing in a truck topper is an excellent option to enjoy ocassional nightouts. The market offers several truck topper for camping which is easy to store and can be a great truck upgrade as well. They are super-quick to set-up and adds the comfort to your camping outings. You may also get it for your RV as it requires minimal space when folded. Make sure you have a secured car door lock or RV door lock fitted at the gate so that you and your belongings inside could be safe and protected.
Make winters cozy
Adding a source of heat makes it easier to spend time outdoors. This will be a beautiful place to gather and enjoy so you can continue enjoying winters. Hedge-like landscaping assists in preventing from chilly winds and add shelter in the winter months. Heat sources warm up the guests, and you can enjoy late-night parties with warmth and coziness in outdoor space. The heat sources include an outdoor fireplace, fire pit, and outdoor heater.
Blend with interior comfort
Adding coziness at your outdoor spaces allow you to spend extra time outdoors. The comfort you enjoy indoors like throws, pillows, and blankets should also be available outside too. This way, you can gaze at the stars along with your friends lying together, or you can enjoy hot beverages sitting comfortably. Ensure that the seating is comfortable and add plenty of throws.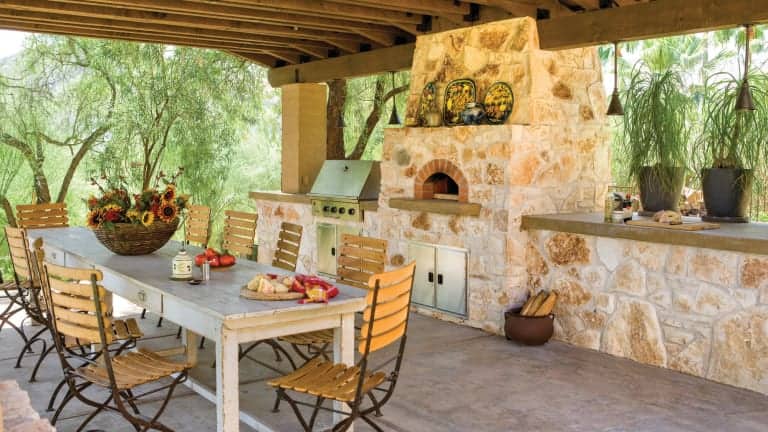 Outdoor Kitchen
Enjoying the food outside the space of your home is exciting. The grilled food is tempting and suitable for any season. The kitchen available outdoor allows you to prepare and enjoy delicious food. Set up a barbeque and continue cooking throughout the year. Wear an extra sweater or shirt, and enjoy winters relishing hot grilled food. You can change the menu slightly, depending on the weather.
Use durable fabrics and materials
A covered porch allows you to use the delicate furniture and indoor cushions. However, if the seating area is open, then you have to buy furniture and fabric that are mainly made for outdoors. It does not mean that these specifically designed amenities are expensive, but they are not affected by the sun and resist water and stains. Cushions for outdoors are stuffed with a material that allows releasing water quickly.
Add colors
Colors are alluring, and it is the most challenging task to fill the outdoor space with different colors. Natural surroundings are colorful, so you don't need to do extra work. Simply brighten your décor by adding hues. One option is to add a rug and enhance the look and comfort. The patterned or bold color rug is an excellent option to go. This will add color and texture quickly, but the only thing you must keep in mind is that the carpet should be suitable for outdoor use.
Fake it until you make it
Sometimes, after lots of hard work, you do not get the desired grass in your outdoor space. When this happens, you can simply use fake faux grass. It has easy maintenance, and all you need to do is to keep it clean.
Running water to mask the sound
If you are a peace lover and sounds from the neighborhood bother you then use running water to deal with this issue. You can install a fountain near the seating place for the silent atmosphere. Also, Make sure you also have arrangements by adding faucet for water so that you don't have to run every now or then to collect water. Playing soft music in the background is effective at sound masking. If there are no outdoor outlets, then use wireless sound speakers.
Enjoy outdoor dining
The handy outdoor kit allows you to dine outdoors effortlessly. Try placing the used and favorite items in a basket with a handle, so it is easy to grab when required. The list of some things that you need is unbreakable plates and wine glasses, napkins, a carafe for wine, water or juice, matches or lighter with candles, mesh cover, or wicker to keep flies at bay, serving pieces and bottle opener.
Water Fun
Hot-tubs are famous because people can feel relax and warm throughout the year except for summers. This feels good, especially at low temperatures. You can enjoy a solo soak or party with friends after an evening or a game. The tub is inviting, and you can soak to enjoy and relax. Long soaks at the day end is the must-have luxury. It is crucial to consider privacy and whether you want to place it in shade or sunshine.
Typically, a round tub is about six feet in diameter and covers a space of 30 square feet. A rectangular tub is approximately 48 square feet. The hot tub water weighs about two tons, and you will need additional room for walking and sitting around the tub. Other than a hot tub, you can consider a hill for a slide and slip or a place for a kiddie pool.
Unique decoration for festival celebrations and holidays
Consider decorating the outdoors if weather permits, and you can party outdoors. Don't forget to add some warmth by keeping the blankets, fire pits, and hot beverages. Ensure that lighting decoration is safe and festive. Also don't miss to add a perfect RV door lock if you are proud owner of an RV. You can enjoy activities like pumpkin carving and apple bobbing in Halloween. If you are organizing a party, then a costume contest is an excellent choice to enjoy. Make selfie points for your guests.
Decorate your indoor and outdoor kitchen for Thanksgiving and serve the delicious food. For Christmas, you can decorate a small Christmas tree with non-breakable, weatherproof, ornaments. Also, provide blankets and pillows to your guests.
Include fun factor
Use your outdoor space at any time of the year and enjoy watching television, cooking, etc. Try to add fun when sitting in your cozy outdoor space. Invite your family or friends to play the game, watch television or videos on outdoor television or computer. You can also enjoy cooking delicious food and serve it hot. Grilling is also a fun activity, and you can grill burgers, pizza, or boil a pot of soup. Enjoy your favorite hot beverage—play outdoor games like beer pong, etc. In chilly snowy weather, you can build a snowman and decorate. Sip your favorite drink, and admire your work. You can also host a holiday party, and you can decorate the home as you like.
Ensure Privacy
Privacy is essential, and a sense of enclosure makes you feel comfortable. Garden walls and fences are good privacy options for patios, and you can also make use electric fence for horses if you are a horse owner and also can use of pergolas, lattice to define outdoor spaces..