When you look at the number of sofas you can currently find on the market, suddenly, the task of finding the perfect one for your living room gets a lot more complicated. The first thing to consider is whether you want to buy one of the mass-produced models or rather order a bespoke sofa fitted perfectly to your needs and expectations. But whichever options you decide to go with, remember that it's the quality that should always be your biggest concern. It's the only way to pick a sofa that will stay with you for many years to come.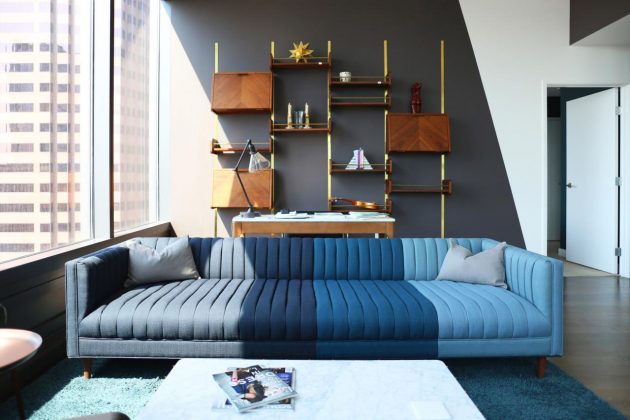 Look for high-quality materials
Many people make the mistake of choosing their sofas based solely on the prices – but that's not really the best strategy. Sure, it's always a good idea to decide how much you can spend before you go shopping for furniture – knowing your budget can help you stay away from the options that are simply too expensive for you. But if you want to buy a sofa that will last forever, you need to look for durable and well-made models, and the easiest way to find them is by looking at the materials they are made of.
One of the main things that your sofa needs to be long-lasting is a solid frame. When you're looking for durability, hardwood is always a better choice – it can drive the prices up, but you're significantly improving your chances of getting a product that will serve its purpose for a very long time. One more thing to check is how the frame's parts are connected to one another – even if your frame is made of sturdy materials, it won't be able to withstand long-term use if it's joined by nothing more than nails or glue.
Choosing the best filling can be a bit more complicated. Foams are definitely the most common and the most cost-effective option, but you cannot really count on their durability – you can, of course, choose high-resilience foam that will last longer, but it can be a bit more expensive. The best thing about foams is the fact that they don't really require any maintenance. If you're looking for higher quality and durability, down and feather may appear interesting to you – such fillings are a lot more expensive and require more care, but they are very long-lasting.
Modern fabrics have a lot more to offer than simply giving your sofa a beautiful appearance. You can easily find fabrics that are stain-resistant, easy to clean, and capable of avoiding damages during everyday use. They are not only practical, but you can also find such fabrics in all shades and patterns you can imagine. So if you want to find the best fabric corner sofa bed for your home, you'll definitely be able to find something to complement the rest of your interior design.
Pick the right style, but don't forget about your comfort
But when it comes to choosing the perfect sofa, the design is equally important as its durability. Your new sofa not only has to fit in stylistically with the rest of your furniture, but it has to fit your taste as well. If you don't like it, you'll start looking for a replacement sooner or later. Similarly, if you don't find your sofa comfortable – there's no way you'll want to keep it for many years. In short, if you want a long-lasting sofa, you need to find models that are durable, well-made, comfortable, and visually appealing. So don't rush your decision, take your time to go through all of the available options, and find the one that will work best in your case.