When it comes to de cluttering and organizing all the things you've accumulated over the years, you probably think like most people: throw it in a closet.
This foolproof method of hiding the fact that you have too much stuff and pretending you have your life together for a few hours while entertaining guests is, however, just a band aid. Within the next few days your stuff always inexplicably finds its way out of the closets and back to being in your way.
Studio Thomas Denver Interior Design is here to show us how we can organize our things so that they not only fit in but add to the design of our homes. Here are six quick, off-the-cuff tips on how to make organization clever and creative.
Combine a wooden picture frame, a can of colorful spray paint, some burlap and some cork board, and you've got a jewelry organizer into which you can pin earrings, necklaces, and the like. (Window screen also works in place of burlap.)
Increase the size of the picture frame to create a note board for calendars, reminders, to-do lists, etc.
The picture frame says artsy, but the cork and pins mean business.
Cords and wires are an inescapable part of life, and aren't convenient to hide in the closet. So hide them in plain site by tacking them up underneath tables, on the backsides of dressers and bookshelves, and underneath rugs. When they have to be run up walls, cover them with cheap trim (that you can also paint.)
If you have hallway space that seems to exist just for hanging pictures to walk by, think again. You can transform these walls with floor-to-ceiling shelving to hold bowls, spices, potted plants, art, or anything else you can think of to display. If your hallways are thin, you can still install shallow shelves with railings, which are great for holding books that can be stored face-out.
Speaking of shelves, here are two powerful words: corner shelves. Every house has at least one corner that can be transformed with corner shelves. Besides paint, corner shelves are some of the cheapest and most dramatic ways to add creativity and design sensibility. And they go in any and every room.
Just one more thing about shelves: install them above your interior doorways. In the bathroom, they can hold extra towels. In the kitchen, extra spices or bowls. In the living room, extra books. In the bedroom, even more books.
Install wire racks or a hanging shoe organizer on the backs of your closet doors. Instead of holding shoes, the shoe rack can hold wrapping paper supplies, spices, dried goods, cleaning supplies, and anything from the junk drawer (you know what we're talking about.)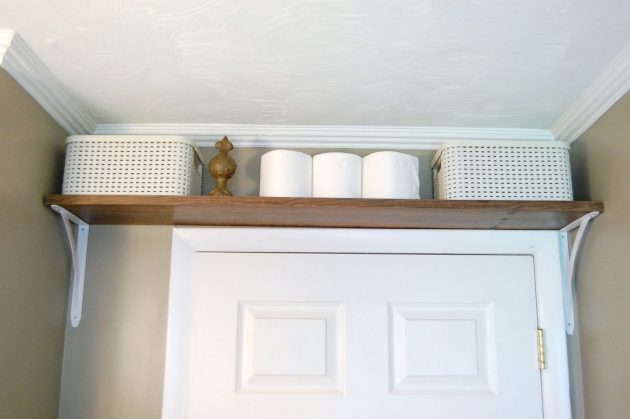 Thanks to the helpful folks from Studio Thomas we can implement all six of these organization hacks by tomorrow if we wish. Simple yet effective, these tips will go a long way toward de cluttering your home life. They're so clever you can even show them off to the guests you used to hide all your extra stuff from.