Never Before in History has Innovation offered the promise of so much to so many in so short a time" Bill Gates. These words from Bill Gates ring true in all aspects of modern-day living. When we talk about home and bath décor, styling innovations have come up with some breathtaking designs and path-breaking technical advances. When we talk about brassware, an ill represented faucet can look completely out of place and ruin the atmosphere, whether in bathroom or kitchen. On the other hand, a unique piece can create wonders and improve the overall feel of the area.
Designers are very keen to experiment with clever ideas and have introduced some mind-blowing faucets for modern homes that will grace our basins and sinks like never before. Taking inspiration from varied sources, here are some of my favourite.
Designer Motorcycle 4-inch Faucet
The ultimate in contemporary design and innovation, is the Opulent Motorcycle faucet. If you are a riding enthusiast and would like a reminder of your favourite sport each morning then, take a look at this awesome faucet, shaped like a motor-bike. This futuristic idea has been translated into reality using solid brass and has super glossy chrome finish. The 4-inch centreset form has two levers or handles and fits most modern sinks. Backed by a 1-year warranty you can be certain of the quality of workmanship and materials used in this spout.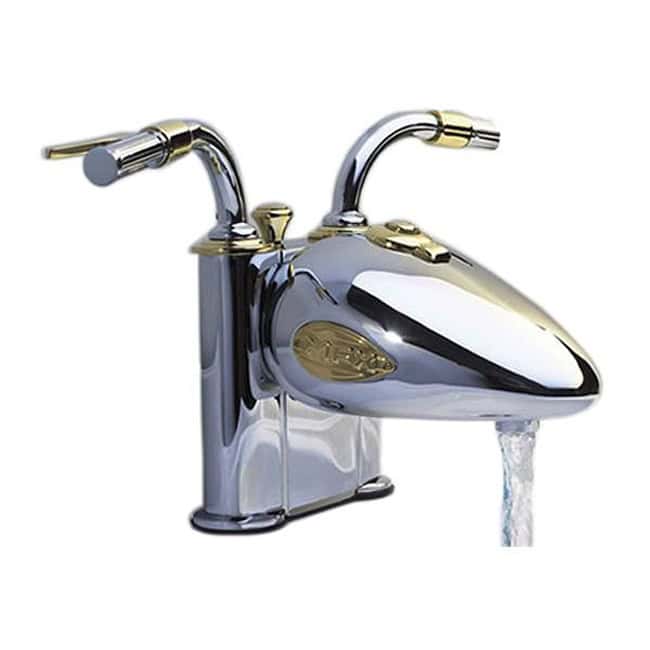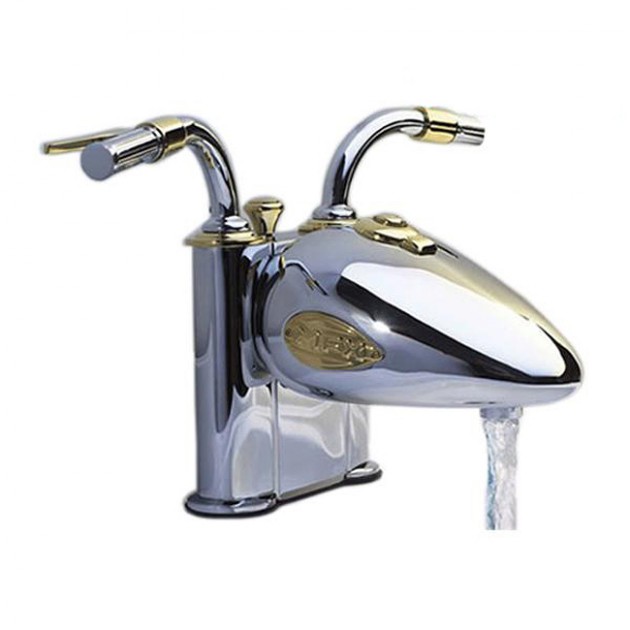 Reference: Odee
X-Sense Limited Edition Swarovski Bath Faucet from Newform
Bring the sparkle and shine of gems and jewels into your bathroom with this one- of-a-kind tap, the new X-Sense Limited Edition faucet from Newform that comes studded with Swarovski crystals. Beautifully crafted for the super-rich who are passionate about displaying their desires inside their homes, it is a masterful creation. The brilliance of the Swarovski crystals against the matt Gold finish of the tap is a breathtaking combination and makes a lasting impression.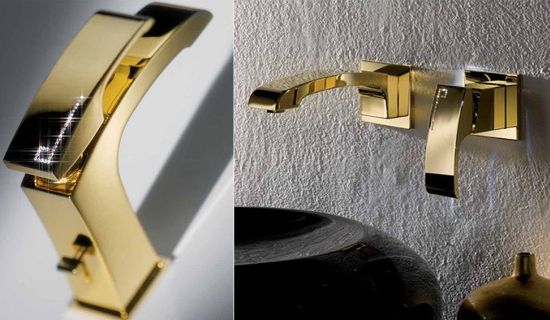 Reference: Pinterest
Shifter Faucet
Inspired by the gear box of a car, Shen Di has designed this simply sensational faucet, rightly called "Shifter" tap. Besides offering a unique, futuristic look, it allows the user to control the flow of water from the faucet just like a gear box would control the movement of a car. This makes for most economical use of water, a precious resource that needs prudent use. Especially designed for the environmentally conscious and those who are passionate about Green living, the brassware also saves on hefty water bills. Focus is on minimalism, even in the styling while offering a luxurious look.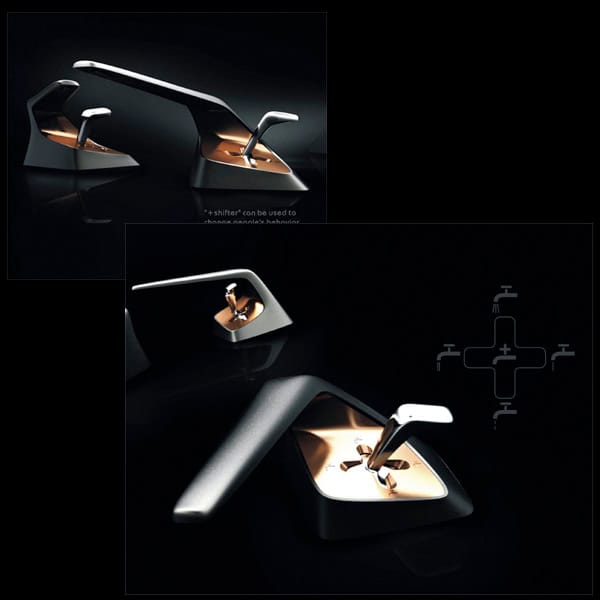 Reference: Yanko Design
Ceiling Mounted Bathroom Basin Spout Tap by Crosswater
Think brilliance and innovation with the design of the Ceiling Mounted Basin tap from Crosswater. With solid brass construction, the spout is highly durable and comes with beautiful chrome finish. Manufactured for a modern bathroom which leans towards minimalism, these long flute-like faucets are truly impressive. Its ceiling mounted installation allows for a seemless, neat look and finish. Backed by Crosswater's fifteen year guarantee you can be certain as to the quality of workmanship and materials present in this spout.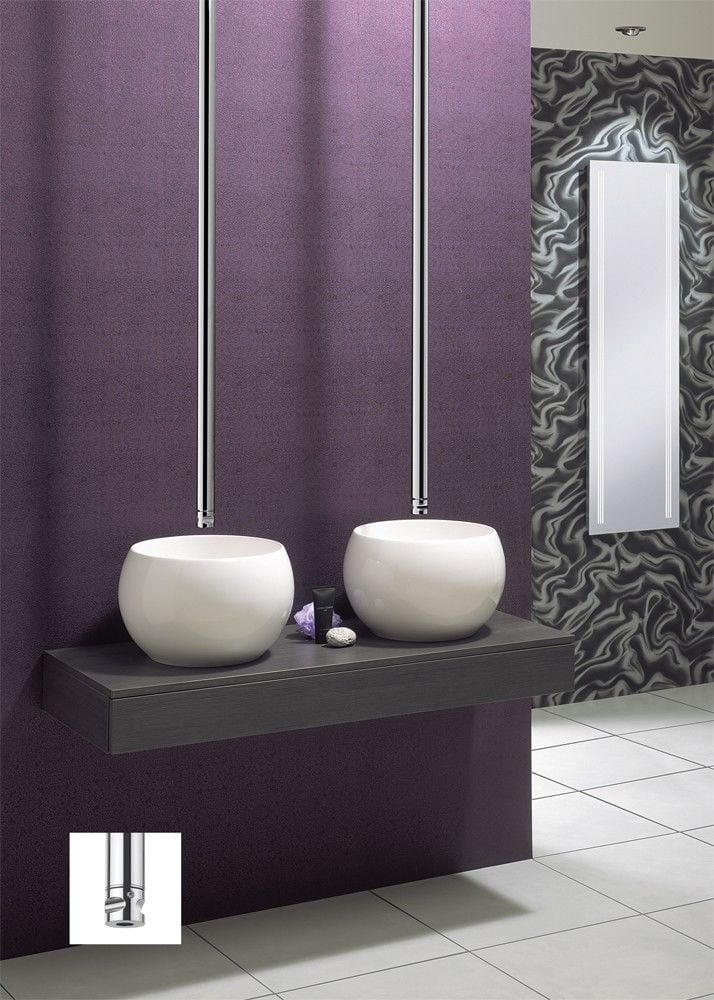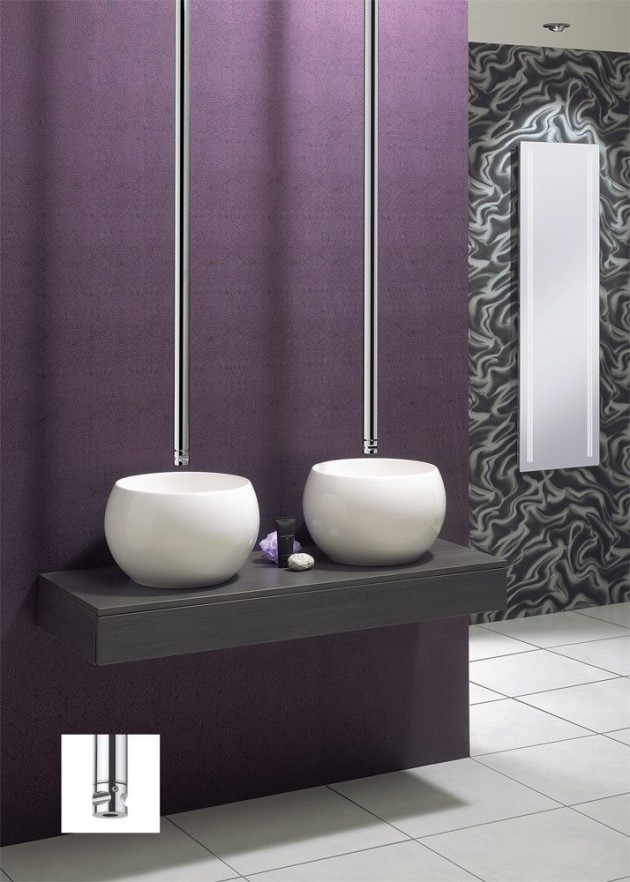 Limited Edition Flower Series Glass Faucets
Sheer brilliance in design and quality— that is what defines the Limited Edition Flower Series Glass taps. Top quality glass has been brilliantly moulded in never before styles to come up with these exclusive luxury bathroom fixtures. The products, from the house of ZGC look flawless and feature designs so intricate that they seem impossible to achieve in Glass. When it comes to durability, they combine the strength and versatility of metal with the elegance of glass. Bringing to life sheer magic in all their opulence, these are made for the most luxurious of bathrooms.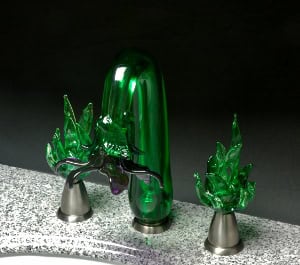 Reference: Zero Gravity
Flova Annecy Bath Filler Mixer- Designer Taps
A leisurely and comfortable bath with a constant flow of user-friendly temperature of water is the desire of every homeowner. Flova has introduced the Bath Filler Tap, which, besides providing comfort, also adds to the allure and elegance of the bathroom décor. The charming creation comes with glass shelf that is covered with a thin layer of toughened safety glass, for better durability. The beautifully finished bath-glory incorporates Kerox cartridge, to provide unrivalled functioning. Top designers at Flova have created this perfect blend of all that you are seeking that will prove inspirational in any setting.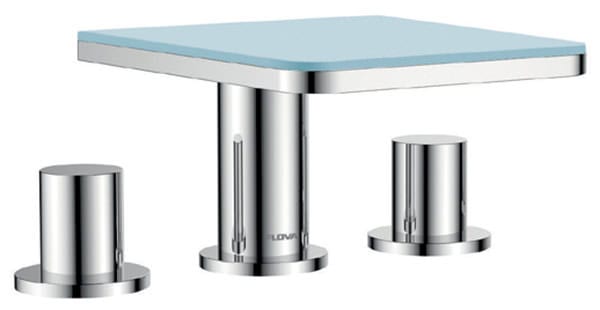 Referece: QSSupplies
Arbour Kitchen faucet with Moen Motionsense
The iconic kitchen faucet from Moen incorporates Motionsense technology that senses your movement and responds to your needs. The tap has exclusive oil- rubbed bronze finish and comes with a pull-out spray head. It features Motionsense, an innovative technology that delivers hands-free flow of water while avoiding wastage of this precious resource. Multiple tasks in the kitchen can be accomplished with ease using touch-free sensors that allow you to operate it using just a simple hand movement. Eliminates cross contamination from foods and maintains excellent hygiene in the kitchen.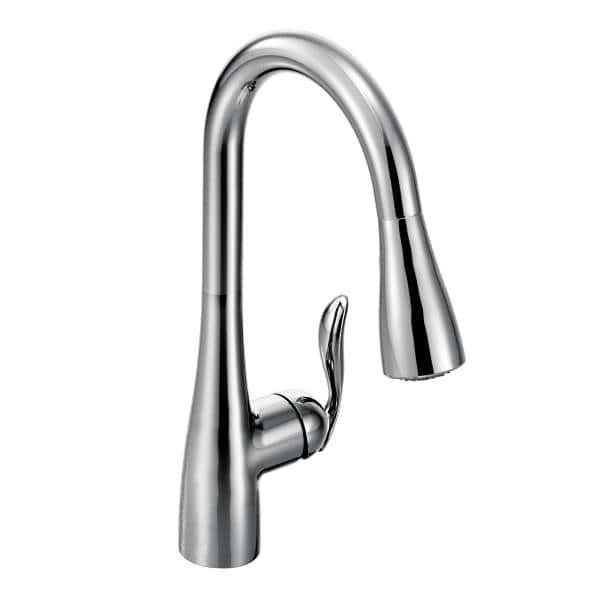 Reference: Moen