The bedroom is the place where you spend most of your time, albeit sleeping, but even if your eyes are shut, a bedroom that pleases the senses is one where you will get the most rest and feel your best. To create your own personal palace of relaxation, start with your bed. The décor is of course essential for the room aesthetics, but what lies underneath — your mattress — is actually the most important element of your bedroom. To ensure a sound night's slumber, make sure you have the right mattress for you and anyone with whom you share your bed.
Our bed is now our place for sleeping, reading, watching TV, working or playing on our laptops and devices, among other things. Just as our activities in bed may have changed over time, our lifestyle also dictates changes in the way we sleep, and the ideal bed adapts to all of these variables.
The Luxi Mattress has answered the call for a better bed for today's lifestyle with its three-in-one mattress design for the modern household. The user can unzip the covering and easily reconfigure the foam components of mattress, on one or both sides, to suit each sleeper. As life and lifestyles change, the mattress changes with us. The mattress can convert from accommodating a single sleeper to adjusting for a couple, where one partner desires a softer or firmer setting. As life changes, with co-sleeping, pregnancy, weight loss or gain, illness or injury, or sleeping styles that go from side to back or front or all of the above, the mattress adapts to meet the needs of the sleepers.
Here's the Luxi video – A great way to show how easily you can change the softness setting and how the mattress works for couples sleeping together that have different softness preferences.
Just as our mattress has adjusted to suit our evolving lives, the buying experience has changed to make life easier and to remove stress from our lives. Luxi has made mattress buying hassle free with compression packing and shipping of their mattresses in a box, delivered to your doorstep. Many online mattress companies also offer trial periods and guarantees, with Luxi leading the category with a 1,000-day satisfaction promise.
We rejuvenate our bodies and minds during sleep, and our bed should be our sanctuary for this activity. Couples want to live and sleep in harmony, and with an adjustable mattress, neither partner has to compromise their comfort. As the family expands, and the bed becomes the place where the family can gather in comfort to cuddle and watch TV together or share an experience on a device, the next-generation mattress can adjust to suit all of these activities and change when life changes.
As today's consumer demands, our home products not only must meet our high expectations for personal comfort, they must also stand up to use and wear. For this reason Luxi went beyond its high-performing innovative design to exceed consumers' expectations by sourcing the highest quality raw materials and using superior packaging and shipping methods, direct to the consumer's door. Luxi is also the only online mattress retailer that is a manufacturer, so that when consumers' purchase from Luxi, they buy direct from the mattress maker instead of a marketing middleman, which ensures better quality control and customer service. For these reasons, Luxi earned it the rating of the #1 performance mattress in the world by The Sleep Sherpa.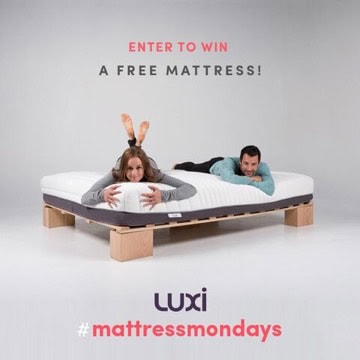 In support of Better Sleep Month, Luxi is giving away a free mattress every Monday in May. To enter simply fill out the entry form, at www.LuxiSleep.com/mattressmondays for up to five chances to win a free Luxi!