While you might have created a haven inside your home, sometimes you might want to relax outdoors and enjoy some fresh air. If you have enough backyard space, there are limitless options to choose from in terms of outdoor furniture. Going for furniture that both complements the appeal of your landscape and adds a touch of personality into your outdoor environment can make the space even more serene to relax with family or friends.
Just like everything worth investing in this world, having patio or outdoor furniture doesn't lack a list of challenges, and mold tends to be at the top of this list. Not only does it damage the appeal of your furniture, but it can also expose your family members to health complications if left unattended. Fortunately, there are countless ways to deal with and prevent mold from developing on your outdoor furniture.
Here's what you need to do to kick mold away from your backyard:
What Causes Mold?
Mold typically develops in wet, warm and dark areas. However, moisture is the most essential ingredient, and it can be present when the weather is humid. It can also develop on fabric furniture that's damp as a result of sitting on it while wet or even pouring water onto it. As long as you can learn how to protect your outdoor furniture from these risk agents, then you can enjoy their appeal for long.
Using Homemade Solutions to Eliminate Mold
In case you're investing in mold-prone furniture for structures by Woodtex.com such as backyard storage sheds and cabins, then learning some homemade solutions will suffice in eliminating mold from their surfaces. Here are some simple solutions that you can mix up at home:
White Vinegar – White vinegar not only helps to eliminate mold but also gets rid of any musty odours on your furniture as noted on Esquire. What's even better is that it needs little to no dilution to use. Simply apply some white vinegar (not white wine vinegar) to the affected areas before leaving it to sit for an hour or so. Next, wipe off the vinegar, and your piece of furniture will be as good as new.
Lemon Juice Mixture – Just like vinegar, a lemon juice mixture has the benefit of introducing an amazing scent to your furniture. However, this mixture can be a little bit abrasive, meaning that you should avoid it if your fear that it will ruin your furniture fabric. Otherwise, mix one tablespoon of salt with two tablespoons of lemon juice. Use this ratio to make a solution that will be enough to clean the affected area. Next, use a sponge to wipe the mold-affected area before leaving the area to sit for some time. You can then rinse the area.
Borax Solution – A borax solution tends to be great for dealing with mold and dirt that affects the cushions of your outdoor furniture. Mix a single cup of warm water with a quarter cup of borax. Apply the paste on the affected area with a sponge and leave to soak and sit for some time, then rinse the area and leave it to dry.
Preventing Future Mold Growth
If you don't want another instance of mold growth in the future, ensure that you wipe away any water or moisture spills on your furniture no sooner than they occur. Additionally, avoid sitting on the furniture and cushions when wet. Regular cleaning will also suffice when it comes to dealing with any mold just before it festers.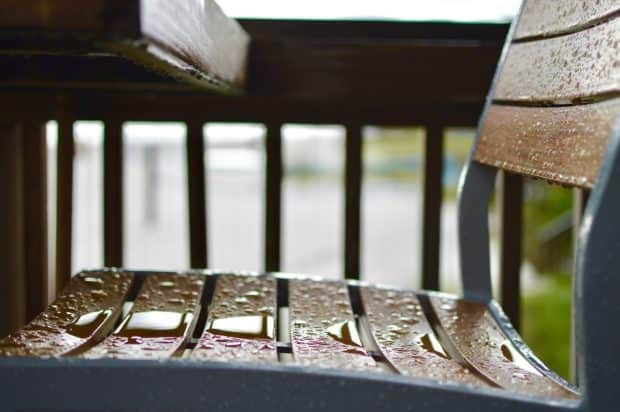 In case you decide to buy more outdoor furniture in the future, look out for moisture resistant material such as acrylic, according to a furniture buying guide on The Spruce. As for the cushions, ensure the fabric is weather resistant. Alternatively, you can also waterproof the furniture yourself by simply buying a DIY waterproofing kit.
Conclusion
The beauty that an outdoor relaxation space offers is something that every homeowner dreams of. To enjoy your space, you will need to exert some effort into maintaining its appeal. Consider the above guide for a mold-free and serene outdoor area.