People who pursue quality design and have a good sense of aesthetics will not ignore the decoration of their outdoor furniture setting. For a more natural design, wood is a great choice. Unfortunately, some problems can come along with the benefits. Most wooden outdoor furniture cannot resist weathering in the sun or rain, or surviving more extreme weather conditions like hail or frost on a regular basis. Although some furniture manufacturers decorate raw wood materials with a coating to prevent damage from the elements, insects may still erode them from inside. This is not the case when using Teak, which has a number of unique characteristics, making it an ideal choice for both indoor and outdoor furniture.
It is beautiful and easy to shape.
When new, Teak has a honey brown color. Over time teak furniture ages naturally into an elegant patina grey colour, which complements outdoor spaces with glass features. There are other ways to retain the original color if you want to, for example oiling with a finishing oil (commonly linseed or tung) resulting in a pleasant finish. It can also be varnished for a deeper, lustrous glow.
Due to the sturdiness and elasticity of teak, it is perfect for structural work and beautiful carved designs and is often used in boat building for these reasons. Importantly, teak does not deteriorate when used with metal fittings, making it ideal for long lasting and beautiful outdoor furniture.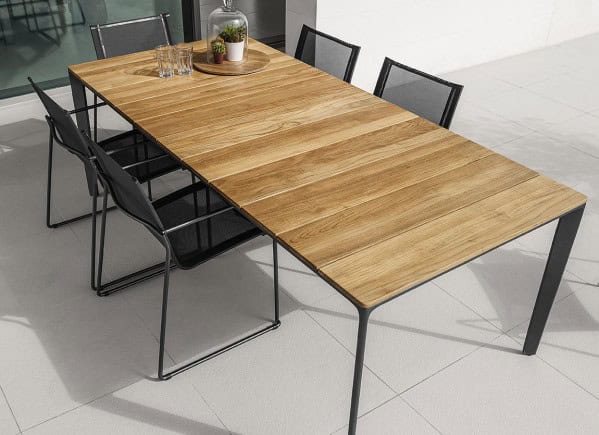 Teak is weather resistant.
Teak can withstand all types of weather – the harsh effects of heavy rains, severe winter snow storms and long-time full sun exposure! That's why it is the best choice not only for outdoor furniture, but also high-end ski lodges, shade umbrellas and shipbuilding. Teak also has a low shrinkage ratio, making it able to withstand periodic changes in moisture.
Teak is pest resistant.
Teak has a high natural silica and oil content, repelling insects such as termites and marine borers – with or without oil or varnish treatment.
Teak is relatively maintenance-free.
It is common that teak is left in its natural state because it is so rich in natural oils, making it easy to clean and maintain. People sometimes also use teak sealer to serve as UV protection and stop natural fading over time.
To clean teak furniture, you can use either a commercially available cleaning product or make a solution using a laundry detergent, bleach, and water. Clean the area with a soft bristle brush and rinse with water to remove dirt residue and leftover suds.
Combine 1 cup vinegar and 4 liters of water and use this homemade solution to clean teak furniture pieces. Evenly wash down the teak furniture surface using a soft cloth. Allow the vinegar solution to soak into the teak surface for about 15 minutes before cleaning it with a sponge.
Teak is versatile.
Do teak and rattan go together? Yes. The most popular combination is the teak and rattan dining set. A teak tabletop is beautiful and sturdy point-blank, bringing you closer to the refreshing outdoors to enjoy an outdoor dinner. Rattan wicker chairs add a modern flair, keeping your home exterior up to date for a transitional outdoor setting. You can buy a rattan garden dining set online, such as Furniture Maxi and other reputable online furniture shops.
Teak or 'Tectona Grandis'is a large deciduous tropical hardwood species in the Lamiaceae family. Teak is an expensive material because it grows for about 50-60 years. The teak tree is the preferred material for high-end outdoor furniture making – premium dining sets, benches, doors, windows, etc. Manufacturers sometimes choose other woods, like African oak or mahogany, as alternatives due to the high price and scarcity of teak wood. But those materials cannot surpass teak in its many natural advantages, making it the number one choice for most.
Takeaway
Teak is perfect for outdoor home furniture for many good reasons. It's attractive, easy to shape, weather-resistant, pest-resistant, maintenance-free, and versatile. If you're looking into investing in high-quality outdoor furniture for your home, choosing teak is your best choice. But you can always try other alternatives or combine teak with rattan or other materials that suit your budget and styling sense.