Almost all architectural projects at present incorporate some sustainable or green elements in the design, and rightfully so. However, some go the extra mile and really embrace sustainability as a central design element, and not just an additional feature. This shift is admirable, because it not only works towards creating a better future, but it also works towards creating green buildings that are as beautiful as they are practical and beneficial to the environment.
Sustainability has therefore become increasingly popular in the evolution of buildings and city planning – see for instance Urban Hub, a dedicated platform for this pursuit – moving us towards a more beautiful future characterized by mobility, smart technology, and sustainable design. Below is an overview of some of the most impressive examples of sustainable architecture, categorized as living buildings, which embody this approach.
Bullitt Center, Seattle, WA
The building is 100% solar powered, utilizes harvested rain water, is heated by geothermal wells, utilizes composting toilets, and is built out of sustainable materials (FSC certified wood). They even implemented new window designs that mechanically open and close to stimulate natural airflow.
Smith College Bechtel Environmental Classroom, Whately, MA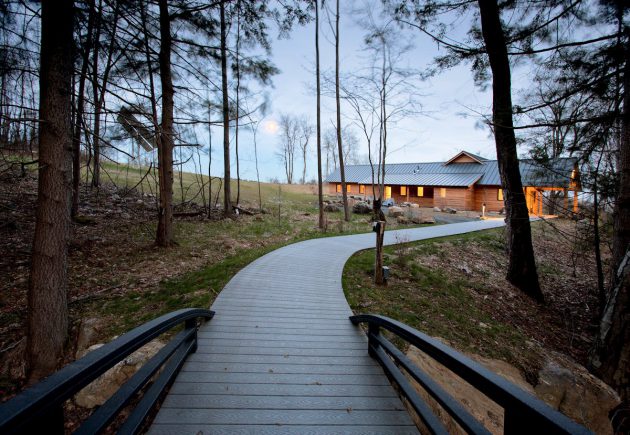 This building sits atop conservation protected land. They drilled a ground well for water supply, use a renewable energy system, and also incorporated composting toilet technology in the design. The team vetted materials to ensure that only the most sustainable were used, and substituted red listed products.
Bertschi Living Building Science Wing, Seattle, WA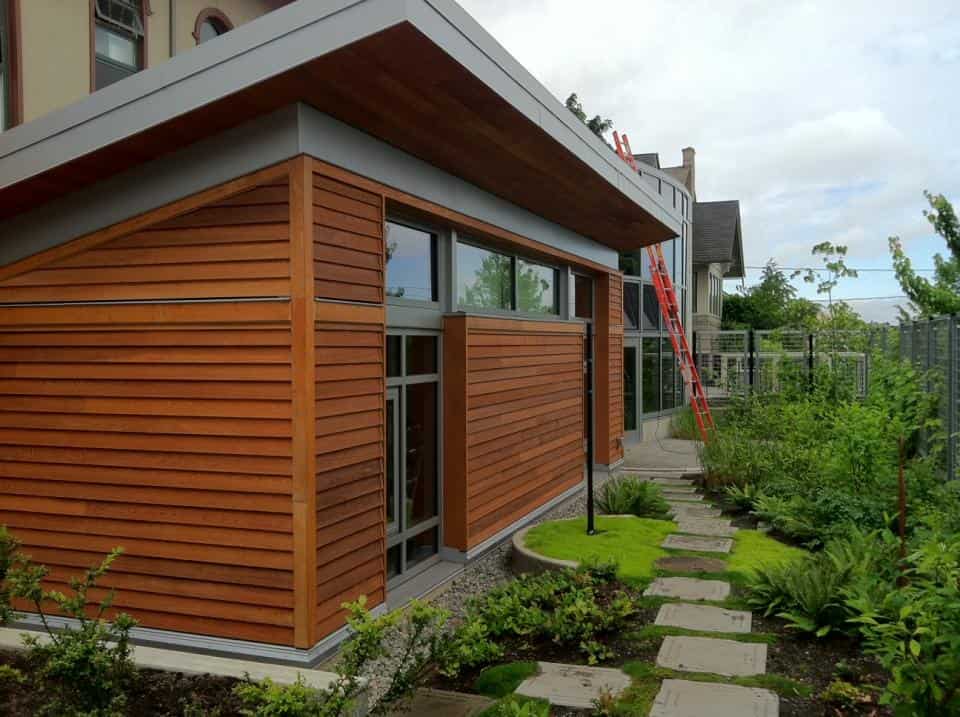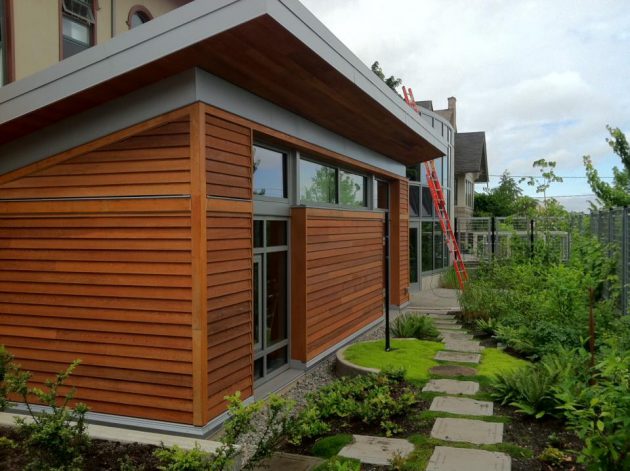 This school implements a PV system to produce the electricity for the building, which can also be monitored by students. Water is also collected in cisterns on site and treated with a tropical plant wall that cleans grey water, and again composting toilets were implemented to deal with black water.
Hawaii Preparatory Academy Energy Lab, Kamuela, HI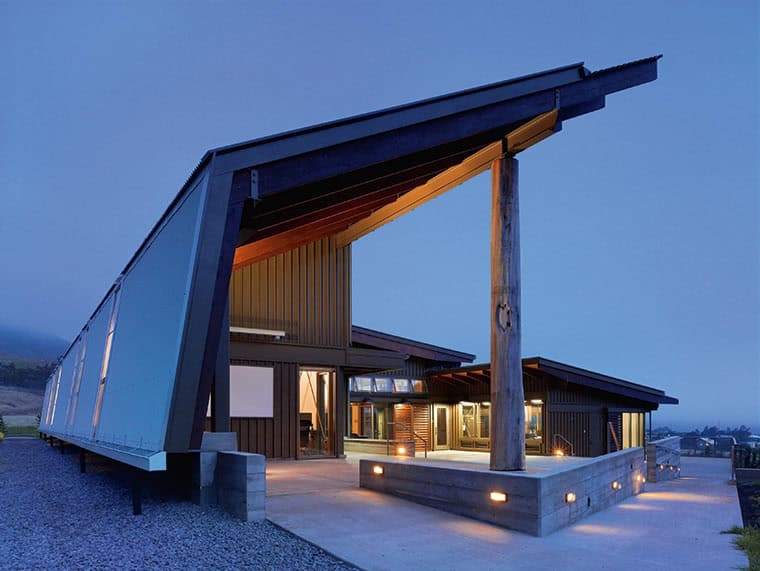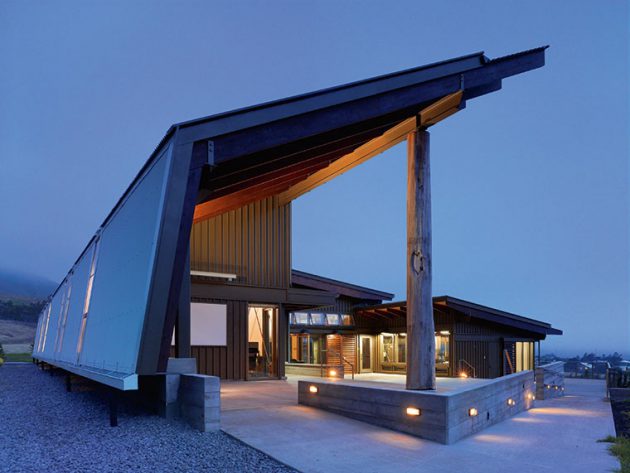 The design employs sun, water, and wind. They implemented a leaching infiltration system to treat water on site, and use photovoltaic panels for the energy system.
Omega Center for Sustainable Living, Rhinebeck, NY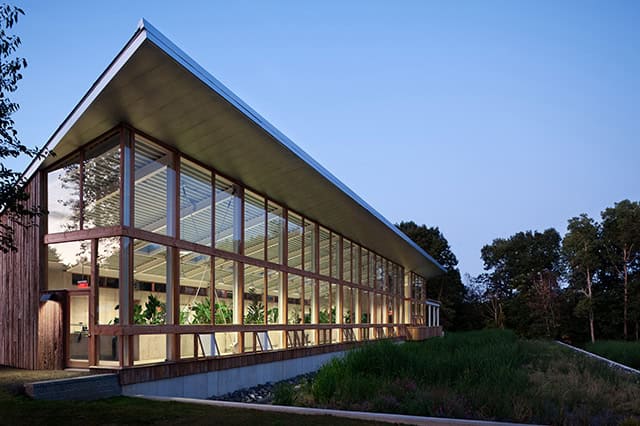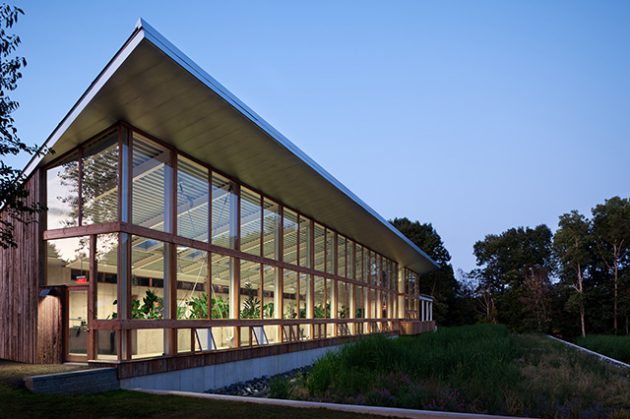 Already a waste filtration facility, the Omega Center has a greywater recovery system and uses treated water in garden irrigation. Water for use in the building – potable – comes from private wells, and is then treated after use in the Eco Machine system for water treatment. The building also incorporates solar energy.
Tyson Living Learning Centre, Eureka, MO

This project transformed an old asphalt parking lot into a garden, which includes a central raingarden. Materials include Eastern Red Cedar siding, along with interior woods that are all harvested on site. Energy is also achieved through photovoltaic panels, and water is provided through chemical-free rain harvesting. An infiltration garden tackles greywater, while composting toilets tackle black water.
McGilvra Place Park, Seattle, WA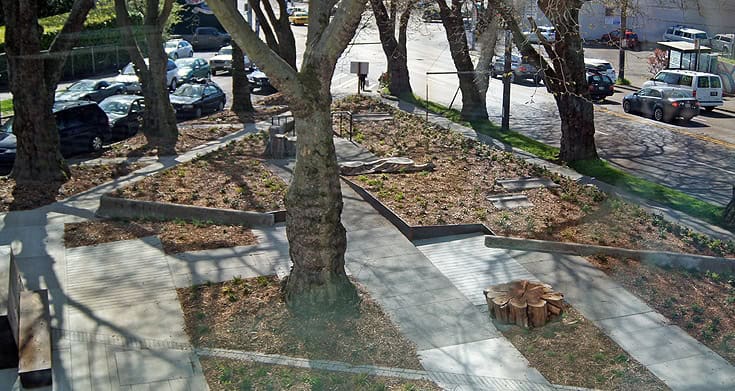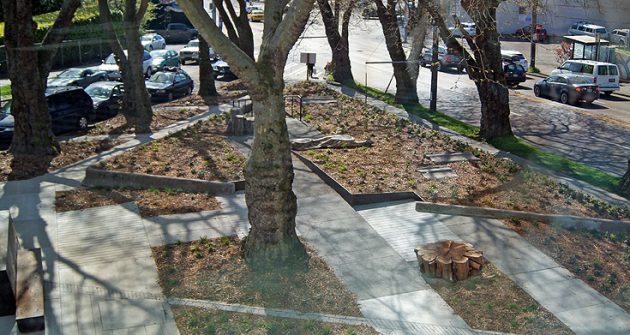 Transformed from traffic median into a city park. The trees initially on site were preserved, turf was replaced with native vegetation, and any seating or furniture incorporated was made out of reclaimed timber.
Phipps Center for Sustainable Landscapes, Pittsburgh, PA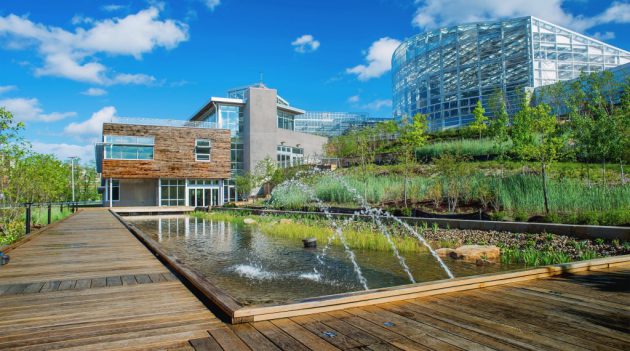 This building is a conservatory and botanical garden. They implemented an integrated energy design approach, based on PV Solar Array.
Old Oak Dojo, Boston, MA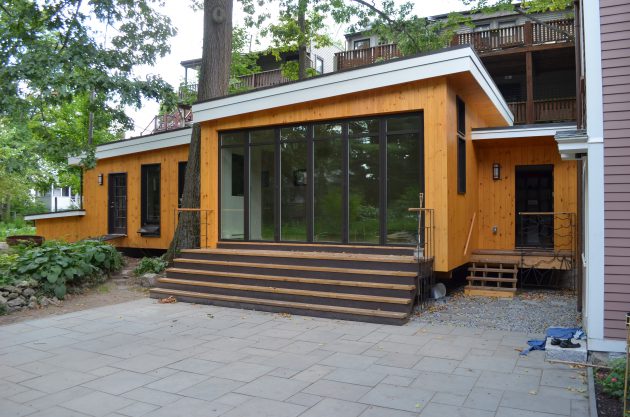 Located on a protected natural landscape with 130 year old oak trees, this small building implements passive ventilation and daylighting, and was built with repurposed, recycled, and salvaged materials. Also incorporated a composting toilet and sterilizes and reuses rain water through UV for irrigation.
Dixon Water Foundation, Betty and Clint Josey Pavilion, Leo, TX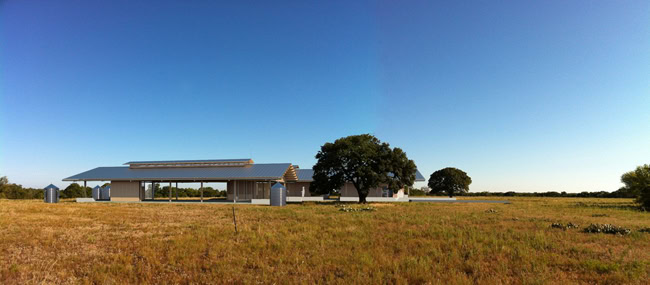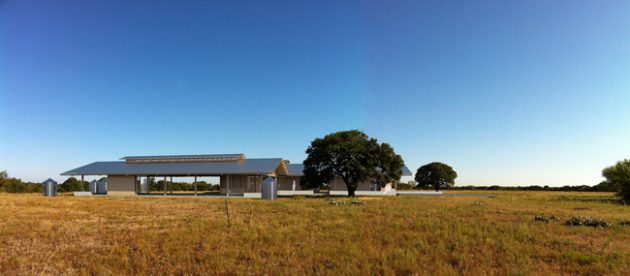 Invested in "ecologically sound ranching practices," the site was converted from farmland back to prairie land and operates as a habitat exchange. Rainwater is collected from a cistern on the roof – which is used for irrigation and sewage conveyance – and is cleaned through wetlands and an aquifer in the pavilion.
The Chesapeake Bay Brock Environmental Center, Virginia Beach, VA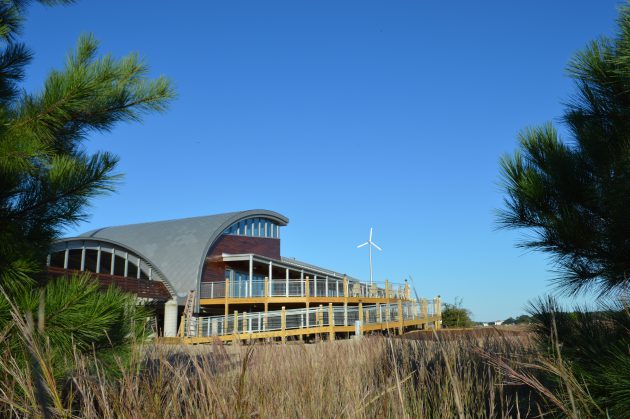 This building sits on ecologically preserved land, is made with renewable materials, is powered by wind and solar energy, and incorporates natural ventilation and daylighting. It also harvests storm water – filter through log filters and disinfected through ozone and UV – and utilizes composting toilets and low-flow technology.
All Living Building Challenge designs must comply in several areas to be classified as a living building. These are site, water, energy, health, materials, equity, beauty, and process. They are also all invested in standing as examples for sustainability in their communities – to be living proof of positive change – and to educate future generations, encouraging healthy, sustainable lifestyles, as well as instilling the values that will lead to building sustainable living systems and a brighter future.