Bathrooms today are more high-tech than ever, filled with every sort of gadget imaginable to transform your bathroom experience and make everything more convenient for you. But in your quest for the perfect bathroom, there is one bathroom element that must be chosen with care: your bathroom's countertop. Even with all the bathroom gadgets in the world, you will not have a truly comfortable, practical, and accessible bathroom without a good countertop. With a well-chosen countertop, you can rest assured that you will be able to make use of it for years without having to replace or refurbish it every so often.
Countertops not only add a level of convenience to your bathroom activities – they can also lend an air of elegance and sophistication to the space and make it more practical and functional. But choosing a countertop is not that easy if you don't know what to look for. Here, then, is your guide to selecting the right countertop for your bathroom.
You have an array of options when it comes to your bathroom countertop, such as stainless steel for a more modern look, glass, or slabs of different materials such as marble, granite, and the like. Below are a few of the most common materials for countertops: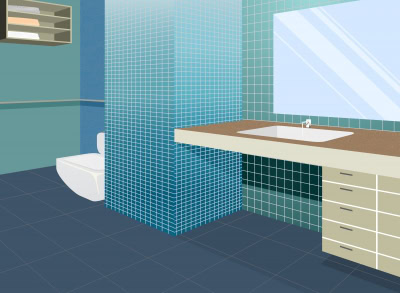 Granite countertops
Granite is a popular choice in bathroom countertops as it is long-lasting and attractive as well as more resistant to stains. Although granite can be more expensive than other materials such as tile, it is considered the most durable and is relatively easy to clean. Granite also goes well with different styles of bathrooms, from the modern and contemporary to the more classic and elegant bathroom styles. Keep in mind, however, that granite needs to be properly sealed once or twice a year. To keep a granite countertop clean, simply wipe it with a mixture of warm water and a liquid cleaner or detergent. Refrain from using cleaners which are abrasive as they can scratch the material and give it a dull finish.
Tile countertops
Another popular material because of its relative inexpensiveness, tile is also a good choice. One issue with tile, though, is the need to clean the grout every so often. To avoid this, you can opt for bigger tiles which have less lines of grout. You can also choose a coloured grout which doesn't showcase accumulated dirt too much. One tip: if you want some contrast, try a tile in terracotta with a grey-coloured grout. If you want something even less expensive, you can choose unglazed tiles made from porcelain. One good aspect about tile is that it works well with concrete, glass, and other materials.
Quartz countertops
Manufactured quartz countertops have gained in popularity in recent years for their ability to look like marble, granite, or limestone. They are also quite stain resistant and come in a diverse range of thicknesses and colours. Aside from this, quartz countertops are easy to keep clean, durable, and do not require any sealing.
Choosing the right countertop for your bathroom takes a bit of know-how. But if you know what to consider, you will make the right choice in the end. To make your bathroom more attractive and functional at the same time, choose from the wide variety of bathroom fixtures and other essentials at Bellabathrooms.co.uk.