January is here and in many parts of the world it is too bleak, too cold and altogether too depressing to leave the house for any great length of time. However, instead of hibernating indoors, make use of one of the darkest months of the year to embark upon that much needed interior revamp. Budgets are tight across the board after the Christmas and New Year festivities, so below we have put together four tips to renovating at limited cost in 2016.
Clear out the Clutter
As Albert Hadley once said, 'There's no point in creating something beautiful for someone who is a slob.' Albi is right. Even the best interior designer can only do so much when having to dodge between piles of tatty junk. Before starting on the real work, clear out the clutter. Or better still, sell it. Sites like eBay are easy to use and secure. Alternatively, build your own online shop with a web provider like 1&1, perhaps if you have more bulk to shift. You never know, more often than not one person's trash is another person's treasure. The cash you earn can fund the tips that follow.
Repair and Restore
When purging your home of garbage, be careful not to chuck out items that with a bit of love and attention could be put to use once more. Mending old possessions adds character and depth to any room, not to mention endowing it with a cozy ambience. Additionally, you will end up fostering a deeper and more lasting relationship with your furniture and other items after spending an afternoon tending to them with a needle and thread. Use the remnants of old shirts and table cloths to upholster pockmarked pillow cases, bring leather furniture back to life with a drop of avocado oil, and rub wooden floors and furniture with almonds to hide scratches.
Upcycling
In simple terms, upcycling is the process of making new stuff out of old stuff. What about digging out those old skateboards and turning the decks into a children's picnic table? Or maybe attaching wooden folding chairs to the wall and converting them into a shelf and closet? Have a look at this article for more details and further ideas.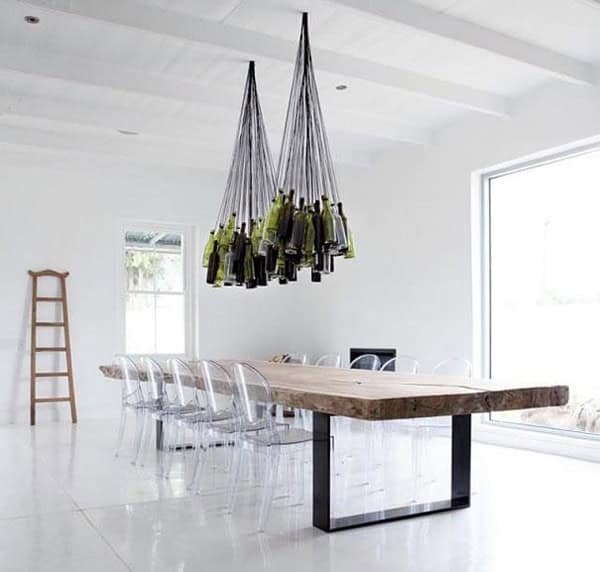 Greenery
Plants can also inject much needed vitality into a room.
Simple green foliage is cheaper than flowers and will last longer. We would recommend bringing a single palm leaf of a flax into your living room, and perhaps placing a small herb garden upon your kitchen window sill.