What are craftsman style homes?
Craftsman style homes are a bit different from houses you will find in present day. But how are you going to identify a home with Craftsman style? There are a few features that can help you differentiate between regular houses and craftsman style house plans.
Craftsman style houses have roofs in the triangular shape, dormer windows, the edges of the roofs are in an overhung position, uncovered beams and rafters, attic vent, big front porches, stone chimneys and windows with stained glasses. These are only some of the features you can see from outside the house. The interior of such houses is inspired by hand-crafted objects. There is more use of wood, glass, stones, bricks, etc. It is noticed that people who are fond of arts and crafts seek for such houses.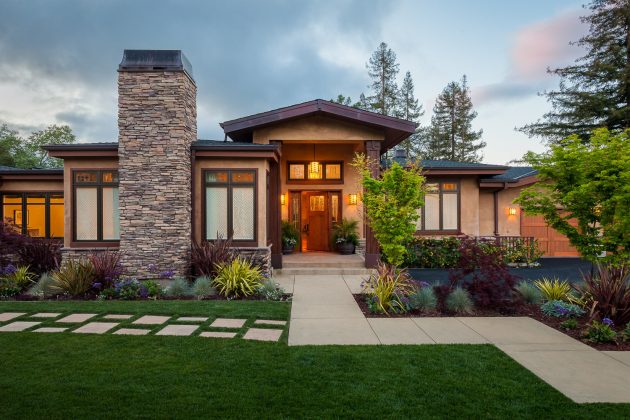 A little bit of history
The time between the 1830s and 1840s, British had the power to omit out the use of machinery and encourage arts and crafts in daily use. Handmade objects were supported. People like William Morris and John Ruskin had created a connection between the happiness of mind with arts and crafts.
Unfortunately, after their demise, arts began to expand with the help of machinery by Americans. In this position, Gustav Stickley initiated handcrafted objects again. After success, Stickley then sold bungalows for $900 in 1913 with handcrafted decorations.
His objective was to revitalize the idea of the craftsman, style house plans. Later, his effort was publicized through a magazine after which bungalows got their name as "Craftsman Style Homes." You can now find a lot about craftsman house designs.
Tips for Craftsman Style Homes
Add unusual colors and creativity. Creativity acts as a backbone to art, therefore do not forget to add your taste while decorating your house. There is no particular color combination you must follow. You can choose colors of your choice. You can play with colors while setting up your home.
Adding unique details can be a part of your creativity. You can mix up different ideas together to form up a beautiful place to live. Give your extra house details where needed, for example you can design your gabled roofs.
One way to make your house look attractive is to pay attention towards landscaping. Make the outside of the house look more inviting to guests by taking charge of plants.
Accessories also play a useful role in decorating a European style house plans. Without such embellishments, a house will be left incomplete, or in other words, it will not be appealing enough. Lanterns, door mats, and porch furniture can do the job.
Vintage objects can be placed indoors and outdoors. Antique pieces can add beauty since your house is meant to be encouraging arts.
Putting candles around the house is the final thing you would want to do. Lighting is equally important to decorating your place.
Following these ideas and a few more tips can help make your craftsman style house look more artsy and creative.