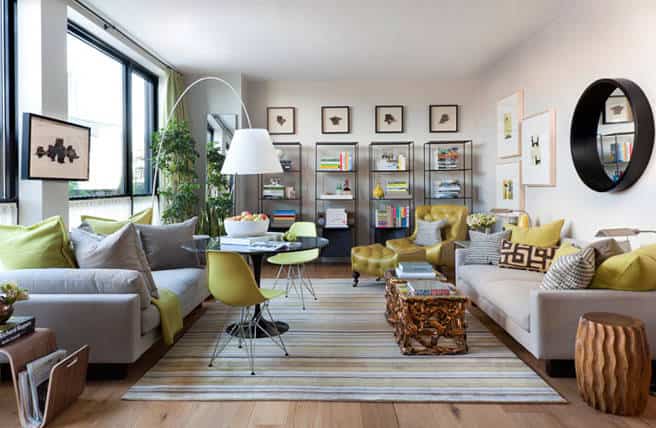 Some guys need a bit of help when it comes to decor. Women pay attention to the details so don't think they won't notice a guy who can't decorate despite how suave he thinks he may be. Lone wolves need to balance a manly personality with tasteful home decor that provides comfort and shows some class.
Make It Yours
The beer pong table from the frat house was a collective item and the posters of half-naked girls worked well for the one-bedroom apartment you shared with a buddy after college. But single adult males need to step out of the shadow of their former selves and decorate with maturity while showing a bit of themselves. Look through magazines to get a feel of what elements of decor align with your sense of style. You may be bold or subtle and your decor should match your personality. Of course, don't sacrifice too much function for fashion. Decor needs to look good but also be comfortable and serve a practical purpose.
Show Your Lifestyle
Some guys are really into their health while others are artsy. Whatever lifestyle you lead, let it show. For example, buy art that reflects your hobbies and interests; if you're a surfer, buy pictures of the ocean, antique surfboards, etc. If you're bookish, assemble a huge library of worthy hardbacks fitted with a bohemian style bean bag chairs. If bohemian is not your style, view more at ComfySacks.com. If you're a painter, place an easel in the living room with a few finished pieces hanging on the wall. If it's in your life, it needs to be in your home or apartment.
Take Time to Reflect
Mirrors are commonly found in the bathroom and bedroom. Other than checking your hair or ensuring there is no food in your teeth, mirrors are good for making a room feel larger. If you're living in a bachelor pad with limited room, put mirrors opposite windows to create the appearance of added space.
Don't Be Blind
Blinds are convenient window fixtures but they're better left back at the frat house. Grown men need to place added effort into how their places look and blinds just don't cut it. Rather, head to your nearest decor store or look online for well made curtains. You don't need to buy curtains made of the most expensive fabric, just a set that's passable and won't look terrible.
Above the Bar
Empty beer bottles and cans on the kitchen counter is fine for college, but single men need to step up their bar. Go to the liquor store and purchase a number of high-end selections of vodka, whiskey, wine, gin, etc. Splurge on wine and cocktail glasses. You want ladies to think your man-bar is classy and not owned by a beer-fueled boy.
Evolved Table Settings
Paper plates and to-go boxes are okay for teenaged boys and college kids but grown men eat off of plates and use fine cutlery. Buy sets of dishes, bowls, glasses, and cutlery. You don't want to serve your lady friend a drink in a glass with your favorite sports team logo on it. You've evolved and your dinnerware should show it.
Create an Ambiance
You want to drape a few staples throughout the living room. Scented candles may not be apropos for the frat house but it's more than acceptable for an adult's living room. However, if you're worried about coming across as a sissy, you can elect to get some "mandles," scented candles made especially for grown men.
A Well Nurtured Life
Introduce added life into your pad with a number of plants. Women want to know that you can nurture a relationship, so start practicing on a number of houseplants. If you like to cook, consider buying some potted herbs and spices to score added grownup points.
Tie It All Together
A rug ties the room together. Take time and choose one with the right texture, size, and color. Like other elements of the living and bedroom, you want to choose something with style that resembles your personality. Of course, you want visitors to be impressed with your sense of taste, so choose wisely when tying the room together.
Make It Eclectic and Not a Collection
Some guys go overboard and take the "IKEA route" when it comes to furnishing the home. Yes, IKEA has nice stuff and offers decor for every room in the house, but it shouldn't be a one-stop-shop destination. Choosing items from the same store presents a sterile vibe and makes it seem like you didn't place much effort in dressing the home. Go the extra mile and limit the number of items purchased from each supplier.
Georgia Howell is studying interior design at college. She enjoys blogging for home interior related blogs during her free time and hopes to have a successful interior design business in the future.