Your back yard may not be the biggest on the block, but that needn't keep you from sprucing up the space in grand style. To get the most enjoyment out of your garden, choose improvements that don't require a large investment of time to implement and maintain. The following five ideas can help make your back yard the most popular place in the neighbourhood.
1. Hit the Deck Running
Large or small, every stylish back yard needs an outdoor living area where friends and family can relax and enjoy the great outdoors. For their easy maintenance, comfort and undeniable style, decks crafted from natural wood or pressure-treated wood are popular options. They offer a great return on your investment too. You can expect to recoup more than 70 percent of your upfront costs when you sell your home.
2. Minimize Watering Chores
Installing a drip irrigation system is the easiest way to ensure that all the plants in your garden thrive. These easy-to-install systems deliver a steady stream of low-pressure water to the base of the plants with no runoff and little evaporation. Basic systems are available that simply connect to an outdoor spigot. Some automated systems are equipped with controls that adjust water delivery automatically according to amount of moisture in the ground.
3. Store Tools and Equipment in Style
Equipment like lawnmowers, snow blowers and garden hoses help keep your compact yard looking great in every season, but they're hardly decorative. Store them in a garden shed sized large enough to accommodate the largest item. Select a low-maintenance shed with a design that complements your home's architectural style. You'll not only rid your garden of unappealing clutter but will create a focal point that can define the style of the entire space.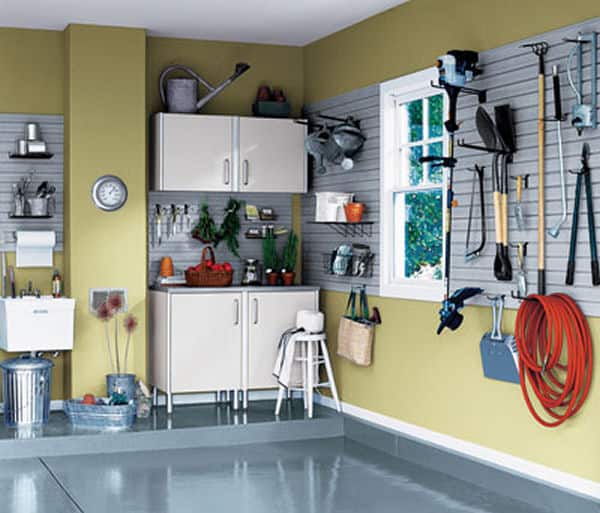 4. Fence in the View
If the view from your back yard isn't ideal, consider using bamboo fencing to frame your perspective. Affordable, lightweight and a breeze to install, panels or rolls of bamboo fencing (Hat tip to InstantJungle.com for this idea!) can camouflage an unsightly fence or stand on their own to hide views of the neighbor's yard. The durable material needs no maintenance and keeps it good looks for up to a decade or more.
5. Hide Those Trash Cans
Nothing spoils the appeal of your small back yard faster than overflowing trash cans and recycling bins. A lean-to style garden shed is ideal for keeping them hidden from sight.(Check out Buy Sheds Direct for some cool Lean To's) A model with bi-fold front doors makes it easy to roll the receptacles to the curb on trash day, and a shed with flip-open lids gives you access to the bins during the week. A vinyl or metallic shed are good choices for easy maintenance. A wood model requires occasional painting or staining.