A full size plastic llama, a giant slide, a tree house, a climbing wall, beach huts, picnic tables, a disco tunnel. You could be forgiven for thinking these are the contents of some bizarre theme park, but you would be wrong. No, all they have in common is that they can all be found in some of the UK's most successful offices.
So why are businesses, particularly those in the creative and tech industries, turning their break out areas into playgrounds? The theory is that by having a fun environment they can encourage their staff to be more creative. These playful surroundings help to bring people together, spark conversations, free the imagination and generate fresh ideas.
By creating these weird and wonderful communal areas, companies can bring about a child-like mind set which is useful for questioning orthodoxy and inspiring original thinking. It establishes a relaxed, comfortable workspace which is conducive to teamwork and increased productivity. It also brings together individuals and teams from different areas of the business, breaking down hierarchies which makes for happier, more engaged workers.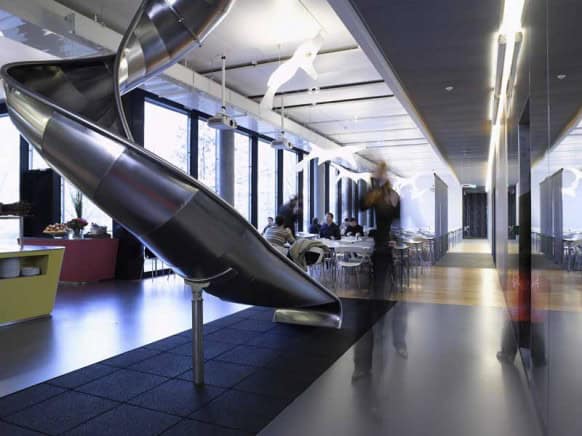 Introducing a fun element to your office also makes a bold statement about your business and your brand. It's a great way to seize the imagination of visiting clients and to win over new staff during the recruitment process. It also helps you to retain existing staff, by improving team satisfaction and providing an environment people don't want to leave – so your business benefits from a stronger, more committed workforce.
So how can you apply the lessons learned from companies like Google, Innocent Drinks, Red Bull and Virgin Money? After all, not everyone has the space – or the budget – to turn part of their office into a Hobbits' retreat.
You can begin by bringing everyone together into a single large office, and get rid of cubicles or partitions that only serve as barriers to communication. Equip your employees with laptops or tablets rather than desktop PCs, so that they are free to hotdesk, move around and bump into colleagues they may not have seen for a while. It's these chance encounters that can spark unusual or unexpected ideas. Moreover, is also important to consider all spaces, including the toilet and the toilet stall partitions, for a pleasing look and feel.
Create break out spaces such as kitchens with tables and seating, rec rooms with sofas, beanbags and games such as pool or table tennis, and quiet rooms for meetings and focused work. Introduce plants to improve the air quality, improve concentration and boost productivity. Try to arrange your office furniture in curves rather than regimented grids to encourage interaction. Paint a bright feature wall, or for something more unique use blackboard paint and invite your staff to create their own designs with chalk pens. And if you have a plastic llama, bring it to the office.
While these ideas are most common in creative and tech businesses, there's persuasive evidence to suggest they can encourage innovation, improve staff satisfaction and boost productivity whatever your company's activities.