A college dorm is one space that students use for studying, sleeping, entertainment and relaxing. You need to ensure that this space is both organized and inspiring. Unfortunately, this is one space that can be difficult to decorate especially if you do not have a background in interior décor. When you add to the fact that you are likely to share the space with a classmate, you will see why it can be hard to keep this space neat and organized.
In the past, all that students needed to enhance their dorms was a few posters, bookshelves and beanbag chairs. This is no longer the case today when we have tech-savvy students who want their dorms to be a reflection of who they are.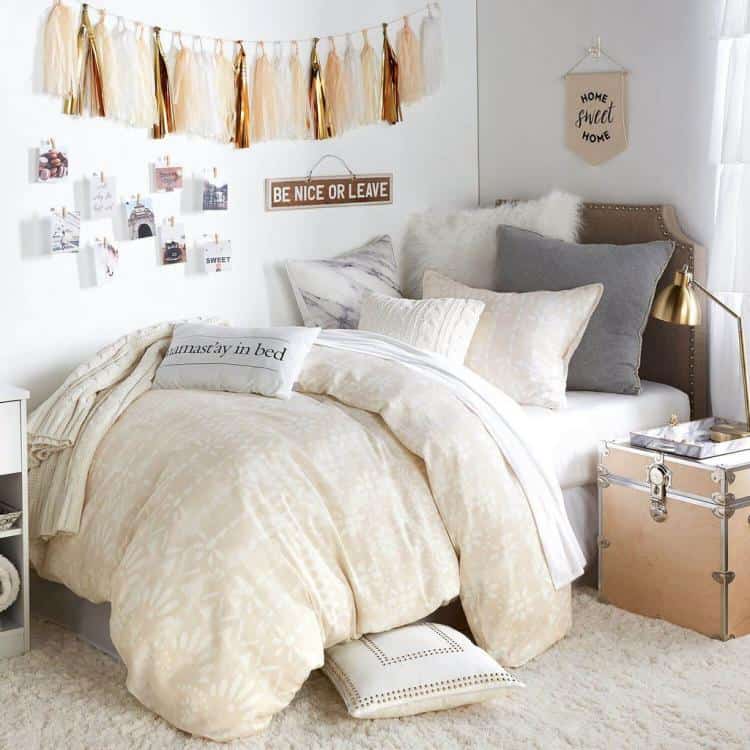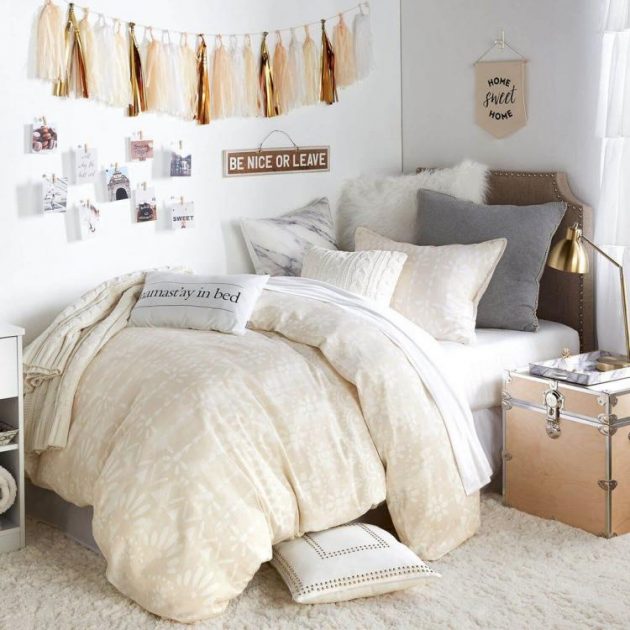 Nowadays, it is common for students to have gadgets like laptops which they use to buy informative speech, home theatre for their entertainment and flat screen TVs. Others use their personal computers to do part-time work like writing for other students who want to buy speech online. Students also want to incorporate some eco-savvy designs in their space to reflect their taste. Here are a few college dorm ideas that you can use to add to the aesthetic value of this space.
Plan the seating arrangement well
One of the challenges that you are likely to face when overhauling your dorm space is with the sitting arrangement. The space in most dorms is too small that it can't accommodate your 5 friends when they come for that movie night. It cannot fit a full-size sofa. Fortunately, there are a few tips you can use to add to the sitting space.
You can turn your bed into a sitting space. You can also buy the pintuck pillows, which should double up as comfortable floor seating. When your guests leave, you can stash them away. A small table is a great option for your entertainment space. But you can use a pouf as a table, seat or ottoman.
You should ensure that your furniture can serve more than one function. Even when you make the top of the dresser into a vanity, you can save on space and can make your dorm life to be user-friendly.
Loft/lift bed
Many rooms have a capacity to accommodate loft beds. If the ceiling is high, you can take advantage of this to raise the bed in a lofty-style. This will serve to save on space below the bed. There are unlimited options in the thing you can do with the newly found space. For instance, you can turn it into a comfortable lounging space. Alternatively, you can make it a workspace with storage. If it is impossible to loft, you can also lift the bed. The few extra inches will provide you with some storage spaces.
Add simple decorations and accessories
Certain decorations and accessories are simple but can go a long way in enhancing the look of your room. Buying a fun doormat can help to break the monotony of the boring tiles. Faux plants are also a great option for adding life to space. If you have a dorm window that faces a dark wall, you can add these succulents. Many will not realize that they are artificial.
Dorm lighting
This is, without doubt, a key part of your dorm décor. The sad thing is that the majority of dorms have minimal light and some boring light. Why don't you enhance your living and study space by adding the best smart plugs dorm lights? These will create the appearance of warm and natural light coming from different directions.
There are chances that the lighting in the dorm room is made of one overhead fluorescent fixture. If the fixture is the only source of light, you may want to supplement it. Purchase a beautiful and functional desk lamp to use during your after hours or to add to the style of the room.
Photos
It is advisable to avoid the glossy images that are printed at the drugstore photo counter. You can instead get photos from sites such as Google images or Tumblr before printing them on Social Print Studio. The advantage of this is that you will get an opportunity to mix your images with more artistic images. You can even use the bigger options from these sites to create a poster.
One thing you need to realize when decorating your school room is that less is more. It is ok to have the entire wall covered with prints, photos and tapestries. But at times, all you need is a minimal approach to give your room a mature and sophisticated appearance.
Personalize the dorm life
One of the diy smart home tips is to personalize the space. When the room gets cleaned over the summer, the furniture is usually arranged in a standard way. This is not to mean that you cannot rearrange it to suit your need. For instance, you can try to put two desks together to move the dresser into a new configuration or put the bed close to the window.
Use some removable wallpaper to cover the accent wall or to cover the bedroom drawers. Mirrors are also a great choice for giving the room some sense of light and space, or you could probably cover one wall with some framed mirrors.
Minimize the clutter
Clutter will make your space shrink. When you keep your items away, you will make the room look bigger. This is on top of the fact that your mom will leave a happy woman when she visits. You can buy trays, baskets, boxes, and bins. These are a functional way that may not detract from the room's design.
Our final thoughts
College is usually fun, but you should not forget the main reason why you are there. You need to make the all-nighters a bit bearable by adding the best smart home devices, great storage devices and fun chairs. Use these informative tips to add to the décor of the room.