The trend of downsizing to a tiny home has grown considerably over the past few years, and the draw has many factors – from being free of a mortgage to being closer to nature, or even reducing carbon footprints. Whatever the reason, we are in love with these tiny homes. However, tiny requires a very well-thought-out interior design plan and a few creative storage ideas in order to look beautiful and cozy, while also intelligently using every inch of space in order to make it a livable home. Here are three designs that we felt most inspired by.
Alpha Tiny Home
Probably one of the most impressive tiny home designs that we have seen yet, the Alpha Tiny Home, by New Frontier Tiny Homes, is architectural ingenuity at its best. The biggest selling feature of this 200 square foot space is the large glass sliding garage-style door that opens up to a pull-up patio. Not the only clever design that is out-of-sight, there is also a pull-out dining table cleverly stored under the kitchen as well. On top of that, this space basks in natural light which plays nicely off the beautiful barn wood throughout. Aside from ample floor space, this tiny home boasts a gorgeous full kitchen with intelligent pull-down cabinets and even a dishwasher! And if that wasn't enough, the bathroom is equipped with a full-sized hot tub and the loft is big enough to accommodate a king-sized bed. This luxury tiny home certainly doesn't feel all that small.
Cedar Mountain Tiny House
Also designed by New Frontier Tiny Homes, the Cedar Mountain Tiny House is an equally brilliant design, although perhaps a little more simplistic in its chic. Stainless-steel countertops help make the kitchen look bright, and the little office nook with a repurposed suitcase desk is an upcycling dream. This small house features a downstairs room with a convertible bench, so it functions as both living room and guest room. The main bedroom is the upstairs loft which includes many windows, allowing natural light to flood in.
Handcrafted Farm House
Finally, this adorable 250 square foot farm house, handcrafted by Matt Impola, is beautiful enough to make anyone want to downsize. Decorated with upcycled barn house wood, the house swims with country charm and character. Matt designed the living space with windows on both exterior walls, offering an exceptional amount of natural light which lends more room to the small space. Brass accents throughout also give the space a touch of class. Equipped with built in shelving in the staircase and on the walls, as well as a pull out couch, this tiny home is more than accommodating. A roomy loft bedroom and quaint bathroom equipped with a full bath make it difficult to believe that this home is only 250 square feet.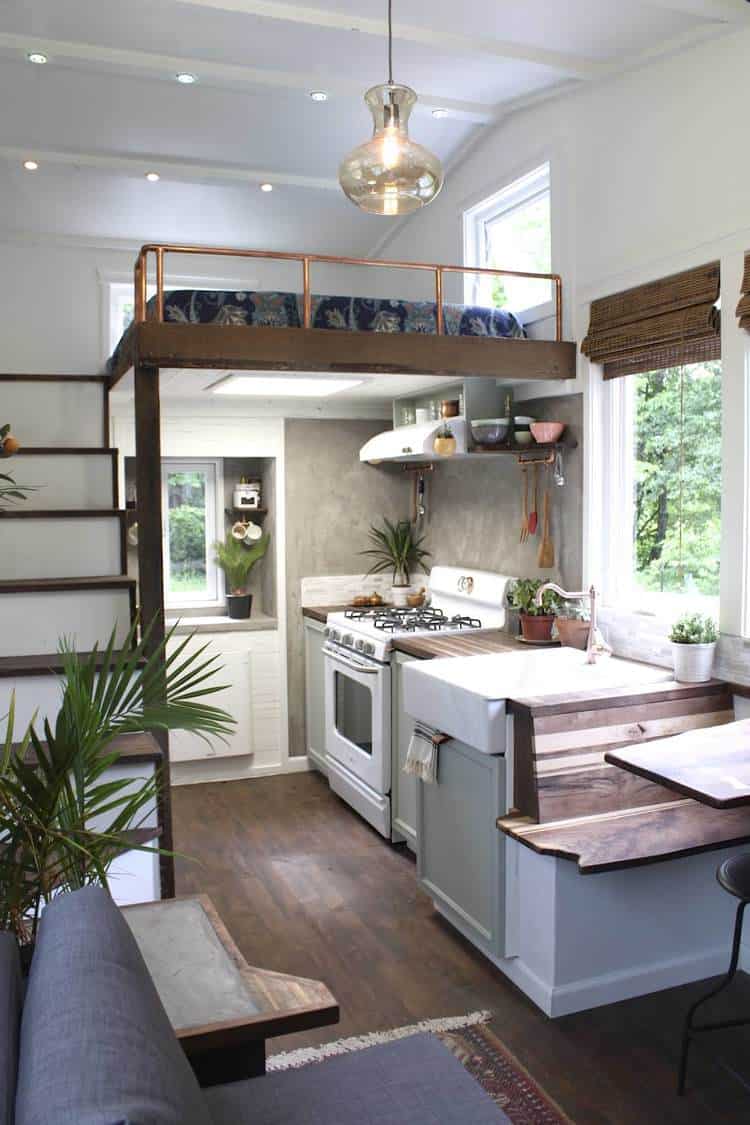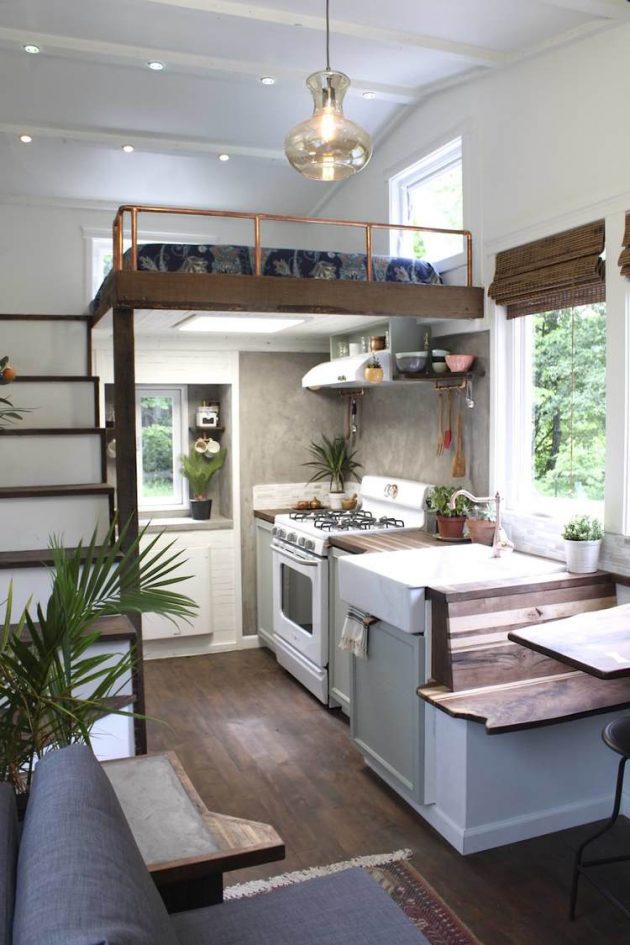 Inspired to Try Your Own Tiny Home Design?
The majority of tiny homes are designed around a mobile home frame and then expanded on from there. These compact abodes are actually quite affordable when considering you also get to forego a mortgage. Of course finding the right one can take a little searching. We would recommend, before buying the mobile home or travel trailer that you will convert into your own tiny house oasis, that you try out a few models in order to get an impression of the space. A short rental period is a worthwhile investment that will help you be sure that it is exactly the model you want. Then, make the investment and start letting your creativity run wild!