The vanity is without a doubt the most important feature in any bathroom, but it is often overlooked in favor of more dramatic bathroom fixtures like glamorous tubs and luxurious showers. Vanities are so significant because they are the locus of activity in the room: They are the sites of most daily hygienic activities and store most bathroom supplies. Plus, infinitely mutable, vanities usually set the style and atmosphere for a bathroom.
If you are beginning a bathroom remodel — and you absolutely should, considering the boost in value homes receive from updated bathrooms — here's what you should know about the all-important vanity.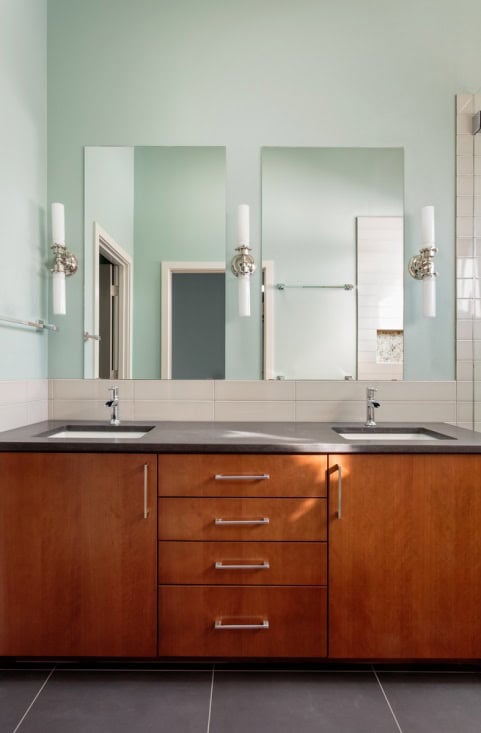 Lighting
Because most of your day's (and night's) preparation takes place in the bathroom, it is perhaps most essential that you light this space in your house right. Too much, too little, or otherwise improper lighting around the vanity could result in garish grooming, so you don't want to skimp on your lighting budget.
While it may be wise to install dimmable recessed lighting around the rest of the room, such lights are dangerous around the vanity, where they can cast deceiving shadows on the face. Instead, vertical fixtures or sconces mounted on either side of the mirror will provide even light. These task lights should total 150 watts, providing sufficient brightness that won't wash out the face's features.
Mirrors
Like buying a rug that is the wrong size for the dining room, an inadequate mirror looks awkward above a vanity. The rules here are strict: The mirror should be exactly as wide as the vanity and hang in the middle of the wall space between the vanity and the ceiling, with about six inches of gap on either side. Of course, the second rule may change if your bathroom ceilings are particularly high; you may want to experiment by cutting facsimiles out of paper and judging the look.
The current trend for bathroom mirrors is to surround the glass with a bold wooden frame, as though the mirror were decorative instead of a necessary bathroom feature. The effect does make the room look more polished, but it may be expensive if your mirror is large.
Countertop
Usually, home remodelers devote weeks of deliberation to their kitchen countertops only to flippantly choose the material that makes up their bathroom vanities. However, vanity countertops are just as integral to the room's design — if not more so, considering the smaller space. By hiring a reliable cabinetmaker, you can select from a bevy of countertop materials, including:
Granite
Marble
Quartzite
Laminate
Tile
Wood
Concrete
Of course, some countertop materials will be easier to maintain than others in the humid bathroom environment. For example, wood counters, unless immaculately sealed, will soak up steam like a sponge and rot. Tile, though amply customizable, may be difficult to clean with the small, rough grout lines. Generally, the safest and easiest choices are granite and marble, which create a sophisticated, stunning look and little hassle.
Sink and Fixtures
The sink is perhaps the most flexible and creative decision you have to make for your bathroom vanity. Bathroom sinks — unlike largely utilitarian kitchen sinks — are major design elements, and they come in all different styles and scopes to suit your tastes.
Pedestal. Best for guest baths where storage isn't a necessity, pedestals are sleek and simple.
Wall-mount. Like pedestals, what wall-mounted sinks lack in storage they make up in chic simplicity.
Under-counter. Allowing for plenty of counter space, under-counter sinks lack rims and look especially clean.
Vessel. Dramatic focal points in the bathroom, vessel sinks sit on top of counters.
Drop-ins. The most common style of bathroom sink, drop-ins are highly functional and easy to install.
Once you choose a sink, you can dress it up with faucets that match its design. Like sinks themselves, bathroom bling comes in all shapes and sizes, but it is drastically easier to change fixtures if you decide you want a change. Thus, you should feel comfortable experimenting with different styles as your vanity tastes change.
Storage
Unless you opted for a pedestal or wall-mounted sink, you probably have quite a bit of cabinet space below your vanity. Fortunately, you can customize that cabinet space to suit your needs. For example, you can add a pull-out step stool at the base of the cabinets to help little ones learn better hygiene, or you can add pull-out shelving to the sides to keep the cabinet more organized. Bathroom vanities should fulfill your fantasies in every way, including the practical ways.