If you're proud of your home, it's not surprising that you also want guests to feel comfortable and at ease when they come to visit you. Making your home appealing and inviting is an experience that starts far before your visitors even reach the front door, and goes beyond just interior design. Here are some simple ways that you can boost your home's guest-appeal, so they feel thoroughly welcomed from the very beginning.
Fill Your Front Garden With Colour
If your front garden isn't full of beautiful plants, you're missing a trick. Even if you don't have a front lawn, windowsill plant boxes are a lovely touch, and add a splash of colour to the front of your house. In summer, a front garden is the perfect place to sit with friends – with a large glass of wine – and watch the world go by. Make this first impression on your guests a meaningful one, and show off your green fingers.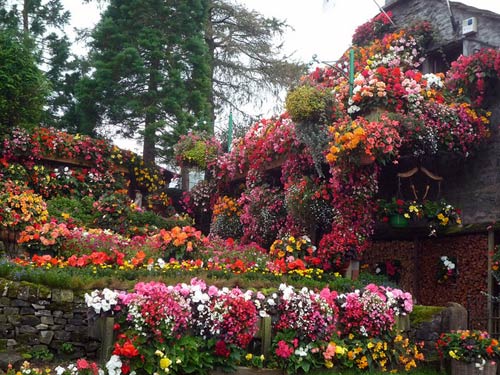 Inject Some Personality
Showing some personality around the house is as simple as hanging up a few pictures and pieces of artwork. If you're an art buff, showcase your favourite artists – you can often find framed prints online. For those who can't get enough of dramatic photography, mounted poster providers, such as Posterlounge, are a cheaper, effective way to transform your walls.
Light
Light is especially important during the winter months. There's nothing more welcoming than a warm fire blazing on a chilly day, but if you don't have a log burning stove, you can create a similar ambiance with candles. Well lit rooms are warm and cheery, so replace any substandard light fittings in your home and get your windows looking a-glow.
Declutter
Piles of books and magazines can make guests feel a tad claustrophobic. Opt for a clean, more minimalistic approach, by carefully storing your possessions away and creating space. Ask yourself if you need all of the furniture in your home, and sell on anything that you think is unnecessarily cluttering your rooms.
Keep Baking
If you have something homemade to offer your guests, not only will your home smell of freshly-baked goods, but it makes them feel cared for. Victoria sponges and biscuits, displayed in clear bell jars are extremely tempting. And there's nothing wrong with a little indulgence.
Don't Underestimate Nice Smelling Hand Soap
Small touches can make a huge difference. Forking out a few extra quid for gorgeous smelling hand soap adds a touch of luxury in an unexpected place. That and fluffy, clean towels in the bathroom.
Bring The Outside Inside
There's nothing like plants and flowers to bring freshness indoors. What you choose will depend on the style of your home. Freshly picked wildflowers are rustic and charming, while colourful tulips are uplifting. For something with more longevity, opt for a potted plant, but flowering plants don't always last that long, even then. You can't go wrong with long, trailing ivy, which is almost impossible to kill and is a verdant, deep green.