Want to experience Broadway without paying top dollar? In-the-know theater goers use several strategies to score discounted tickets, and you can take advantage of those strategies — whether you're planning weeks ahead, or if the curtain is just a few hours away.
TKTS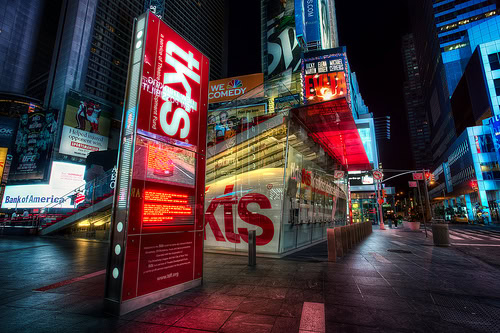 Image via Flickr by Justin in SD
With three easy-to-find locations around the city, this New York institution is a popular stop for tourists who want to get a deal on same-day Broadway seats. Download the free mobile app to find out which shows are available, and search current offerings for inspiration. Lines can be long, so plan ahead and be prepared to wait. Better yet, if you're interested in seeing a non-musical, ask a staff member to direct you to the Plays Only line. You'll be in and out with tickets in hand in a matter of minutes.
Go to the Source
If you're willing to spend a few hours in line with other Broadway die-hards, you can get great deals on same-day tickets at the theater's box office. Theaters commonly offer lottery-style, Standing Room Only (SRO), or student rush tickets to patrons willing to line up either before the box office opens or a few hours before curtain. These policies vary by theater and production, so do your homework. Students should be sure to bring a valid student ID; and for SRO seats, make sure that everyone in your party is willing and able to stand for several hours. The more popular a show is, the earlier you'll need to line up to take advantage of these sought-after seats.
Support Small Theater
While flashy Broadway steals the limelight, most of the theater in New York City happens far from the Great White Way. These shows are a great way to enjoy a night of top-notch entertainment on a budget, and you might just find yourself feet away from your favorite star or watching the next big Tony winner. Check local publications such as New York Magazine and The Village Voice for listings and reviews. If you're traveling in August or September, hit the New York Fringe Festival for an explosion of original, innovative, local productions. Save even more by using online booking sites to choose a hotel close to the theater and further from pricey, crowded Times Square.
Discount Ticket Sites
If betting on last-minute seats makes you nervous, you can also find discounted tickets long before you pack your bags. Check Theatermania.com and Playbill.com for show listings and discount offers, plus the latest Broadway news and reviews. By securing your tickets well in advance, you'll be able to spend your vacation time sightseeing and grabbing a slice of pizza instead of standing in line. No trip to New York City is complete without taking in a show. Be a smart shopper by sidestepping those shocking ticket prices, and use these inside tips to secure your seats on the cheap. You'll be able to enjoy the show so much more with the knowledge that you got the best deal in the house.